Kenya, Tanzania leaders vow to improve trade ties
By EDITH MUTETHYA in Nairobi, Kenya | China Daily Global | Updated: 2021-05-06 09:24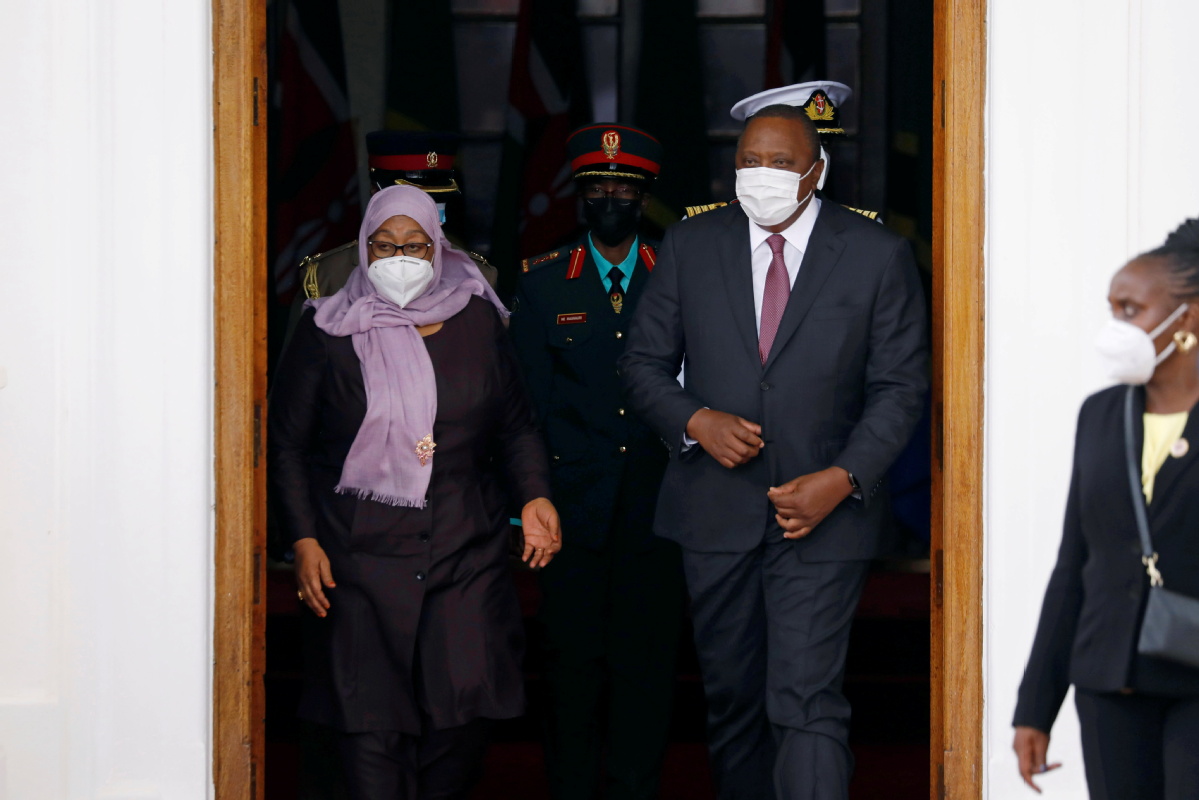 The leaders of Kenya and Tanzania have agreed to improve trade ties between the East African neighbors after years of strains.
The commitment arose from talks on Tuesday between Kenyan President Uhuru Kenyatta and his Tanzanian counterpart Samia Suluhu Hassan, who was on a two-day state visit to Kenya.
In addition to the trade discussions, the leaders also agreed to improve ties in matters relating to security as well as in infrastructure, transport, culture and tourism.
The leaders acknowledged that, on trade, non-tariff barriers were hampering growth. They agreed to eliminate the barriers to the smooth flows of trade and people between the two countries. Over the past year, these flows have been hindered by disagreements on coronavirus protocols.
In August, Tanzania banned Kenyan airlines from its airspace after Kenya excluded it from a list of countries whose nationals are exempted from mandatory quarantine on arriving in the country. That issue was resolved.
The two countries also had a dispute over coronavirus tests for truck drivers crossing the border, which was also resolved.
Following the talks between the leaders, a joint team of experts will be set up to streamline cross-border coronavirus containment protocols. These are among the most pronounced non-tariff trade barriers between the two nations.
"We have agreed that our health ministers need to sit down and come up with a structured system of testing our people at the border points to allow easy movement of our people so as to do their businesses," Hassan said.
The leaders also agreed on the need for a system in which coronavirus test results can be recognized on both sides of the border.
Kenyatta said: "We have agreed to re-energize the Joint Commission for Cooperation between our two countries, and we have directed our ministers to meet regularly to ensure that they continue strengthening our relations by sorting out minor problems affecting our people as they do business."
Improving connectivity
They also agreed to improve their connectivity through new roads and aviation and maritime links to hasten economic growth.
"We also discussed the need to hasten the construction of the Malindi-Lunga Lunga-Bagamoyo Road to ease movement of goods and people," Kenyatta said.
Kenyatta said the two countries have agreements relating to sales of Tanzania's natural gas, and the imports will help Kenya meet its growing energy demands.
Addressing Hassan, Kenyatta said: "We want to assure you that Kenya will be in the forefront working together with you and your administration to ensure that our unity, especially as East African nations and neighbors, will continue to grow."
According to the United Nations International Trade Statistics Database, Kenya's exports to Tanzania came to $329.6 million in 2019, with imports from Tanzania valued at $269.8 million.