Celebrities join UK campaign to combat public vaccine hesitancy
By ANGUS McNEICE in London | China Daily Global | Updated: 2021-05-06 09:46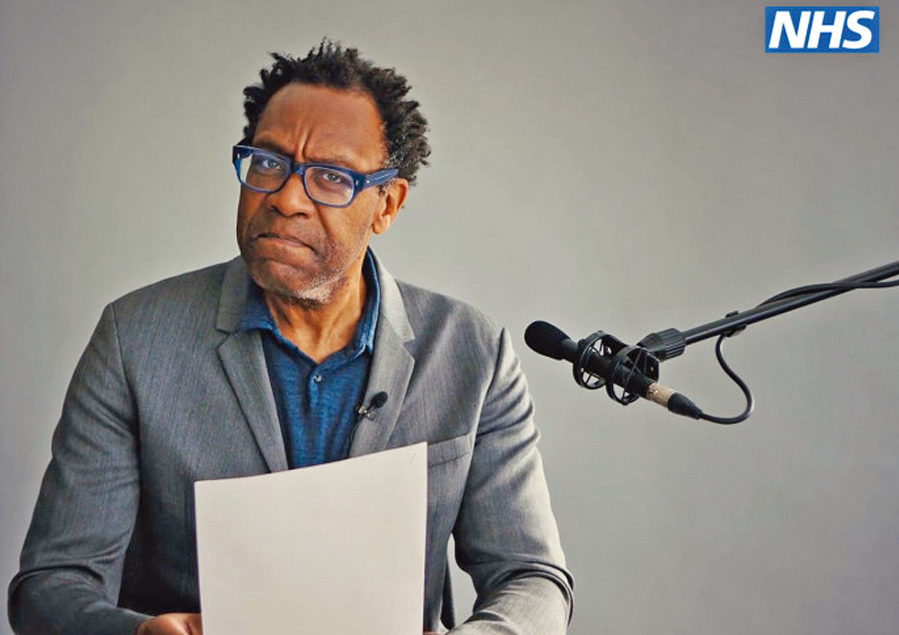 British celebrities including rockstar Elton John, actress Elizabeth Hurley, and comedians Lenny Henry and David Walliams have joined forces with the nation's health service to try and encourage people to get COVID-19 vaccinations.
The stars all feature in a new short video, organized by Imperial College London and the National Health Service, which aims to combat vaccine hesitancy, particularly in ethnic minority groups where vaccine uptake is comparatively low.
The video shows a series of tongue-in-cheek "failed" audition takes, during which celebrities dispel common disinformation surrounding vaccines and cite worrying figures about slow uptake among ethnic minority communities in the United Kingdom.
"People in the black, Asian, ethnic and minority community are 20 percent less likely to take up the vaccine," said actor and comedian Lenny Henry, who is well known for co-founding the hugely successful Comic Relief charity initiative.
"It doesn't contain pork, or any material of animal origin," said actress Lydia West, known for her roles in BBC series Years and Years and Channel 4 drama It's a Sin. There is some concern among members of the Muslim community that certain animal products are used in the manufacture of COVID-19 vaccines, meaning they would not be permissible for religious reasons.
While many drugs do contain animal-derived products like gelatin, manufacturers of the three main COVID-19 vaccines available in the UK, including Pfizer, Moderna, and AstraZeneca, have confirmed that their treatments are gelatin-free.
Earlier this year the Royal College of General Practitioners called for a high-profile national campaign, supported by faith leaders and popular public figures from black, Asian and ethnic minority communities, to help increase COVID-19 vaccine uptake.
A Royal College survey found that people of mixed ethnicity are 33 percent as likely to have received the vaccine as white people in the UK, and that figure is 47 percent among Asians and 64 percent among black people.
"There is no scientific evidence to say the vaccine will be any less effective for people from ethnic and minority backgrounds," Star Wars actor Navin Chowdhry said in the video.
Ara Darzi, co-director of Imperial College London's Institute of Global Health Innovation, said that some people, particularly younger generations and ethnic minorities, have worries that may stop them from taking the vaccine when offered.
"We must listen to the concerns people are voicing and with this campaign we hope to offer reassurance and show how important it is to get vaccinated, so that we can bring closer the end to this devastating pandemic," Darzi said.
The video is a follow-up to an earlier advert released in February starring actor Michael Caine and Elton John, who makes a brief cameo at the end of the latest installment.
Celebrity endorsement has had a proven effect on vaccination campaigns. Polio vaccine rates rose markedly in the United States in 1956 when singer Elvis Presley received a shot on national television, and British author Roald Dahl publicly promoted inoculations after losing his daughter to measles in 1962.