Poll blow to hopes of Scottish nationalists
By JONATHAN POWELL in London | China Daily Global | Updated: 2021-05-06 09:54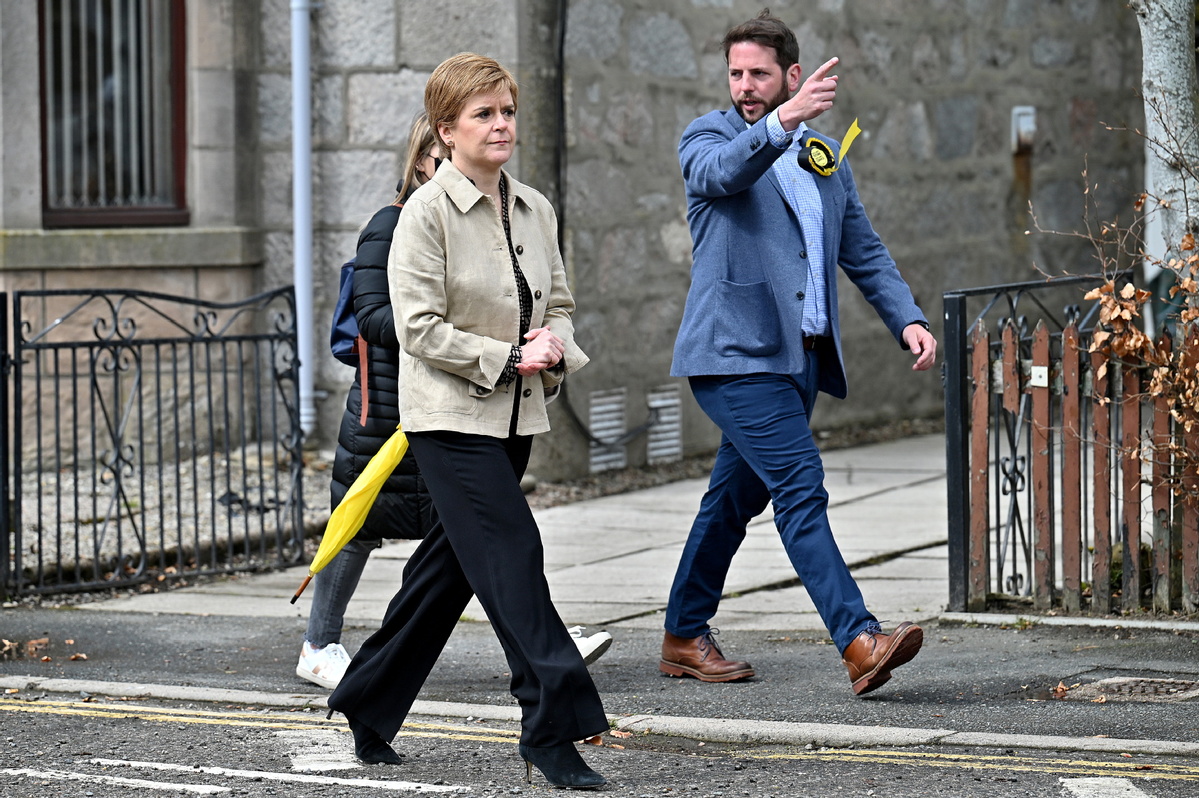 A new poll suggests the Scottish National Party, or SNP, could fall short of winning a majority in Thursday's parliamentary election, which would dent their hopes of demanding a referendum on independence that could separate the nation from the United Kingdom.
The poll, conducted by Savanta Comres for The Scotsman newspaper, suggests Nicola Sturgeon's party could be set for its worst result at the Scottish Parliament elections since it first came to power in 2007 under Alex Salmond.
Nonetheless, the party is expected to secure an unprecedented fourth term, when Scots vote to elect 129 parliamentarians to the 22-year-old devolved institution.
If the final results reflect the poll, with 59 seats, and 6 short of a majority, the party would still retain an overall pro-independence advantage alongside the Scottish Greens, said a report in The Scotsman.
The Greens have not ruled out a coalition with the SNP, and if there was a pro-independence majority, the SNP is expected to say it has a mandate for another referendum, Reuters news agency reported.
Political analysts have said the SNP's nearest rivals, the pro-union Scottish Labour and the Scottish Conservatives, have focused their campaigns on denying Sturgeon's party an outright majority.
The Savanta ComRes poll interviewed 1,001 Scottish adults online between April 30 and May 4. Other polls point to a larger majority, with some saying it is too close to call.
The Scotsman said the latest poll also showed 50 percent of voters would vote No if a second independence referendum was held tomorrow, with 42 percent saying they would vote Yes and 8 percent undecided.
Britain's Prime Minister Boris Johnson has repeatedly said he will not grant another referendum to follow the one in 2014, when Scots voted by 55 to 45 percent to remain in the political union dating back more than 300 years.
Sturgeon has said she would not push for an illegal referendum if Johnson denied it, but she and her party have raised the threat of legal action to allow one in that case, reported Reuters.
"If these polling figures play out on Thursday's vote, it'll likely leave the SNP short of the majority," said Chris Hopkins, associate director at Savanta ComRes, quoted by The Scotsman.
Hopkins said the polling figures were bad for the SNP in relation to the higher numbers polled in December.
He added: "Falling a little short of a majority is still ultimately a dominant performance from the SNP, and their disappointment should only be felt in the context of significant poll leads towards the end of 2020, where a disastrous year for a new Conservative government in Westminster, a lack of a Brexit deal and the first of murmurings at dissatisfaction with (Labour leader) Keir Starmer were contributing to unprecedented numbers for the SNP and for independence."