Online show suspended after its fans waste food
By ZHAO XINYING | China Daily | Updated: 2021-05-07 09:11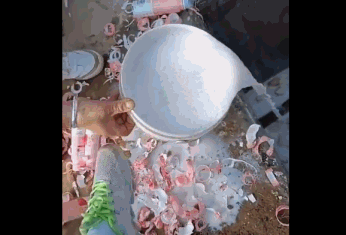 Experts called on government departments to strengthen supervision and management of online shows to prevent food waste following the recent suspension of a talent show after some fans poured milk down the drain.
Liu Junhai, a business law professor at Renmin University of China, said the law on preventing food waste, which was passed on April 29, stipulates that online video service providers could receive punishment including a warning, a fine of up to 100,000 yuan ($15,400) or suspension if they make, release or spread content that boosts food-wasting behaviors.
Against such a backdrop, fans' behavior to buy and pour out milk - rather than drink it - is illegal, he said.
He made the remarks after a video - which showed viewers of the popular talent show Youth With You pouring bottles of milk into the drain - went viral on the internet, causing production of the ongoing Season 3 to be halted by the Beijing Municipal Video and Television Bureau on Tuesday.
Instead of pointing out specific problems with the program, the bureau said in a notice released on its WeChat account that in response to "certain problems" reported by some people, it had talked to those responsible for the production of the show at iQIYI, an online video website, and had ordered the platform to suspend production for further inspection and rectification.
Before the suspension, the idol-making show had been criticized by some netizens for its competition rules, which encouraged fans to buy bottled milk and scan the QR code inside the caps to support their favorite competitor.
The more bottled drink the fans bought, the more votes their favorite competitor could obtain and the bigger their possibility of winning.
This resulted in some young fans purchasing more bottles than they could consume, so they just scanned the code and poured the milk down the drain.
IQIYI apologized on social media platform Sina Weibo on Wednesday and said it would obey the suspension order made by the bureau and correct all its mistakes.
He Jingjing, a researcher at the Chinese Academy of Social Sciences, said measures should be taken to crack down on any manner of food-wasting behavior, including in the name of obsession with entertainment stars.
All sides - whether it's the fans, stars, school authorities, parents or enterprises - should work together to implement a green, healthy and rational way of consumption, she said.