Pressure grows for India lockdown
CHINA DAILY | Updated: 2021-05-08 07:23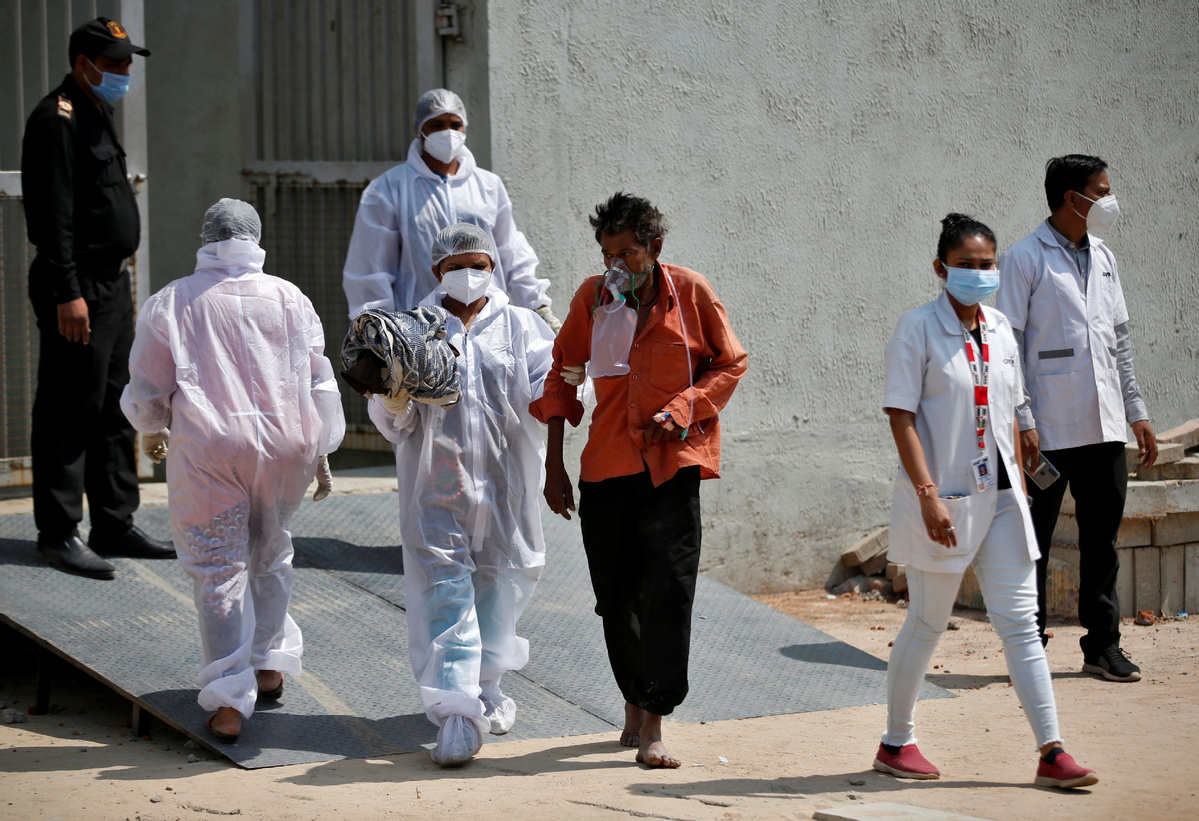 With coronavirus infections surging deeper into record territory, Indian Prime Minister Narendra Modi is facing growing pressure to impose a harsh nationwide lockdown amid criticism that restrictions imposed by individual states are not enough.
Many medical experts, opposition leaders and some Supreme Court judges have suggested that a lockdown seems to be the only option with the virus raging in cities and towns, where hospitals are forced to turn patients away while relatives scramble to find oxygen. Crematoriums and burial grounds are struggling to handle the dead.
On Friday, India recorded a record 414,188 confirmed cases in the latest 24-hour period. Its tally has risen to more than 21.4 million since the pandemic began, with faint hopes of the curve going down quickly. The Health Ministry also reported 3,915 additional deaths, bringing the total to 234,083. Experts believe both figures are an undercount, according to media reports. The official daily death count has stayed above 3,000 for the past 10 days.
Over the past month, nearly a dozen of India's 28 federal states have announced less-stringent restrictions than the nationwide lockdown imposed for two months in March last year.
Modi, who held consultations with top elected leaders and officials of the worst-hit states on Thursday, has so far left the responsibility for fighting the virus to poorly equipped state governments, The Associated Press said.
Randeep Guleria, a government health expert, said a complete, aggressive lockdown is needed in India just like last year, especially in areas where more than 10 percent of those tested have contracted COVID-19.
On Friday, Rahul Gandhi, leader of the opposition Congress party, wrote to Modi reiterating his demand for a total lockdown, warning "the human cost will result in many more tragic consequences for our people".
He said the government should not worry about the economic cost of a shutdown and provide financial and food support to the poor.
Anthony Fauci, US President Joe Biden's chief medical adviser, also suggested that a complete shutdown in India may be needed for two to four weeks to help ease the outbreak.
Modi imposed the two-month stringent lockdown last year on four hours' notice. It stranded tens of millions of migrant workers who were left jobless and fled to villages with many dying along the way. But experts said the decision had helped contain the virus and bought time for the government.
Australia to end ban
On Friday, Australian Prime Minister Scott Morrison said Australians stranded in India will be able to return home from May 15, following widespread public outrage over a travel ban.
Morrison this past week barred all travel from India, fearing a large number of COVID-positive arrivals would overwhelm Australia's strained quarantine facilities.
The move stranded an estimated 9,000 Australian citizens and threatened them with large fines and jail time if they tried to dodge the ban and return on non-direct flights.
Morrison's ban caused widespread outrage, with even supporters describing it as racist and an abandonment of vulnerable Australians overseas.
Meanwhile, according to a recent analysis, the COVID-19 pandemic has caused nearly 6.9 million deaths across the world, more than double the number officially recorded.
Deaths go unreported as most countries only record those that occur in hospitals or of patients with a confirmed infection, the report by the University of Washington's Institute for Health Metrics and Evaluation showed.
In the United States, the death toll might have passed 905,000, which is 62 percent more than the 561,594 deaths currently reported by the US Centers for Disease Control and Prevention.
The institute forecasts 949,000 COVID-related deaths in the US by September. By the end of the pandemic, total deaths will rival the number of people who died in the 1918 flu outbreak, it predicts.
Agencies and Minglu Zhang in New York contributed to this story.