Tibet sets sights on huge boost in tourism by 2025
By PALDEN NYIMA and DAQIONG in Lhasa | CHINA DAILY | Updated: 2021-05-08 07:45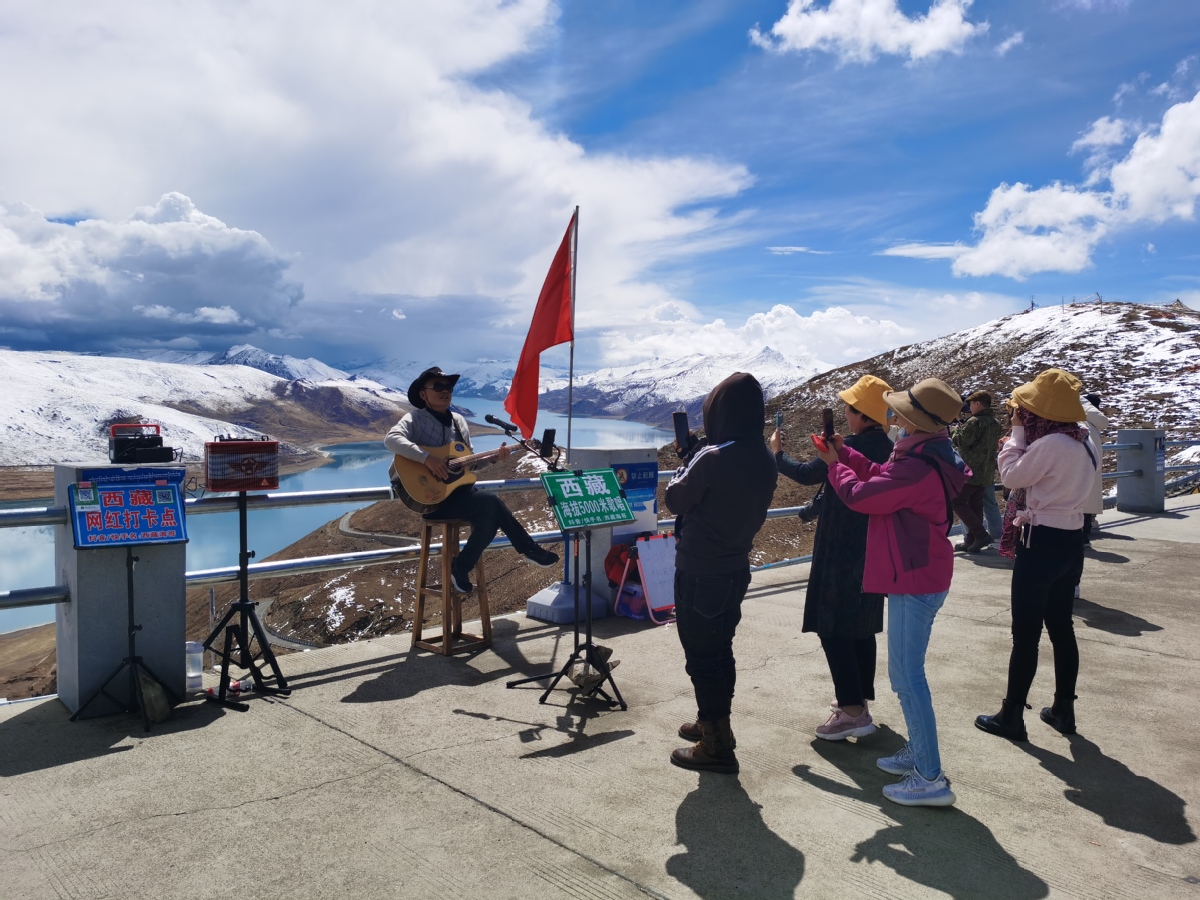 The Tibet autonomous region expects to receive 61 million tourist visits and achieve an annual revenue of 64 billion yuan ($10 billion) from tourism by 2025, according to local authorities.
This is part of the region's drive to boost tourism during the 14th Five-Year Plan (2021-25). More than 600,000 tourism operators and rural residents are expected to benefit from the industry by 2025.
The region is expected to receive more than 42 million tourists and earn 44 billion yuan from the sector this year, an estimated 20 percent year-on-year increase in both, according to a recent conference call about the region's tourism sector.
The region's booming tourism during the May Day holiday has definitely given the sector greater confidence.
Tibet received more than 700,000 tourists during the five-day holiday that ended on Wednesday, a 48 percent increase year-on-year, and its tourism revenue reached more than 700 million yuan during the period, an increase of 93 percent, the region's tourism department said on Friday.
During the 13th Five-Year Plan (2016-20), the region received 157 million domestic and foreign tourists and earned more than 212.5 billion yuan from tourism, 2.3 times and 2.4 times as much as that during the 12th Five-Year Plan (2010-15), respectively.
Wang Songping, head of the regional tourism development department, said that the region's tourism economic data exceeded the target of the 13th Five-Year Plan two years ahead of schedule, and the tourism sector accounted for 33 percent of Tibet's total income.
The region continued to develop more tourism sites in its rural areas. More than 300 countryside tourism sites have been created in rural areas, and 26 townships have been become special tourism townships over the past five years.
Wang added despite the impact of the COVID-19 pandemic, Tibet's tourism market recovery ranked top among all other provincial-level regions in May 2020.
According to Wang's department, Tibet implemented 84 tourism investment projects in 2020, involving an investment of more than 864 million yuan.
"Thanks to the support of the Ministry of Culture and Tourism, the tourist attraction of Yarlung Zangbo Grand Canyon in Tibet's Nyingchi was recognized as a national 5A tourist attraction," said Wang.
Shao Chen, vice-general manager of Tibet Tourism Co Ltd, said: "The suspension of outbound travel due to the pandemic has also promoted tourism in the region, as people seek to travel longer and more remotely in China."
Zeng Fanjin, a tourist from Sichuan province, chose to tour Tibet by riding a motorcycle from Chengdu, the capital of Sichuan province to Lhasa, for five days.
"It is my second time touring the region by motorbike. It's challenging and exciting and I enjoyed the pleasant journey."
"Tibet is changing. I have enjoyed better tourism services and tourism facilities this time, and I find it is very clean everywhere I have traveled."