Suga has Olympic second thoughts
By WANG XU in Tokyo | China Daily | Updated: 2021-05-11 07:40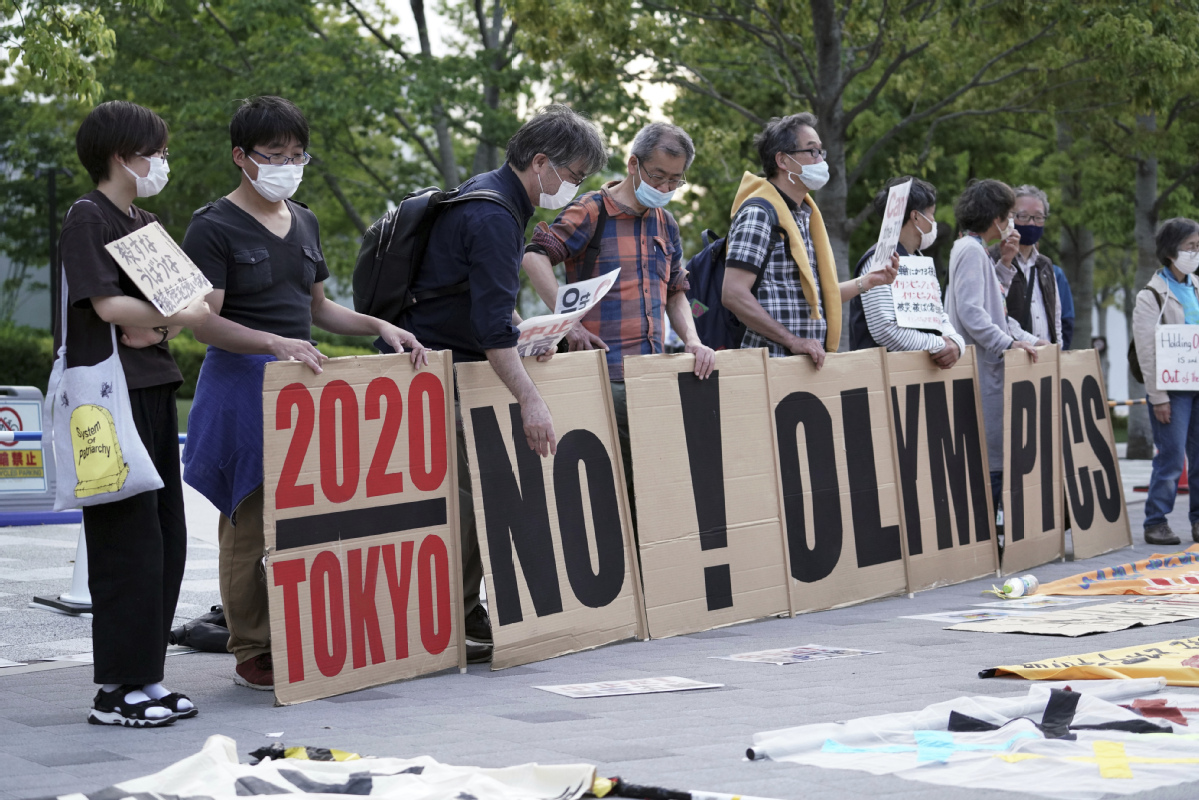 Japanese Prime Minister Yoshihide Suga on Monday for the first time eased up on his insistence that the rescheduled Tokyo Olympics will proceed in July after a poll found nearly 60 percent of Japanese want the event canceled.
"I've never put Olympics first," Suga said in a parliamentary committee meeting when he was asked whether the Games should continue even if COVID-19 cases keep spiking higher.
"My priority has been to protect the lives and health of the Japanese population. We must first prevent the spread of the virus," he added.
Monday's remark was Suga's first sign of an attitude change toward the Olympics since he took office last September. The prime minister had been adamant that the Games would "go ahead as scheduled".
Instead of becoming the leader who pulled off the improbable, Suga is facing growing pressure as the opinion poll, conducted between Friday and Sunday by the conservative Yomiuri Shimbun, showed 59 percent wanted the Games canceled, while only 39 percent said they should proceed.
There was no option to postpone the event in the poll as it was ruled out by the International Olympic Committee and the Games have already been delayed by a year.
Another poll conducted during the weekend by TBS News found that 65 percent of Japanese wanted the Games canceled or postponed again, with 37 percent voting to scrap the event altogether and 28 percent calling for another delay.
Rising petition signatures
More than 300,000 people have signed an online petition to cancel the Games in the roughly five days since the petition was launched.
Nearly 100 "anti-Olympic" protesters marched around Tokyo's National Stadium on Sunday to show their opposition to the event as a track and field competition that served as a rare on-site test took place inside.
The Japanese prime minister said the IOC has the final say on the fate of the Games and that his government's role is to take steps so the event can be held safely.
As the opening ceremony is scheduled to take place in some 70 days, public opposition in Japan has held firm as coronavirus cases rise in all 47 prefectures. Those cases are being fueled by new, more contagious variants.
The country reported on Saturday more than 7,000 infections, the highest since January. As of Monday, Japan has recorded about 600,000 coronavirus cases and more than 10,500 deaths.
"The number of people who are against the Olympics is growing very fast right now," said Namiko Hiraoka, a high school teacher in Tokyo. "I think the government should make a scientific decision rather than political ones on this matter."