New green jobs arise to bolster carbon goals
By ZHENG XIN | China Daily | Updated: 2021-05-12 10:00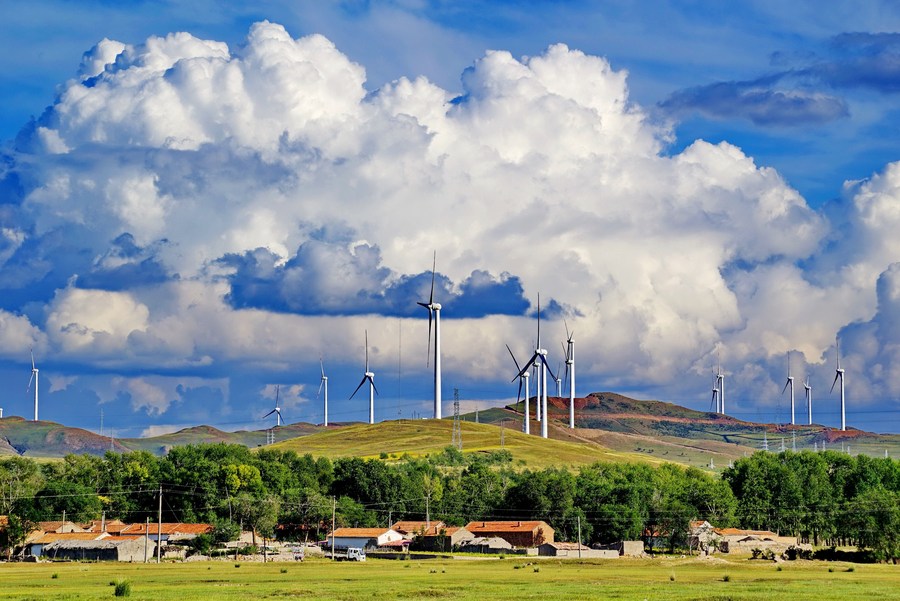 Range of positions in management of gas emissions create more professions
"Manager of carbon emissions"-likely to be a widely-seen environment-related job title-is to be included in corporate management hierarchies in China.
A carbon emissions manager will be one who will be responsible for monitoring emissions of greenhouse gases and related responsibilities like statistical accounting, inspections, transactions and consultations.
Such full-fledged green jobs at the management level are expected to facilitate China's ongoing energy transformation and help the country fulfill its carbon neutrality pledge.
Key carbon dioxide emitter industries like petrochemicals, electric power, iron and steel, building materials, nonferrous metals and air transport-all of which collectively accounted for 74 percent of the country's total CO2 emissions last year-have already hired, or are expected to hire, professionals for the newly created green positions.
Typically, a carbon emissions manager is expected to focus on inspections of enterprises and public institutions' carbon emissions, calculate their carbon emission figures, buy and sell carbon emission permits and provide related consultation services, said Li Yongliang, deputy head of the industrial development department of the China Petroleum and Chemical Industry Federation.
Within the broad category, such green jobs could be specific to certain sectors like civil aviation and petrochemicals. And mid-level departmental positions could have highly specific remits for carbon emission management, carbon emission monitoring, carbon emission auditing, carbon emission inspection, carbon emission trade and carbon emission consulting, Li said.
Detailed job descriptions, requirements like educational qualifications and traits, career progression paths, onboarding, orientation and training modules, and compensation packages are being drafted and will be completed soon, he said.
Carbon emission-related management professionals are expected to be familiar with related laws, regulations, standards and policies, and suitably qualified for carbon emission monitoring, accounting, trading and consultation.
They will help facilitate China's carbon neutrality and carbon peak goals, said Li Gao, head of the Department for Addressing Climate Change part of China's Ministry of Ecology and Environment.
According to Wei Hanyang, a power market analyst at Bloomberg New Energy Finance, carbon emission auditors and carbon emission inspectors will have a bigger role to play from now on, and the country's low-carbon transformation of the energy and electric power system would create great work opportunities for such talent.
The new green jobs are jointly proposed by the China Petroleum and Chemical Industry Federation, the China Electricity Council, the China Iron and Steel Association, the China Building Materials Federation, the China Nonferrous Metals Industry Association, the China Air Transport Association and the China Metallurgical Industry Planning and Research Institute.
As the iron and steel industry emits CO2 the most-as much as 15 percent-among all manufacturing industries in China, analysts believe the setup of the new occupation would facilitate the steel industry to meet its carbon neutrality goal.
Zhu Yi, senior analyst of metals and mining at Bloomberg Intelligence, said reducing the steel industry's carbon emissions is key to China's carbon neutrality goal.
"Producing 1 metric ton of steel generates 1.8 tons of greenhouse gases, according to the World Steel Association. As the largest steel-producing country, China still has a long way to go," Zhu said.
However, its use of electric furnaces to produce steel is relatively low, only about 10 percent compared with 70 percent in the United States and 40 percent in Europe, she said.
"Steel produced by electric furnaces, using scrap steel as raw material rather than iron ore, saves power and is cleaner. Increasing the usage of scrap steel and upgrade production lines for high-value-added products will help achieve the 2025 carbon peak target for China's steel industry set by the government."