Pipeline closure vexes drivers at US gas pumps
By HENG WEILI in New York | China Daily Global | Updated: 2021-05-12 10:14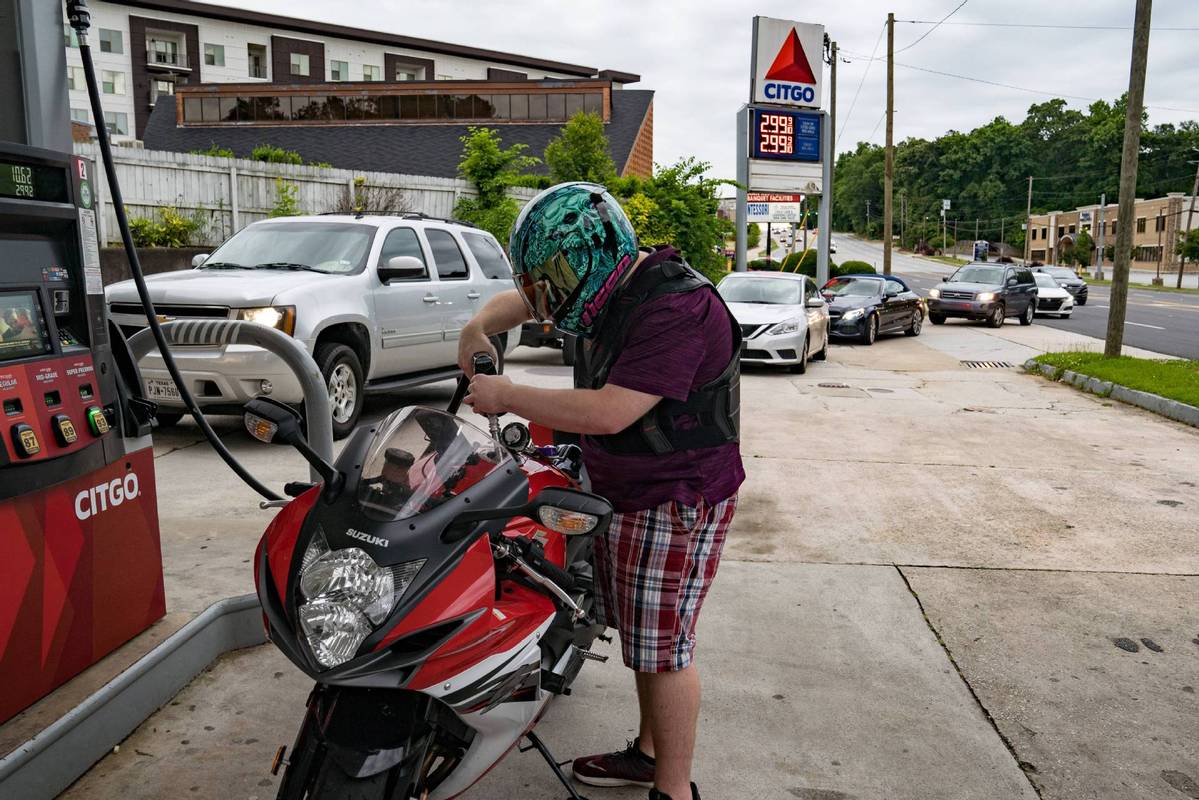 Gasoline stations from Florida to Virginia were running on empty as motorists made a run on gas as the closure of the US' largest fuel pipeline entered its fifth day Tuesday after an alleged ransomware attack.
Officials urged customers not to hoard gasoline as Colonial Pipeline, headquartered in Alpharetta, Georgia, has forecast that it will need until the weekend to substantially restore operations of the 5,500-mile pipeline network that supplies nearly half of the East Coast's fuel.
The pipeline daily transports more than 100 million gallons of gasoline, diesel, jet fuel and heating oil, or roughly 45 percent of fuel consumed on the Eastern Seaboard between the Gulf Coast and the New York metropolitan area.
The company preventively shut the pipeline Friday after hackers had locked its computers and demanded ransom.
The East Coast reported a 32.5 percent rise in demand Monday compared with the previous week, followed by the Midwest at 16.2 percent, the Gulf Coast at 13.1 percent, the Rocky Mountain region at 6.6 percent and the West Coast at 8.4 percent, according to GasBuddy.
About 7.5 percent of gas stations in Virginia and 5 percent in North Carolina had no fuel on Tuesday as demand jumped 20 percent, tracking firm GasBuddy said.
Prices rose to their highest level in more than six years, and Georgia suspended its sales tax on gasoline until Saturday to take pressure off consumers.
GasBuddy operates apps and websites that provide real-time fuel prices at 150,000 gas stations in North America. It predicts that the national average for gasoline prices could hit $3 per gallon within the next week. Unleaded gas in the US averaged $2.987 a gallon as of 7:20 pm ET Tuesday, according to GasBuddy.
GasBuddy, however, attributes the recent gas-price increase more to the economic recovery associated with the coronavirus pandemic rather than the pipeline disruption.
A year ago, as demand fell amid the pandemic, the average price of gas in the US was $1.848 a gallon.
Energy Secretary Jennifer Granholm said Tuesday that the Eastern Seaboard can expect a "crunch" that will take several days to alleviate.
"We have gasoline," she said during a White House briefing. "We just have to get it to the right places. And that's why I think the next couple of days will be challenging."
Of service station operators, she said, "We will have no tolerance for price-gouging."
"This shutdown will have implications on both gasoline supply and prices, but the impact will vary regionally. Areas including Mississippi, Tennessee and the East Coast from Georgia into Delaware are most likely to experience limited fuel availability and price increases, as early as this week," Jeanette McGee, American Automobile Association (AAA) spokeswoman, said in a statement. "These states may see prices increase 3 to 7 cents this week."
Tiffany Wright, AAA spokeswoman for the Carolinas, told the Asheville Citizen-Times that any shortages were from people rushing to stock up on gas.
"People hear something and panic," Wright told the newspaper. "We're not seeing shortages or bagged pumps. It's still early, but what I will say is that we do have ample supply even though the Colonial Pipeline is responsible for 45 percent of the fuel going to the East Coast."
Tom Kloza, an analyst with S&P's Oil Price Information Service, said: "A lot of that (the pump outages) is because they're selling three or four times as much gasoline that they normally sell in a given day, because people do panic. It becomes a self-fulfilling prophecy."
The FBI has accused a criminal gang called DarkSide of the ransomware attack on the pipeline. Ransomware is a type of malware designed to lock computers by encrypting data and demanding payment to regain access.
A statement issued in DarkSide's name on Monday said: "Our goal is to make money, and not creating problems for society."
Russia's embassy in the United States rejected speculation that Moscow was behind the attack.
"Russia didn't have anything to do with hacking attacks that had taken place earlier," Kremlin spokesman Dmitry Peskov told reporters Tuesday. "We categorically don't accept any accusations against us in this regard."
US President Joe Biden on Monday said there was no evidence so far that Russia was responsible.
The strike on Colonial "is potentially the most substantial and damaging attack on US critical infrastructure ever", US Senator Rob Portman, an Ohio Republican, told a Senate hearing on cybersecurity threats on Tuesday.
The Environmental Protection Agency issued a waiver on Tuesday that allows distributors to continue supplying winter fuel blends through May 18 in three Mid-Atlantic states to help ease supplies.
North Carolina and the US Department of Transportation relaxed fuel-driver rules, allowing truckers hauling gasoline to work longer hours.
Virginia is facing the most pump outages of any state, with 7.6 percent of its fuel stations reporting gasoline outages and 4.9 percent reporting diesel outages, according to GasBuddy.
About 6.3 percent of North Carolina fuel stations are experiencing gasoline outages while 2.1 percent are reporting diesel outages, according to GasBuddy.
In Georgia, about 4.4 percent of the state's gas stations are without fuel and 1.1 percent are without diesel.
Georgia Governor Brian Kemp signed an executive order Tuesday suspending the state's gasoline tax to help offset higher gas prices. The order also increases the weight limits on trucks transporting fuel.
"There is no need to fill up every tank you have or hoard gasoline," Kemp said. "You don't need to go out and fill up every 5-gallon can you've got."
About 2.1 percent of South Carolina's stations have currently reported gas outages and 0.5 percent have reported diesel outages.
"Because our state is currently under a state of emergency, transportation waivers and price-gouging laws are in effect to facilitate fuel delivery and protect consumers," South Carolina Governor Henry McMaster said. "There is no need to rush to top off your gas tanks or hoard gas — the pipeline is expected to resume operations by the end of the week."
Driver Caroline Richardson said she was paying 15 cents more per gallon than a week ago as she refueled at a station in Sumter, South Carolina. "I know some friends who decided not to go out of town this weekend to save gas," she said.
In Florida, about 2.6 percent of stations are currently without gasoline and 0.6 percent are without diesel.
All of the states listed above still had gas prices below $3 a gallon as of Tuesday.
"Markets will go crazy, but two weeks later no one knows it (the fuel disruption) happened," said Chuck Watson, director of research at ENKI, which studies the economic effects of natural and other disasters.
Agencies contributed to this story.