Second wave crystallizes India's downside risks
By Priyanka Kishore | China Daily | Updated: 2021-05-13 07:30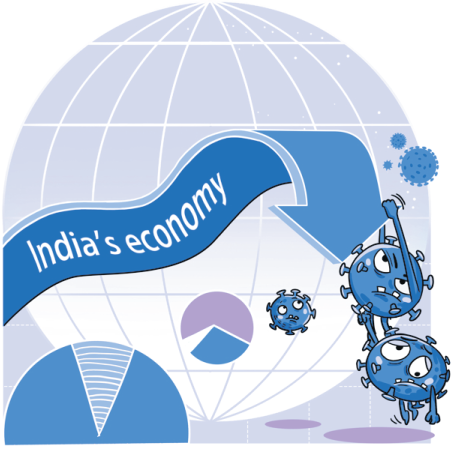 India's escalating health burden, faltering vaccination rate, and lack of a convincing government strategy to contain the novel coronavirus pandemic have prompted us (at Oxford Economics) to downgrade our 2021 GDP growth forecast for the country from 11.8 percent previously to 10.2 percent.
We expect India's GDP to contract sequentially in the second quarter as more and more states resort to stricter lockdowns to contain the pandemic, and average 1.47 percent quarter-on-quarter in 2021-a notable slide from our pre-second wave average growth forecast of 1.64 percent. Still, further downward revision may be warranted if struggling health systems force major regions, including Maharashtra, Karnataka and Delhi, to prolong lockdowns.
At the start of the second wave, we had identified four potentially inter-linked sources of downside risk to our GDP forecast: a rapid spread of the second wave leading to tighter social distancing measures, a slowing vaccination rate, the re-introduction of hard lockdowns by the central or state governments, and a substantial worsening of the health situation.
Since then, the rapidly swelling second wave has taken a big toll on India's healthcare infrastructure. The health system has collapsed in the worst-hit regions, with even New Delhi facing acute shortage of oxygen and COVID-19 hospital beds. And while the official mortality rate has edged lower, it masks a high death count.
Despite rising pressure, however, the central government's containment strategy has changed little. Given the disastrous economic impact of last year's lockdown, it continues to prefer targeted measures and vaccinations to contain the virus. But the ferocity of the second wave is increasingly challenging this approach and has pushed several states to significantly tighten social distancing measures, even impose complete lockdowns, over the last couple of weeks.
In order to expedite the vaccination drive, the government has of late approved several international vaccines, given grants to domestic companies to expand their vaccine production capacities and made everyone above 18 eligible for vaccination from May 1.
Although these are positive developments, it remains to be seen how quickly this will speed up the vaccination rate.
We reiterate that international experience suggests that India's daily vaccination rate will have to increase to 5-7.5 million for immunity levels to increase sufficiently to bring down case numbers. Yet supply snags and logistical issues have dragged down the daily vaccination rate to below 2 million in May from a peak of 3.5-4 million in April.
With the key downside risks to our baseline materializing, we have downgraded our 2021 growth forecast by 1.6 percentage points to 10.2 percent. Sequentially, we expect GDP to contract once again in the second quarter of this year, before recovery resumes in the second half. But three factors suggest the economic impact will be less severe than during the first wave.
First, shorter, less stringent lockdowns. In a recent speech, the Indian prime minister advised states to not impose blanket lockdowns and instead focus on "micro-containment" of the virus. Although Oxford Stringency Index for India rose to 70 in April from 62 in March, it largely reflected tight restrictions in Maharashtra, Chhattisgarh, Madhya Pradesh and Delhi. Since then at least 10 more major states have announced complete or partial lockdowns. But these lockdowns are of shorter duration compared with last year's national lockdown and allow for more movement of goods, vehicles and people.
Second, low willingness for voluntary social distancing. Consumer behavior has likely turned more cautious, but a large segment of the population seems to have adapted to the pandemic. For example, mobility levels in Uttar Pradesh-India's most populous state where daily case counts and deaths have risen rapidly-remained well above those of Maharashtra, which has the highest case count, until a partial lockdown was imposed. This is true of other hotspots as well as those that had earlier chosen a light-touch approach to containment.
And third, activity is becoming more resilient to the virus. Economic evidence suggests businesses are learning to continue operating amid the pandemic. This was clearly seen during the first wave, when activity staged a steep rebound from the lockdown lows even as COVID-19 cases continued to climb, and it is corroborated by the latest high frequency data. While signs of weakness in economic activity (as evidenced by the downward revision to our growth forecast) can't be disputed, the decline seems nowhere close to the collapse in activity witnessed last year.
Still, risks to our forecast remain to the downside. We expect India's national mobility to stabilize a few percentage points below the current levels.
But with the second wave yet to show signs of peaking in many states and the rising burden on the health infrastructure, the risk that more regions may have to retain relatively strict measures for a longer period is increasing.
More widespread and lengthier lockdowns would further restrict economic activity, necessitating another downward revision to our forecast, especially since the larger and more economically important regions are bearing the brunt of the second wave and could impose tougher lockdowns of two weeks or more.
The author is head of India and South East Asia Economics at Oxford Economics.
The views don't necessarily reflect those of China Daily.