Donated doses help lift spirits in Bangladesh
By ARUNAVA DAS in Kolkata, India, and XU WEIWEI in Hong Kong | China Daily | Updated: 2021-05-14 07:22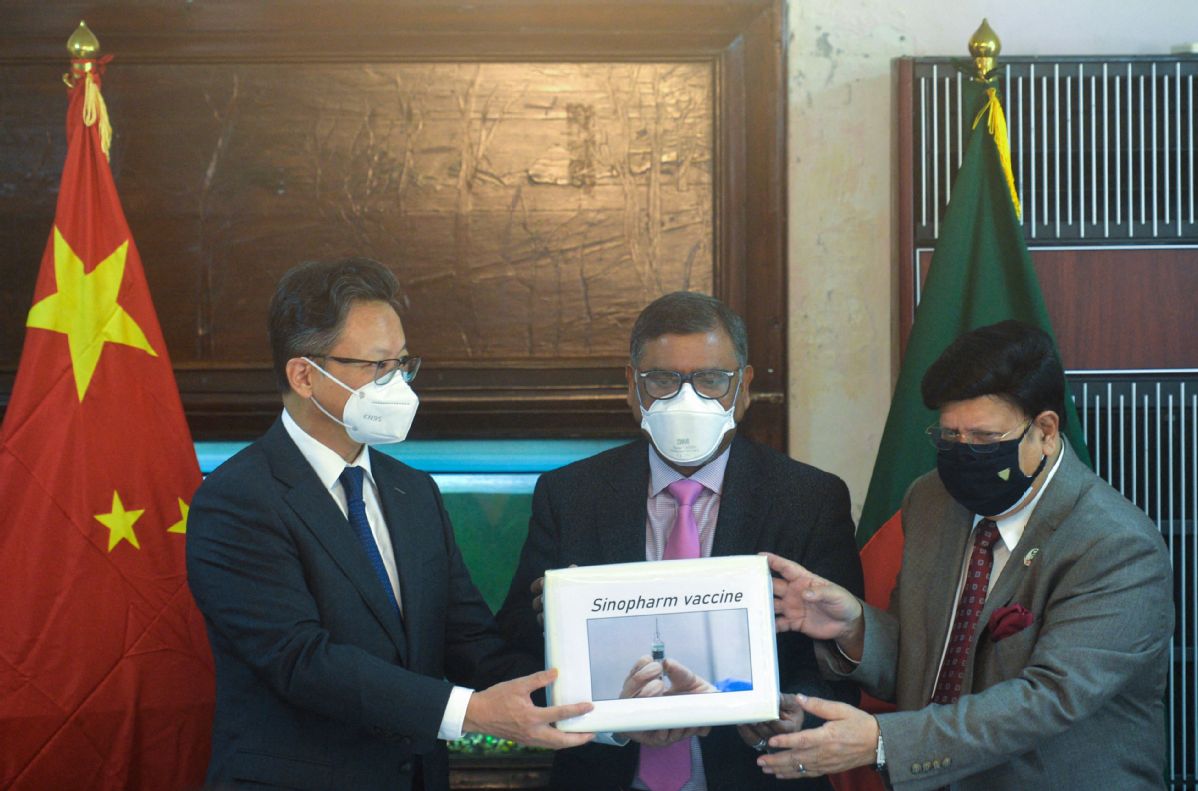 For most Bangladeshis, the Eid al-Fitr festival is a time to celebrate togetherness within families and communities. But now they are contemplating their second year of a much-cherished festival held in the shadow of the pandemic.
In Bangladesh, Eid starts on Friday, and for businessman Abdur Rahim, much like in 2020, this year's Eid "too is soaked in a mix of pain and frustrations".
With partial lockdowns and social distancing, the opportunities for Muslims "to reach out to everyone, embrace each other" are not the same for another year, said Rahim, a co-owner of an export-import company in the capital Dhaka. "We understand, but this is painful."
Neighboring India has experienced a devastating resurgence in coronavirus infections, and other South Asian nations are also contending with increased caseloads.
Fahmida Khatun, executive director of the Centre for Policy Dialogue, a think tank in Dhaka, said it's "deeply depressing" for people to remain confined at home during festivities, especially during Eid-arguably the biggest religious festival in Bangladesh.
"It will be all quiet. The customary hugging and embracing will not be evident," she said.
With curbs on travel and social gatherings, Khatun believes it is even more imperative that people get vaccinated.
To that end, help is coming from China. On Wednesday, a Bangladesh Air Force aircraft returned from Beijing with donated doses of a vaccine from Chinese drugmaker Sinopharm, along with syringes.
Major General Mahbubur Rahman, director general of Bangladesh's Directorate General of Drug Administration, said on April 29 that the vaccine had been granted emergency-use approval.
The country's vaccination drive was launched on Jan 28; some 5.8 million people have since received a first dose of a vaccine. Supplies had earlier come from the Serum Institute of India.
Of heightened concern in Bangladesh is the spread of a highly contagious variant first detected in India.
On Thursday, 1,140 new infections and 40 deaths were reported from the day before. The number of confirmed infections reached more than 777,000, government data shows. The numbers are down from around 7,000 daily cases a month ago.
Timely aid
Bangladeshi Health Minister Zahid Maleque said the Chinese vaccine has arrived at a time of dire need. "A friend in need is a friend indeed," he said of China's donation.
Chinese Ambassador to Bangladesh Li Jiming on Monday noted that the donation "is the latest outcome of China-Bangladesh anti-pandemic cooperation, which again shows that our two peoples are in the same boat".
The nations' cooperation against the coronavirus is expected to include clinical trials, bilateral assistance, commercial purchases and local production."We will stand with each other till the end of this battle," Li said.
Li recalled Bangladesh's support when China was hit hard by the virus in 2020, with donations of medical supplies.
In return, sectors across China have provided large quantities of medical supplies and essential goods for Bangladesh, and a Chinese medical team has been helping.
The government is discussing arrangements for a steady supply of Chinese vaccines. "That's the wisest move in the current context," businessmen Rahim said.