Tax change backdown fails to dampen protests in Colombia
By SERGIO HELD | China Daily | Updated: 2021-05-17 09:25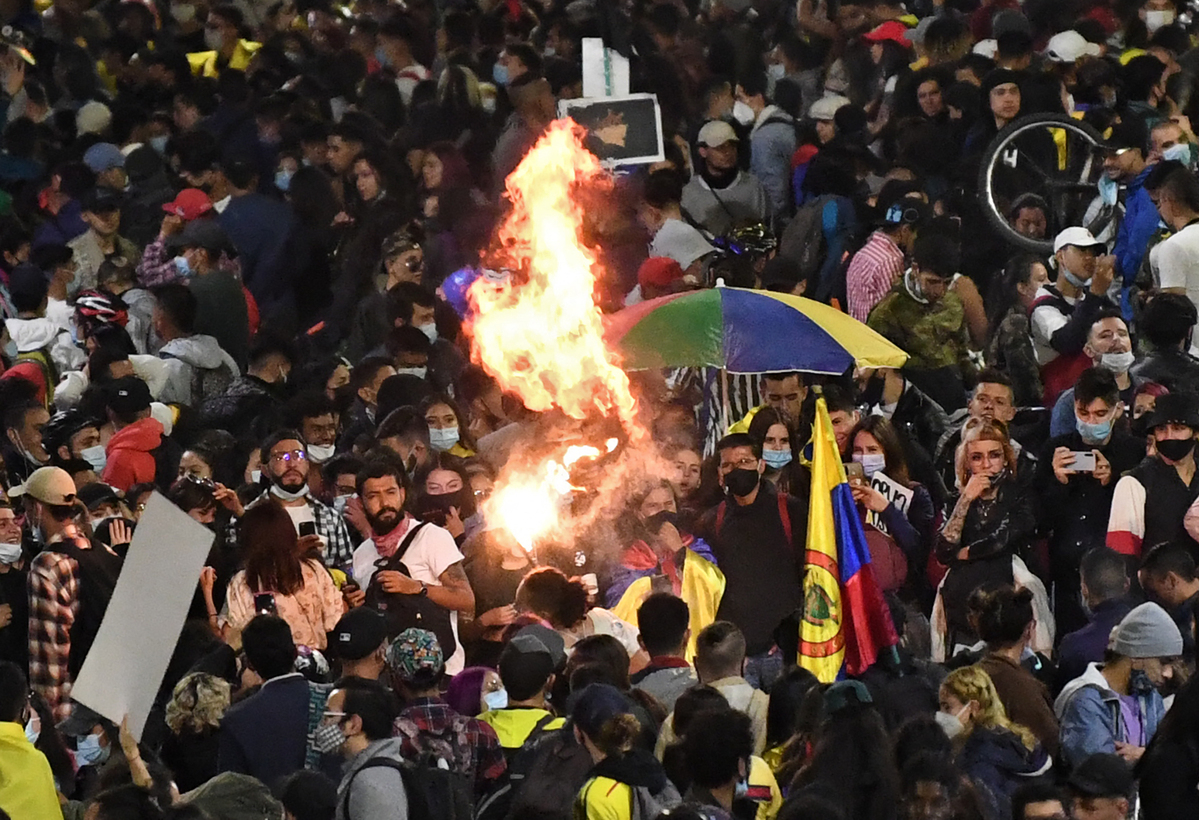 Colombia is mulling tax reform measures as protests sparked by now-withdrawn proposed changes show no sign of subsiding and in fact become more violent.
The government proposed fiscal changes on April 27 as part of an effort to improve the country's finances badly hit by pandemic lockdowns. Protests followed the next day and have continued.
At least 42 people have died and more than 1,500 have been injured in the unrest, according to official figures. On Wednesday a convoy of 15 trucks carrying about 500 tons of medical aid escorted by the Colombian Red Cross was attacked.
"The protests can't be understood exclusively in relation to tax reform," said Gabriel Cifuentes, a political analyst and former government secretary in charge of transparency. "It could have been the trigger, but the true cause is a much deeper discontent."
The current unrest has roots in protests in November 2019 sparked by rising inequality, he said.
"Colombia is one of the most inequitable countries in the world, with poverty rates exceeding 40 percent."
Consumer confidence plummeted more than 23 percent last month, and in addition to government debt, the costs of dealing with health and humanitarian crises have risen even as the United States dollar depreciates, making life more expensive and impoverishing the country.
Withdrawal of the reform package and the resignation of Alberto Carrasquilla, the minister of finance, on May 3 failed to halt the protests.
The government is expected to propose a new reform package but plans to build a consensus beforehand with a wide range of stakeholders.
President Ivan Duque said on Friday that his administration was ready to meet and begin formal negotiations with members of the National Strike Committee following days of protests.
"We have said with all clarity that we are ready to meet with the members of the Strike Committee to advance in negotiations and forge agreements," Duque said in a video posted on social media.
Alberto Bernal, chief emerging markets and global strategist at XP Investments, said: "If there is no fiscal reform of at least 12 trillion to 14 trillion pesos ($3.2 billion to $3.7 billion), I think ratings agencies will downgrade Colombia's credit rating."
Protest-related strikes are estimated to have cost the country about 12 trillion pesos, about what the failed tax reform aimed to collect.
"We lost a month of growth, which implies the growth expectations of 6 percent to 6.5 percent have to be reset at about 5 percent," Bernal said.
Social unrest and violence have also caused food, natural gas and fuel shortages in many cities.
In principle, Colombians support demonstrations, said Octavio Quintero, president of the Valle del Cauca chapter of the National Federation of Traders, "but it is wrong to block roads and to disrespect the rights of others, such as the right to freedom of movement and access to public health".
The Valle del Cauca area has been heavily affected by demonstrations. Protests have taken place in the local city of Cali, about 300 kilometers southwest of the capital, Bogota.
Xinhua contributed to this story.
The writer is a freelance journalist for China Daily.