Carbon trading's steel edge set to sharpen shortly
By LIU ZHIHUA | China Daily | Updated: 2021-05-17 09:41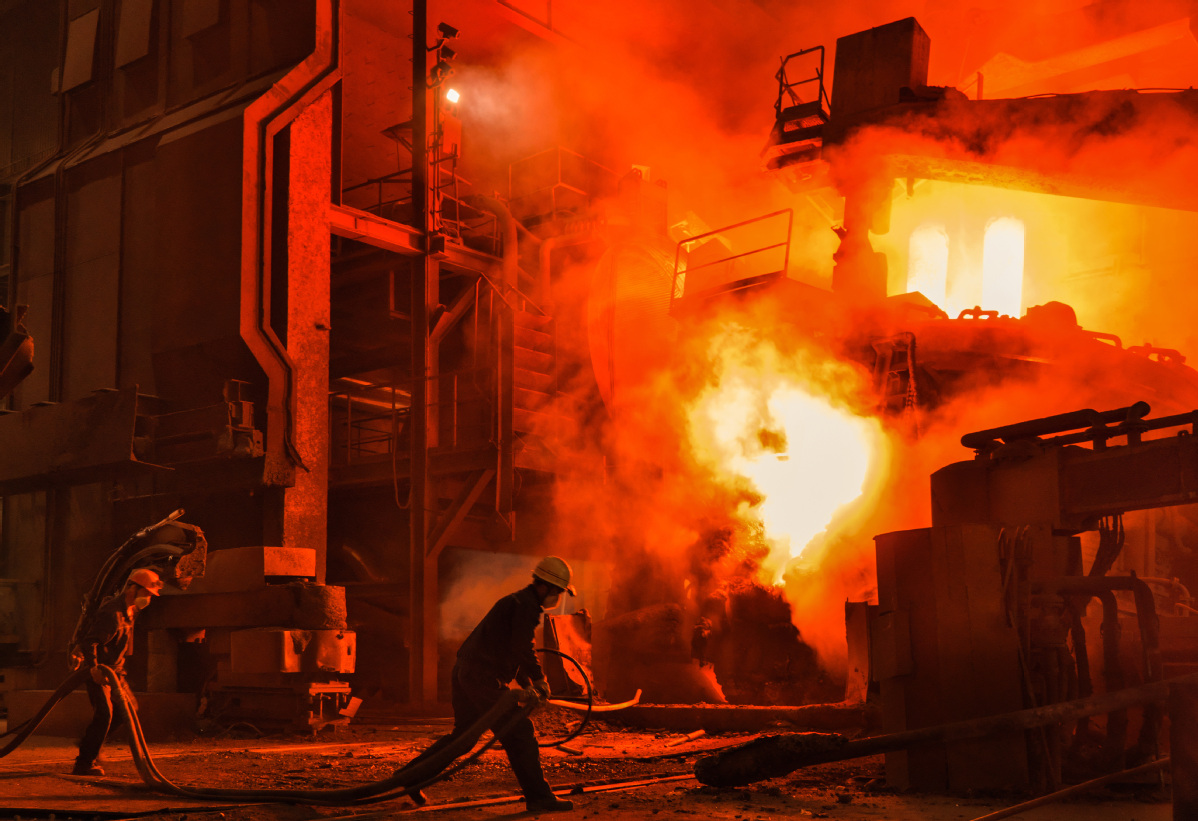 China's national-level carbon emissions trading system is expected to be a significant lever for the steel industry's carbon emissions reduction and structural optimization, experts said.
The national carbon emissions trading system, scheduled to become operational by the end of June, will first open for the power sector, to be followed by the steel industry as soon as possible, within the 14th Five-Year Plan period (2021-25), said Li Gao, head of the department of climate change at the Ministry of Ecology and Environment, CNR Business Radio reported.
To begin with, a company registered with the trading system will be allocated a specific amount of carbon emissions allowance for free, based on its history of production and carbon emissions data. If the company's carbon emissions subsequently exceed its allowance, it has to buy more allowances in the trading system.
"By putting a price on carbon emissions, and providing a marketplace to trade emission allowances, the carbon emissions trading system will rely on market mechanisms and economic tools rather than administrative regulations to propel steel enterprises' efforts in carbon emissions control and reduction," said Wang Guoqing, director of the Lange Steel Information Center.
"That will also underpin the high-quality development of the steel industry and help advance China's carbon neutrality."
Rules will get increasingly tougher over time, although in the beginning the free allowance calculation and allocation mechanism may be designed not to have an overwhelming effect, so as to offer a time window for steel enterprises to adjust to lower-carbon production and operations, Wang said.
She said she believes the amounts of free allowances will diminish over time, while penalty for failing to report accurate data or meet compliance obligations will increasingly tighten.
Trading of carbon emission quotas is not a new concept to China's steel industry. In 2011, the country started carbon emissions trading pilot works in seven provinces and cities such as Beijing, Shanghai and Tianjin, and Guangdong province.
Data from the Ministry of Ecology and Environment showed nearly 3,000 companies from more than 20 industries, including power, steel and cement, have taken part in the pilot carbon emissions trading. By the end of March, the total amount of traded carbon emissions exceeded 440 million metric tons, with the aggregate trading value reaching about 10.47 billion yuan ($1.6 billion).
According to Li Xinchuang, chief engineer of the China Metallurgical Industry Planning and Research Institute, crude steel production capacity of the steel enterprises participating in the pilot trading has covered one-seventh of national capacity, facilitating national low-carbon transition.
"Through works such as monitoring, reporting, and verification to systematically provide accurate, comparable, and credible carbon emissions data, as well as related training, steel enterprises have strengthened capacities for carbon trading, and furthered energy preservation and low-carbon development," Li said in a note.
Participant steel enterprises in the pilot regions have accumulated better experiences in carbon asset management and trading strategies, and some even have established professional carbon asset subsidiaries or carbon emissions management units.
However, Li also said establishment of a whole-industry carbon emissions trading system for the steel industry still faces challenges.
Most enterprises are not familiar with the concept and related rules, he said, adding pilot works differ from region to region in terms of trading rules. So, market mechanisms should play a bigger role.
Besides, a comprehensive low-carbon standards system needs to be established for the steel industry, which should cover standards on carbon-trading mechanisms, low-carbon technologies, greenhouse gases emission monitoring methods, and low-carbon products, he said.
According to Huang Dan, vice-chairwoman of Beijing Jianlong Heavy Industry Group Co Ltd, also known as Jianlong Group, a carbon emission factor database based on a scientific and reasonable carbon verification system is a must, to integrate the steel industry into the national carbon emissions trading system.