Taking apart West's baseless Xinjiang claims
By Pranab K. Barua | chinadaily.com.cn | Updated: 2021-05-17 10:01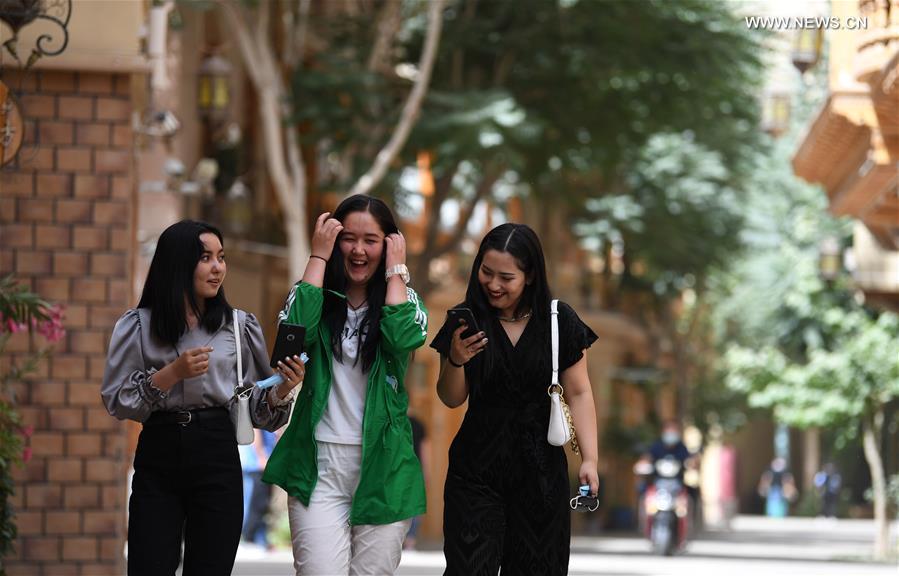 Living in India has become a matter of survival amid the ongoing COVID-19 pandemic in the country. Whether we like it or not, the Western media has lately been super busy covering news of our widespread suffering and loss of lives. There is, however, one more topic that happens to engross them so much that it makes me wonder if there is dearth of news. It is Xinjiang.
Although I have lived in China, the city of Ningbo to be precise, for a couple of years in the past, I have never been to Xinjiang. Has that living experience imbibed in me certain values that inspire me to write my observations on Xinjiang? Perhaps! But the biggest reason is that I am simply and truly so done with Western hypocrisy. Why does the truth always have to be what they think and claim it is, regardless of the nature and origin of the matter? As an Indian, am I expected to be angry with China all the time for whatever reasons? Should I need to be guided by anti-China propaganda implanted especially by the West, not to mention India's own strategists?
History is full of glaring examples of countries and regions that were once colonized by the West. I cannot though think of any example of any region prospering under an alien ruler. When the British ruled over India, for example, India's indigenous industries were strategically destroyed, reducing the country's gross domestic product or GDP to dust. Meanwhile, Great Britain became so-called great as its GDP soared. Without colonies, no Western power could have been powerful. And yet, we are still dubbed the Third World.
Speaking of Xinjiang, I discovered that its GDP per capita has steadily been rising over the years. If Xinjiang were indeed under repression by Beijing, then shouldn't it be pretty poor? Consider the data issued by the National Bureau of Statistics. The GDP per capita of Xinjiang in terms of RMB from 2010 to 2019 was as follows: 25,034 (2010), 30,087 (2011), 33,796 (2012), 37,553 (2013), 40,648 (2014), 40,036 (2015), 40,564 (2016), 44,941 (2017), 49,475 (2018), 54,280 (2019). It appears that Xinjiang has been becoming richer year by year.
Whenever Xinjiang is in conversation, can its cotton be far behind? There have been reports of human rights violation of its Uyghur community subjected to forced labor. For the sake of argument, let us believe that such claims are true, and that Beijing has indeed compelled the province's entire adult population to work as cotton laborers. If that be the case, Xinjiang should have had a phenomenal cotton output, perhaps singlehandedly beating India, the biggest producer of cotton in the world. I checked the website of the Food and Agriculture Organization of the United Nations and procured data for China's cotton lint output in terms of tons from 2010 to 2018 was as follows: 5,970,000 (2010), 6,588,959 (2011), 6,835,975 (2012), 6,298,989 (2013), 6,178,318 (2014), 5,610,000 (2015), 5,343,000 (2016), 5,653,000 (2017), 6,102,800 (2018). Clearly, there has been no significant production jump as should have been if every Uyghur adult were forced to labor in cotton fields.
Perhaps the most baseless allegation is the one that holds Beijing accountable for the decline in population in Xinjiang. It is loud and clear that the nation's policymakers need to revamp their family planning policy in order to maintain a healthy population rate. One silver lining though exists as the ethnic minority population increased by 0.4 percent points compared to 2010 by reaching 125 million in 2020. However, the West somehow managed to single out Xinjiang and make a mountain out of a molehill, as always. This only reveals the desperation of the Western powers to fit Xinjiang anyhow into the narrative they see fit.
Pranab K. Barua is an avid globetrotter, an independent columnist and observer of International Politics. He has expertise in Sustainable Development, Clean Energy, Zero Carbon Technologies, and Circular Economy.
The opinions expressed here are those of the writer and do not necessarily represent the views of China Daily and China Daily website.
If you have a specific expertise and would like to contribute to China Daily, please contact us at opinion@chinadaily.com.cn, and comment@chinadaily.com.cn.