Cow statue symbolizes China-Scotland ties
By WANG MINGJIE in London | China Daily Global | Updated: 2021-05-21 09:34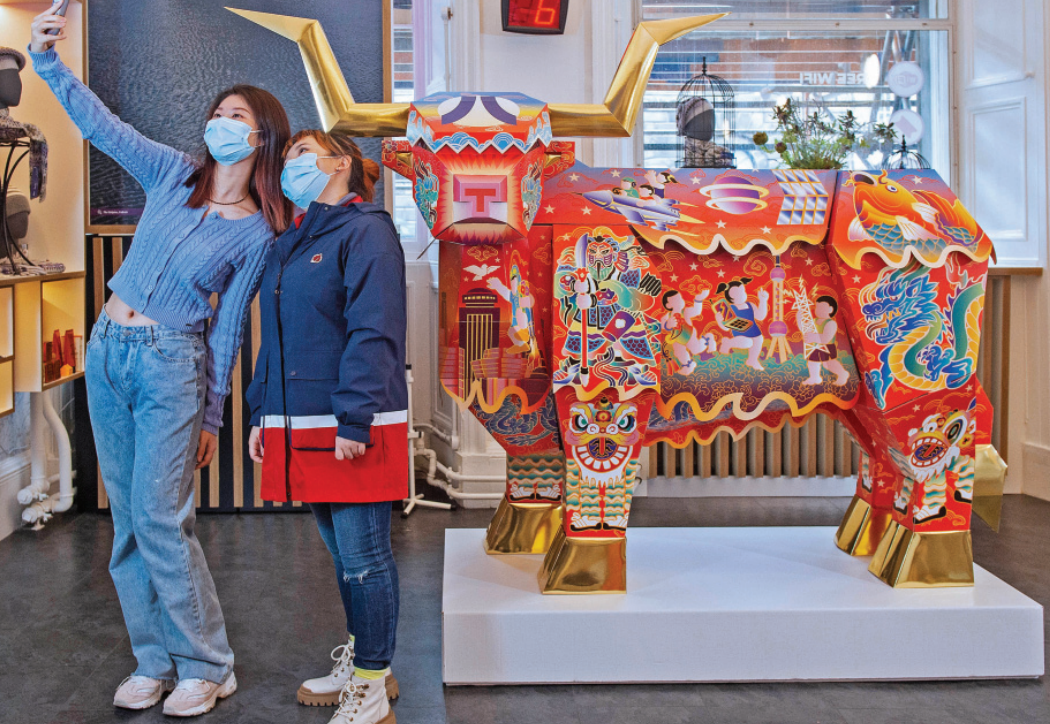 A new art installation, linking the Chinese Year of the Ox with Scotland's iconic highland cow, has been unveiled in the heart of the Scottish capital Edinburgh, further demonstrating Scotland's commitment to strengthening ties with China.
The artwork, called Citadel of the Stars, and created by artist Ian Kirkpatrick, is on display at VisitScotland iCentre on the Royal Mile in Edinburgh from Thursday, aligning with the celebration of I Love You Day in China. It was supported by the Confucius Institute at the city's Heriot-Watt University.
Ian Baxter, director of the Scottish Confucius Institute for Business and Communication at the university, said: "We were looking for a singular object to bridge the gap between an Ox and a highland cow in a meaningful way. The 'coo' (as the animal is known) was the anchor point, the perfect mash-up of both cultures, and we were inspired by Ian Kirkpatrick's striking style, and his approach as a contemporary artist using sculpture to explore Chinese culture.
"The pronunciation of 520 in Chinese is very similar to the pronunciation of 'I love you', and what a wonderful message to be spreading as the United Kingdom starts to slowly come out of lockdown," he said.
Kirkpatrick is a Canadian contemporary artist, currently based in London. His work is inspired by the history of art and design, from ancient cave paintings and Greek amphora, to graffiti and computer graphics, and has been exhibited across the UK and internationally.
He has produced commissions for the London 2012 Olympics, the Tour de France, and the Oxford Museum of Natural History, and has completed public art projects in Leeds, Middlesbrough, Amsterdam and Rotterdam.
Kirkpatrick said: "I was delighted to work on this project and took my inspiration from a quote by Carl Sagan that promotes the idea of friendship between nations. As a result, much of the iconography is space-related, including images of Chang'e 5 (the fifth lunar exploration mission of the Chinese lunar exploration program)."
China's Consul General in Edinburgh, Ma Qiang said, "While Citadel of the Stars wants to show that friendship knows no boundaries, the success of China's Chang'e 5 lunar mission tells us 'where there's a will, there's a way'.
"The past year has witnessed humans rallying in one fight against the pandemic and displaying how united and courageous we can be. I'm fully convinced that people from China and Scotland can jointly make big contributions in building a community with a shared future for humanity," Ma said.
Rob Lang, chair of Edinburgh Tourism Action Group's China Ready Initiative, said: "With Scotland and Edinburgh cautiously opening up to visitors from all over Scotland and the UK, many of whom will call into the iCentre for tips on activities and places to go, we think this is the perfect time to launch this installation.
"This partnership creatively celebrates China and Scotland, to build cultural understanding and a diverse mix of entertainment and education, as well as business opportunities to benefit both residents and visitors by making the city China-ready," Lang added.