Commercial 5G drives digital transformation
By OUYANG SHIJIA | China Daily | Updated: 2021-05-25 09:35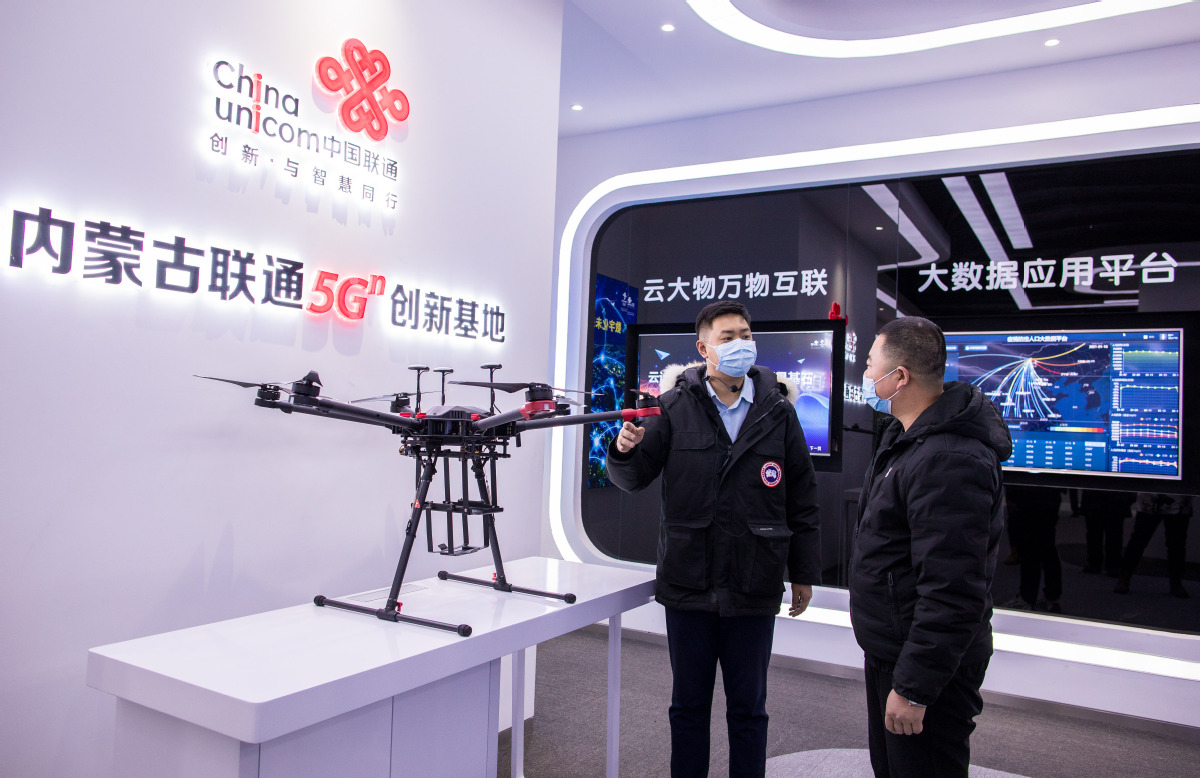 China's continued efforts to build network connections and expand the end device ecosystem have fueled the rapid growth of 5G applications in the country, creating new opportunities for the commercial use of the latest telecom technology, said industry experts.
5G, they said, is the key information infrastructure that can facilitate the interconnection of all things as well as a driving force for the digital transformation of economy and society.
During 2020, a year of COVID-19, China made considerable progress in terms of 5G applications on the back of building "new infrastructure", a term that refers to new digital assets, technologies, related physical facilities and enabling installations like 5G networks, big data centers, artificial intelligence applications and industrial internet.
The impact of the pandemic on both economy and society necessitated accelerated development of new businesses, which are now piggybacking on the development of emerging technologies such as 5G.
Lyu Tingjie, vice-president of the China Information Economics Association, a Beijing-based research institute, said China is entering a new age of digital transformation, and 5G commercial networks will be widely deployed and 5G technology will be deeply integrated into more sectors.
Citing the government's continued efforts to speed up the construction of "new infrastructure", Lyu said she believed new growth opportunities will emerge faster in the next 20 years.
He said the superfast 5G technology will provide coverage areas with data speeds up to 100 times faster and almost instantaneous response time. In the 5G era, higher reliability and lower latency can be realized, making the internet of things more effective and allowing new autonomous cars to become a reality.
"We will see huge potential in the next digital transformation era buoyed by the fields such as the 5G-enabled internet of vehicles, the internet of things and industrial internet," Lyu said. "And that will create new growth opportunities for a wide range of small and medium-sized enterprises, which can explore innovative 5G applications in specific vertical industries."
Zhou Xibing, a veteran analyst who closely follows 5G technologies, said 5G will play a key role in driving the transformation and upgrade of traditional enterprises.
"5G technology will be widely combined with AI and the internet of things to boost the fast development of emerging fields such as virtual reality games, online education, unmanned vehicles and smart logistics, which will further enhance the core competitiveness of Chinese enterprises and allow them to have a far greater say in the global supply chain," Zhou said.
Liu Liehong, vice-minister of industry and information technology, said during a recent telecom and information society conference that China has taken a lead globally, in terms of 5G standalone networks, industrial capabilities as well as applications and innovations.
According to Liu's ministry, as of the end of March, China had built more than 819,000 5G base stations, accounting for more than 70 percent of the global total. About 280 million mobile device users have joined the 5G network, accounting for over 80 percent of the world's total.
And the country's standard essential patent declarations for 5G account for more than 38 percent of the world's total.
Liu took note of the huge growth potential in 5G development, saying it will not only boost the development of digital industrialization in the country, but also effectively promote the industrial digitalization across the nation.
By 2025, the country is expected to spend 1.2 trillion yuan ($186.6 billion) on 5G network construction and drive 8 trillion yuan of related information consumption and 2.93 trillion yuan of economic added value, Liu said.
A new white paper published by the Chinese Academy of Information and Communication Technology showed 5G generated 810.9 billion yuan of direct economic output in 2020 in China, creating 189.7 billion yuan economic added value.
According to the white paper, the rapid development of the superfast 5G wireless technology will also boost the rapid development of information and community technology, inject new impetus into the innovation-driven economic development and create new jobs in the country.
Looking into the next two to three years, the academy said 5G industry will enter a critical period for 5G applications as well as the accelerated transformation and growth of enterprises in the sector.
To foster sustainable and healthy development in 5G, the white paper called for more efforts to further accelerate the push for 5G network construction, continued investment in research and development to boost innovation as well as an increase in support for the cultivation and promotion of 5G-enabled industrial applications.
Wang Peng, a distinguished research fellow with the Communication University of China, agreed with the general thrust of the white paper. He said 5G will drive an unprecedented revolution in production and lifestyles, providing new momentum and solutions for the country's high-quality economic development.
"The deployment of 5G will significantly promote the development of a wide range of fields, including artificial intelligence, the internet of things, online games, virtual reality, augmented reality, smart cities, telemedicine and smart homes," Wang said.