Iran, China celebrate 50 years of relations, emphasize Asian cultural heritage protection
By Behzad Abdollahpour | chinadaily.com.cn | Updated: 2021-05-25 16:50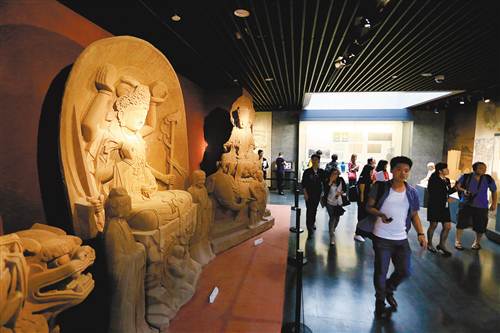 Preserving the world's cultural heritage for the enrichment and education of present and future generations is incumbent upon us. Iran and China, as two ancient civilizations, are endowed with a vast and ancient cultural heritage. Both nations are cognizant of the fact that ancient heritage has shaped much of the lives and value systems of the Asian peoples.
There is a growing recognition that cultural heritage and its conservation is a shared responsibility of all levels of governments, nations and members of a community. Due to Asia's diverse traditions, values and long histories, and considering the fact that cultural heritage is closely associated with the identities of different peoples, creating a platform to share the experience and exchange the knowledge of keeping Asia's cultural heritage alive is crucially important.
China, as the largest country in terms of world heritage sites, believes that cultural heritage resources require remarkable funding and technological restoration and maintenance. Therefore, creating a platform to establish cultural exchange and narrow the gap regarding this issue is necessary. Conservation and usage of Asian heritage could offer member countries an opportunity to identify some challenges that have endangered heritage sites, including urbanization, terrorism, war, illegal excavation, over-tourism and environmental changes.
Iranians also believe that the relics of the past have a special place among generations. Iran, with its ancient civilization, has a huge cultural wealth in this field. For instance, it has 24 cultural heritage sites on the List of World Heritage Sites. Therefore, the protection of cultural heritage is a duty that is the responsibility of every citizen in every place.
Of course, in addition to this public participation, governments and responsible institutions also have an organizational duty to protect this heritage. Considering this issue, it is necessary to examine and analyze the successful experiences of different countries, including China, and consider its successful examples, along with the methods used in the country itself, to protect cultural heritage.
Understanding these issues, recently both Iran and China signed a joint statement regarding Asian cultural heritage protection on the 50th anniversary of the establishment of their diplomatic relations. It was signed by Iran's Ministry of Cultural Heritage, Handicrafts and Tourism, and China's National Cultural Heritage Administration. The agreement was received well by both sides, which keeps alive the hope that we can take some steps to maintain our cultural heritage.
In this agreement, which was signed through a live streaming platform, Li Qun, director of the National Cultural Heritage Administration, Mohammad Hassan Talebian, deputy Iranian minister of Cultural Heritage, Tourism, and Handicrafts, Chang Hua, the ambassador of China in Iran and Mohammad Keshavarzzadeh, the Iranian ambassador to China, exchanged their ideas regarding this joint statement. All the participants highlighted the existence of historical and civilizational evidence and significant measures taken by two sides about protecting cultural heritage.
Chang Hua mentioned that "Cooperation between the two countries in the field of protection of cultural heritage strengthens relations. With the signing of this statement, cooperation and exchange of views between the two sides enters a new phase. We hope for more success in preserving the cultural heritage between the two countries".
At the end of the ceremony Mohammad Hassan Talebian praised the Asian Initiative for Cultural Heritage Conservation and maintained that this initiative will increase the self-confidence and unity of Asian countries in introducing and protecting cultural heritage and encourage them to exchange their experience and knowledge in the protection and restoration of cultural monuments.
Indeed, the overarching purpose of this agreement is to advance this notion that successful, and efficient long-term preservation of cultural resources rests on collective efforts and regional cooperation of different Asian countries, which could open up new avenues of cultural cooperation and friendship.
Behzad Abdollahpour is a freelance writer from Iran. He studies at the Faculty of World Studies, University of Tehran. His research focuses on Asian affairs and China's Belt and Road Initiative.
The opinions expressed here are those of the writer and do not necessarily represent the views of China Daily and China Daily website.
If you have a specific expertise and would like to contribute to China Daily, please contact us at opinion@chinadaily.com.cn, and comment@chinadaily.com.cn.