NDRC action plan to boost price reform
By OUYANG SHIJIA | China Daily | Updated: 2021-05-26 08:45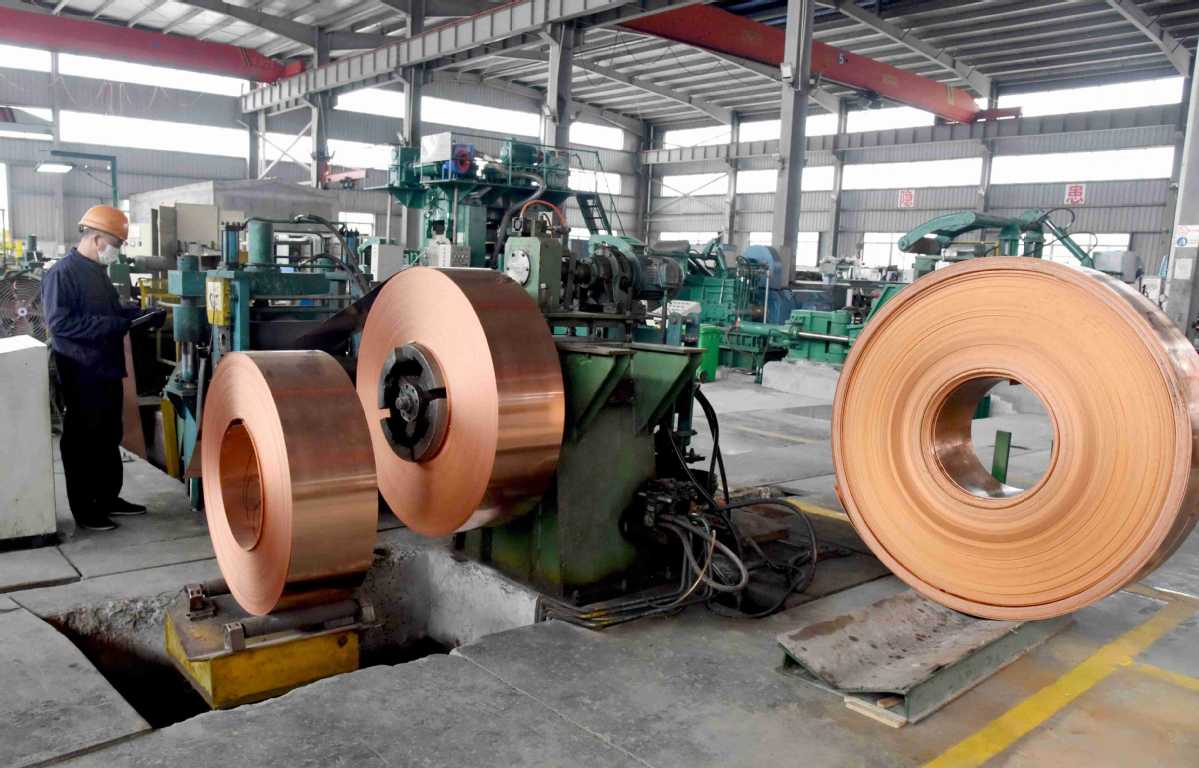 Measures part of efforts to curb wild swings in key commodities in 2021-25
China's top economic regulator said on Tuesday that it would further deepen price reforms during the 14th Five-Year Plan period (2021-25) as part of ongoing efforts to curb unreasonable price swings in key commodities such as iron ore and copper.
The country will improve the monitoring, forecasting and early warning systems for key commodities and strengthen price regulation over important goods such as grains, oil, meat, eggs, wheat and iron ore, according to an action plan released by the National Development and Reform Commission.
The NDRC said it was necessary to handle the price swings in commodities such as iron ore, copper and corn in a better manner and said comprehensive and timely regulatory measures will help strengthen market expectations.
According to the regulator, China will continue to promote price reforms in the energy sector, especially in the power transmission and distribution sector, improve the pricing mechanism for new energy such as wind and photovoltaic power, and implement differential and tiered power prices for energy-intensive and highly-polluting industries to promote carbon reduction.
According to the plan, more efforts will also be made for price reforms in the water sector including further improvements in the sewage treatment charging system and speeding up of public service price reforms.
The new plan comes after the NDRC along with four other central departments held a meeting on Sunday to discuss the recent commodity price hikes and urged key enterprises in the sector to maintain normal market order.
Premier Li Keqiang said during a recent State Council executive meeting that the government must carefully analyze the reasons for the recent commodity price increases and adopt a targeted and holistic approach to the situation.
Experts said the current price increases in China are a result of multiple factors such as the overhang from global price rises and the rampant speculation in the market. The government's efforts to further strengthen price regulation over key commodities will help stabilize the industrial chain and maintain economic stability, they said.
Wu Chaoming, chief economist at Chasing Securities, said the government's continued efforts to maintain stable commodity prices reiterate its firm intent to ensure "six priorities" and stability in six areas for steady economic momentum, which will help lessen the pressure on companies in midstream and downstream sectors.
Zhou Maohua, an analyst at China Everbright Bank's financial market department, said the current price rally would not last for a long time.
"The price increase is mainly due to short-term factors such as the strong stimulus policies announced by governments in Europe and the United States. In the medium to long term, we will still see overcapacity in global commodities. In addition, prices of industrial raw materials, such as copper and nonferrous metals, are close to a 10-year high, and the global economy will slowly recover in the long run," Zhou said.
He added that the government's new steps such as strengthening regulation and cracking down on market violations will keep commodity prices stable and prevent rapid price increases from being passed on to consumers.
According to the NDRC, China will strive to deepen price mechanism reforms for green development with an eye on achieving its goals of peaking carbon emissions by 2030 and reaching carbon neutrality by 2060. By 2025, prices in competitive areas and fields will be mainly determined by the market, and a pricing policy mechanism that meets the requirements for high-quality development will be established.