Campaign highlights risk patients of rare autoimmune disease face
chinadaily.com.cn | Updated: 2021-05-27 14:05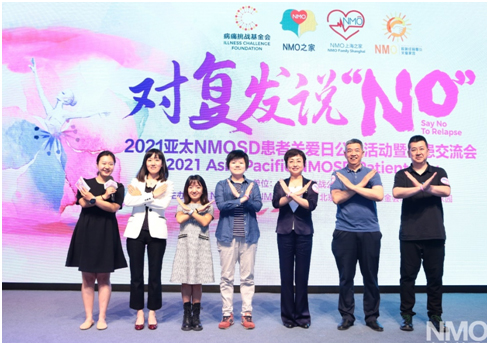 The 2021 Asian-Pacific NMOSD Patient Day was marked on Tuesday in Beijing to call for more care and help for Neuromyelitis Optica Spectrum Disorder patients to avoid relapse and enjoy a better life.
The disorder is a rare, lifelong and debilitating autoimmune disease of the central nervous system, characterized by inflammation in the optic nerve and spinal cord. The disease is common among those in their 30s and 40s and most are female. Symptoms include blindness, muscle weakness, inability to walk, fatigue and pain.
The first attack can lead to accumulating, permanent neurological damage, visual impairment and disability, and in some cases death. As the disease is progressive, symptoms continue to build with each relapse.
Data of the 2019 survey of Chinese patients with neromyelitis optica spectrum disorder indicates 70.3 percent patients interviewed experienced a relapse, setting the average relapse rate of once a year while nearly 50% believed it is "hard" or "very hard" to obtain their medication.
According to Cui Liying, chief physician of the department of neurology of Peking Union Medical College Hospital, lowering the risk of relapse is the key to cure the disease and the first drug for relapse has been approved in the country.
According to data from the WHO, 95 drugs for rare diseases had been approved by December of 2020 and 55 drugs treating 24 rare diseases had been listed in medical insurance in China
Wang Yiou, general secretary of Illness Challenge Foundation Beijing, urged more rare disease drugs to be approved to help patients avoid relapse and enjoy a better life.
Fan Yanrong, general secretary of Beijing Bethune Charitable Foundation, said the foundation will be further dedicated in patient education and disease management with efforts and recourses from all.
The campaign was organized by Illness Challenge Foundation Beijing and supported by NMO Family, NMO Family Shanghai, NMO Family of Beijing Bethune Charitable Foundation and Roche Pharma China and will be joined by other Asian cities and countries including Hong Kong, Singapore, Malaysia and Indonesia.