Music teacher keeps village students in tune with their talent
By Feng Zhiwei/Ye Zizhen | China Daily | Updated: 2021-05-28 09:26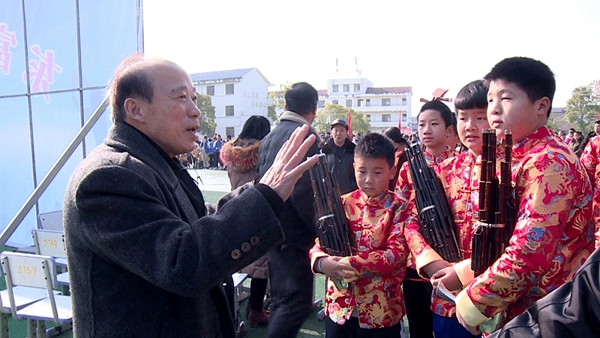 It is almost like a ritual; certainly it's an accurate way to keep the time. Every Sunday afternoon, from 3 pm, a melody of different Chinese musical instruments can be heard and appreciated by passersby as they stroll by Li Shuyou's house in Jiantouzhou village in Liling city, Hunan province. The music has accompanied them for over five years.
Inside the dwelling, known to locals as "Shuyou's music workshop", over a dozen school-age boys and girls are playing traditional Chinese instruments-erhu (a two-stringed instrument), sanxian (a three-stringed plucked instrument), zhongruan (a traditional four-stringed plucked instrument), huqin (a two-stringed bowed instrument), liuqin (a four-stringed Chinese mandolin) and many other instruments that are rarely seen.
Seven years ago, Li and his wife returned to the village upon retirement. He noticed that many children there had nothing to do after school and, because their parents were away working in big cities, simply wandered the streets or became addicted to online games.
Disciplining the children may be easy but might not be effective, so Li came up with the idea to start music classes.
"I felt sorry seeing them waste the prime of their youth without doing anything; I wanted to do something for them," Li says.
Li renovated his old house and was able to accommodate up to 40 students at any one time. He also purchased Chinese musical instruments at his own expense, and started providing lessons for free on weekends and holidays.
"I learned to sing Huagu Opera and began to play traditional musical instruments at the age of 7," says Li, who used to work for the local Huagu Opera troupe. "I want kids to learn a skill, and I also hope that I could help pass down our traditional culture to the next generation."
At first, children and their guardians turned up just to satisfy their curiosity. Some doubted whether Li would really offer classes free of charge.
"I didn't believe a teacher would offer music classes in a place like our village for free," recalls one of Li's students, Ding Jiewen. "So I came to find out, and in all these years, I really learned a lot and I was joined by many of my friends. I hope our troupe will develop and I can be a musician in the future."
Ding started the lessons when she was a sixth-grade student, and now she is about to graduate from junior middle school.
"Teacher Li is very responsible. He often reminds us of the time of the music class, so we won't be late. When it comes to playing, he is always patient in pointing out our mistakes," Ding says.