Flower expo in full blossom
By Xing Yi/Cao Chen | China Daily | Updated: 2021-05-28 09:28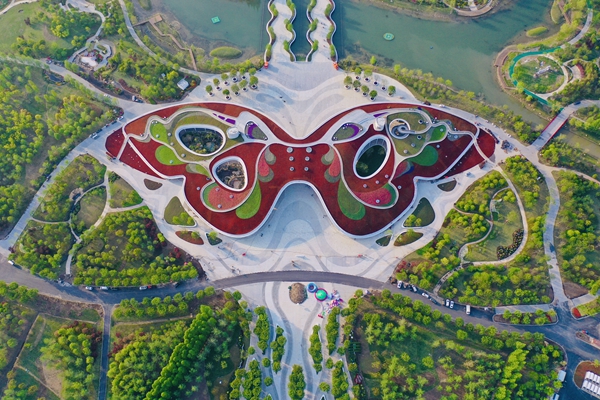 Event drives development of area, spurring maturity of its environmentally friendly industries, Xing Yi and Cao Chen report in Shanghai.
After more than 1,000 days of preparation, the 10th China Flower Expo opened in Shanghai's Chongming Island on May 21.
At the expo's opening, Li Zheng, Party secretary of the Chongming district committee, said the expo reflects the significant progress that Chongming has made to improve its green development over the past two decades.
"Since Shanghai positioned Chongming as an ecological island in 2001, the people of Chongming have been dedicated to green development over the past 20 years," Li says.
Instead of attracting factories that offer quick solutions for profit, Chongming focused on restoring its natural environment and developing its eco-friendly agricultural, leisure and tourism industries with the aim of becoming a world-class ecological island by 2035.
These efforts have paid off. The island now has a forest coverage of 30 percent, and residents enjoy good air quality about 90 percent of the year. Moreover, clean energy constitutes 56 percent of electricity consumption on the island.
Known as the premier gardening themed event in China, the expo is held in central Chongming and comprises 180 outdoor gardens, 64 indoor exhibition zones and two service zones.
The giant butterfly-shaped Century Pavilion located in the northern part of the expo is designed to look as if it were flying toward Fuxing Pavilion, the permanent venue of the expo that sits in a peony shaped flower field. The Chinese word fuxing means rejuvenation.
This design reflects the "Blossom with the Chinese Dream" theme as this year marks the centenary of the Communist Party of China.
Dongping National Forest Park makes up the southern part of the expo and is where visitors will find innovative flower designs created by 30 families in the Yangtze River Delta. This is the first time that works by the public are displayed at the expo.