New opera reflects spirit of revolution
By Chen Nan | China Daily | Updated: 2021-05-29 12:11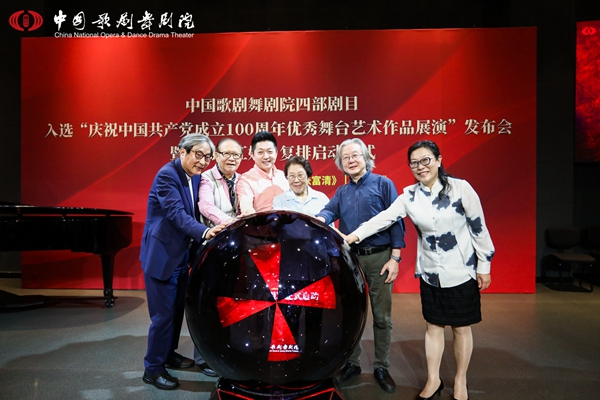 It started with a conversation over dinner. In early 1962, veteran scriptwriter Yan Su, composers Yang Ming, Jiang Chunyang and director Chen Sha, got together in a restaurant in Beijing. They were ready to create another opera, hoping to continue the success of their last opera, titled Liu Sijie, in 1960.
Yan initiated the idea of adapting the revolutionary novel Hong Yan (Red Crag), which, written by Luo Guangbin and Yang Yiyan, portrays a group of underground Communists in southeastern China and their heroic fight against the enemies on the eve of 1949, the founding of the People's Republic of China.
They centered the story of the opera on one of the female martyrs, Jiang Zhuyun, also known as Jiang Jie. When the opera, titled Jiang Jie, premiered in Beijing in 1964, it was a huge success and toured nationwide. It has become a classic opera and is still performed. The story of Jiang Jie has also been adapted into different art forms, such as films and Peking Opera productions.
While this year marks the 100th anniversary of the founding of the Communist Party of China, the opera, Jiang Jie, will be restaged for the fifth time by China National Opera& Dance Drama Theater and directed by Wang Xiaoying at Tianqiao Performing Arts Center in Beijing on August 28 and 29, before it tours nationwide.
"This is the fifth time that I participates in Jiang Jie's restaging and it's a very meaningful opera for me personally. I am proud of it since it has been staging for decades and still wins wide acclaim, not only from older generations but also from younger audiences," says composer Yang, 87. Yang has won numerous awards for operas and songs such as Hong Mei Zan, or Ode to the Red Plum Flower, and Embroidering the Red Flag, are hugely popular.
Jiang was born in 1920 in southwestern Sichuan province and joined the Communist Party of China at 19. She was arrested in 1948 and detained in a prison in Chongqing. A year later, she was killed at the age of 29.
"The music is very expressive when it comes to portraying the role of Jiang Jie. She is a true hero since she devoted her life to the country. She is also a woman, who is separated from her son, and whose husband was killed by the enemy," says Yang.
The composer recalls that when they prepared to stage the opera, they traveled to Sichuan province and Chongqing to collect material. Though opera is a Western art form, the composers combined Sichuan folk music and Chuanju (Sichuan Opera) into their compositions.
Chinese singers, Yi Hongyuan, Wang Li and Ha Hui, will play the role of Jiang Jie in the latest version of the opera. Yi, a singer with China National Opera & Dance Drama Theater, has performed the role in 2007. She says that the image of Jiang Jie-hair down to her shoulders, in a red jacket over a blue qipao and wrapped in a long white scarf-touched her deeply.
"I've watched the opera's early versions which brought a powerful portrayal of revolutionary spirit. It's an honor to portray the role," Yi says.
According to Tian Yan, vice-president of China National Opera &Dance Drama Theater, the company will also stage three other classic Chinese operas with new versions: The White-haired Girl, first staged in 1945 in Yan'an, Shaanxi province, Xiao Er Hei Gets Married, first staged in 1953 in Beijing and the latest operatic production, Zhang Fuqing, premiered in the capital in May, centering on 95-year-old war hero Zhang Fuqing.