Media group urged to keep bridging China with world
By ZHANG YUNBI | CHINA DAILY | Updated: 2021-06-02 07:16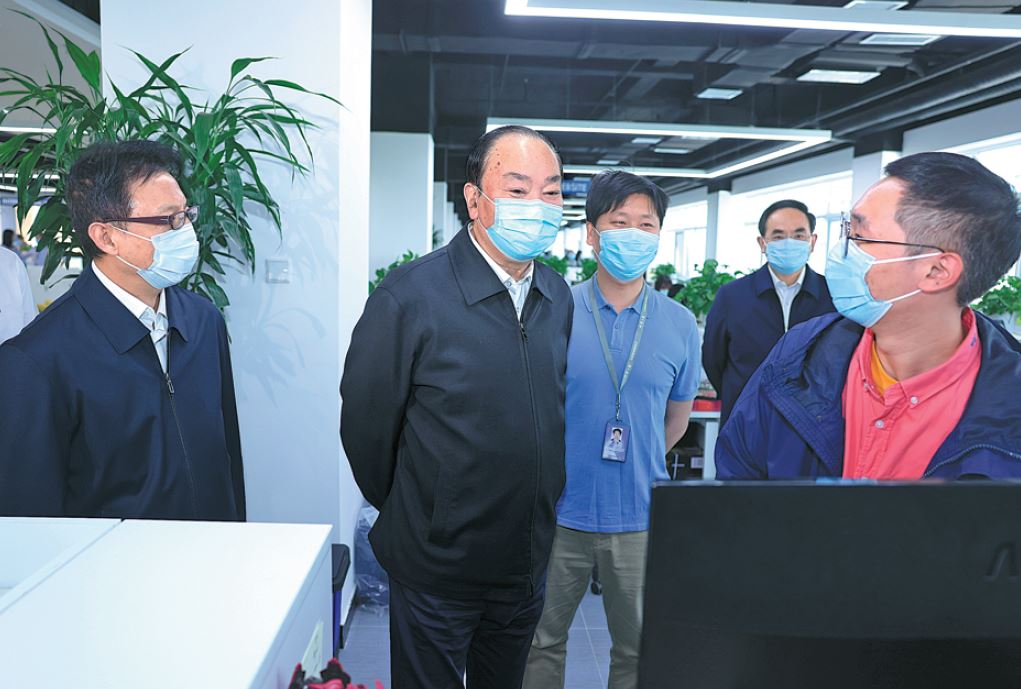 China Daily is expected to stay true to its duty of bridging China and the world for greater communication, and further present "a true, multidimensional and panoramic view of China", a senior Party official said.
Huang Kunming, a member of the Political Bureau of the Communist Party of China Central Committee and head of the Publicity Department of the CPC Central Committee, made the remark while addressing a celebration on Tuesday in Beijing marking the 40th anniversary of China Daily's launch.
On Thursday, President Xi Jinping sent a congratulatory letter marking the anniversary.
Xi's letter "commends the important role played by China Daily over the past 40 years" and voices great expectations that the media group will better fulfill its duties and mission and make new contributions at a new starting point, Huang said.
The letter shows the great importance that the CPC Central Committee attaches to reporting for the outside world, demonstrates great care for China Daily and outlines the direction and provides a guideline for the media group's mission, Huang added.
He called on China Daily to learn from Xi's letter, innovate the international discourse system, enhance international communication capacity, effectively promote China's theory and tell China's stories well.
At the celebration, Huang named three areas as the media group's future tasks.
It is a primary task to constantly introduce to the world and present Xi Jinping Thought on Socialism with Chinese Characteristics for a New Era, manifest the great power of truth, practice and personality, and make the world better understand the propositions, wisdom and solutions offered by China, he said.
China Daily should focus on the Party's original aspirations, mission and great sense of duty, show how the Party unites and leads the Chinese people's fight for progress, and explain from a historical perspective the Party's centenary achievements as well as the development and progress of contemporary China, he said.
The media group is expected to step up the buildup of its international communication capacity, work harder on its brand building, deepen exchanges and cooperation with the world, further nurture talent that bears international vision and keeps pace with the times, and build bridges for mutual learning among cultures and stronger links among nations, Huang added.
Zhou Shuchun, publisher and editor-in-chief of China Daily, told the celebration that the entire staff, motivated by Xi's letter, "will surely step up their sense of duty and beef up their confidence and determination in breaking new ground".
"Over the past four decades, China Daily has been committed to promoting friendly exchanges between Chinese people and the world, and has been dedicated to boosting the international community's understanding and recognition of China, becoming a key bridge connecting China to the world," Zhou said.
Zhou noted that the media group has developed from a newspaper into a global, multilanguage, all-media flagship, with more than 350 million readers worldwide via print and digital outlets.
Ian Goodrum, a United States writer with China Daily, said that as China enters a new era, the country "faces new challenges", and "it is even more important that China takes the initiative and tells its stories to the world" amid an atmosphere of uncertainty.
"China Daily is an important instrument for that essential mission, and I'm grateful for the support President Xi has shown in his congratulatory letter," Goodrum said.
Yangcheng Evening News, which is based in Guangzhou, Guangdong province, said in an online commentary that Xi's endorsement of China Daily's efforts "is a boost to the whole nation's confidence and morale to further empower and develop its media".
Since China is the world's second-largest economy and the largest contributor to global growth, its economic development and impressive stories offer material for the nation's publicity, and it is crucial that its voice should overcome language barriers and transcend borders, the Guangzhou newspaper said.