NYU graduates inspired to succeed amid challenges
By Zhou Wenting in Shanghai | China Daily | Updated: 2021-06-02 08:09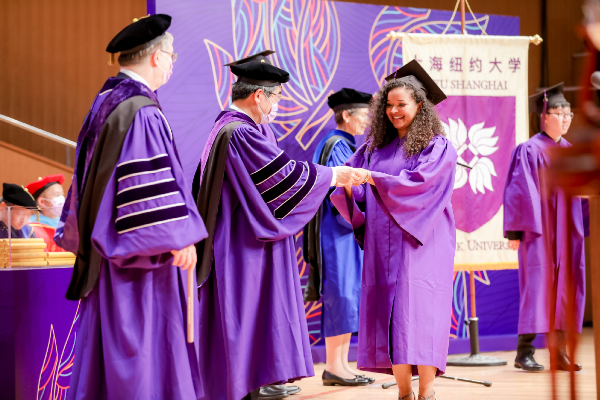 On May 25, more than 100 students of New York University's class of 2021 from the school's "go local "program attended NYU Shanghai's undergraduate commencement ceremony.
NYU Shanghai says it hosted 2,200 Chinese undergraduates and 700 Chinese graduate students mainly from NYU New York. They have been studying at the Shanghai campus since the fall semester last year due to travel restrictions in light of the COVID-19 pandemic. The program allowed students to apply for studies at an NYU location closer to home.
Many students expressed their appreciation for the opportunity to take classes on campus and experience extracurricular activities.
The school adds that a guiding principle for the "go local" program was to provide students with the highest quality education and support. NYU Shanghai also worked to secure facilities that would enable these students to enjoy resources similar to the New York school. Facilities also underwent physical and technological upgrades to support diverse teaching styles.
A Sino-United States joint campus founded in 2012, NYU Shanghai hired 46 faculty members from the NYU global network and other institutions to teach in the "go local" program. Nearly 70 faculty members from NYU Shanghai also taught extra courses for these students.
Zhao Qinglin, who majored in economics and mathematics at NYU New York and spent her last year of university at the Shanghai campus, says the institution worked hard to maintain a sense of normalcy despite the pandemic raging on in other parts of the world, and this has inspired her to excel in a challenging year.
Zhao has decided to join the accounting firm PricewaterhouseCoopers, and says the experience at NYU Shanghai was one to remember.
"NYU Shanghai resembles NYU New York in that it also has an open campus located in the thriving Pudong district and is in proximity to many exciting places where there is a sense of vibrancy," she says.
"What's special about NYU Shanghai is that it preserves a stronger academic atmosphere despite the hustle of a metropolis and provides a more contemporary and innovative environment."