A banquet in memory of old friends
By CHEN NAN | China Daily | Updated: 2021-06-05 10:24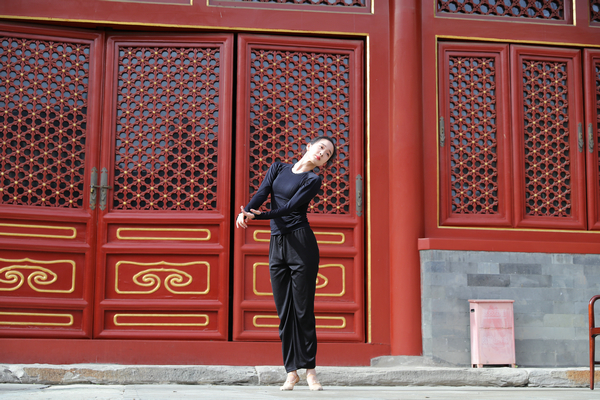 At Beijing's Century Theater from June 18 to 20, dancer-choreographer Liu Yan will stage her debut directorial dance drama Jing Yan.
Jing refers to Beijing and yan means banquet, with Beijing cuisine at the center of the drama. Jing Yan follows the stories of several families living in a hutong, or narrow alley, in downtown Beijing for generations. After learning about the hutong's renovation, they decide to have dinner together to bid farewell to old neighbors.
"When we prepared for the dance drama, we wanted to present the local Beijing culture through dance and local food came to our minds," Liu says.
Liu launched her dance studio in 2019 and Jing Yan is the first dance drama produced by her studio, gathering creative team members including scriptwriter Xu Rui and visual designer Ren Dongsheng. Young dancer-choreographers Wu Shuai and Wang Zihan are among those from Beijing Dance Academy playing lead roles in the drama.
The premiere of Jing Yan was announced on May 24, and it is supported by the Beijing Culture and Arts Fund in Shichahai, a popular water area known for its courtyards and hutong.
"Beijing has a long tradition with a diversity of cuisines, catering to all tastes. Most importantly, food plays an important role in the daily lives of people in Beijing. From breakfast to lunch, dinner and local snacks, we enjoy these delicious food with the people we love," says Xu, who is also the vice-president of Beijing Dance Academy. "It's more than just food, it's about the people. Food connects us to the past, to our memories, to our families, maybe to a grandmother you have never met."
One of the characters portrayed in the drama is Laobai, an owner of a small restaurant who found an abandoned baby in the hutong. With the help of his neighbors, Laobai adopted and raised the baby. The father- and-son relationship becomes tense when his son expresses his wish to look for his biological parents.
Traditional Chinese festivals such as Spring Festival and Dragon Boat Festival are also featured in the drama since each festival is associated to special foods such as dumplings, small balls made of glutinous rice flour called yuanxiao and triangular shaped glutinous rice dumplings in various kinds of fillings called zongzi.
"When you observe the way Beijingers enjoy local food, it's quite inspiring for choreographers," Liu says. "For example, if you want to drink miancha, or fried flour tea, which is more of a porridge than a tea, it is served with a thin layer of sesame paste on top. Like a local Beijinger, you don't use a spoon or chopsticks, but hold the bowl with only one hand, inclining it toward your lips, and sipping it from the edge of the bowl while slowly turning the bowl. It's a cheap but satisfying snack for local people."