Peru outbreak casts shadow on presidential election
By SERGIO HELD in Cajica, Colombia | China Daily | Updated: 2021-06-07 07:19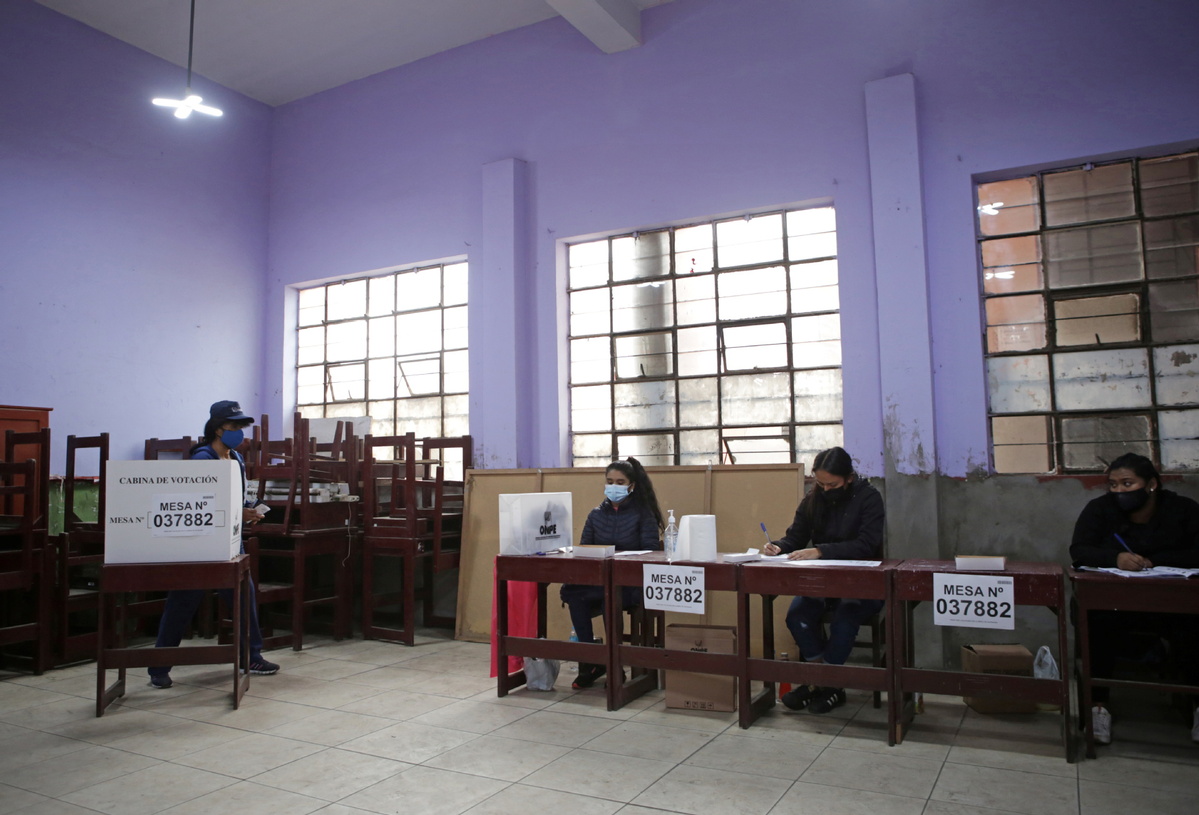 Peruvians were voting in a presidential runoff poll on Sunday under the shadow of one of the world's deadliest COVID-19 outbreaks and as calls grow louder for medical support to counter still-high infection rates.
Electoral authorities said more than 25 million Peruvians were eligible to choose between Pedro Castillo, a union leader from the left-leaning Free Peru party, and Keiko Fujimori, the daughter of former president Alberto Fujimori and flag bearer of the conservative Popular Force party.
But concerns surrounding the pandemic threw up difficulties for people heading to polling booths. The election-decider comes a week after the South American country jumped into the top spot in a ranking of countries, in per capita terms, for COVID-19 fatalities.
Authorities on May 31 revised the death toll from the disease to 180,764, against a count of 69,342 fatalities reported the day before.
A lack of medical oxygen and inadequate testing and monitoring facilities are behind the world's highest COVID-19 mortality rate in the Andean country of 35 million, according to experts.
Peru needs more resources such as medical oxygen and intensive-care facilities, said Hildebrando Cahuana Segovia, former general director of the Academy of Public Policies in Peru. The country also "needs an early detection policy with molecular testing, isolation, and targeted monitoring".
Marushka Chocobar, president of the technical working group that was set up to clarify the death toll, said the group applied seven technical criteria and other innovations for the count, making it possible to have a "closer daily figure of what is happening in the country" during the pandemic.
Patrick Wieghardt, a bioinformatics expert and co-founder of the COVID-19 data tracker OpenCovid-Peru, said the correction of the official figures "was something triggered by civil society".
"Domestic and international media outlets reported for a long time the underreporting of deaths," Wieghardt said.
Peruvian Prime Minister Violeta Bermudez, at a news conference announcing the results of the review, said: "We think it is our duty to make public this updated information."
Mateo Prochazka, an epidemiologist who advised the expert group, said countries with limited resources for testing "face additional challenges to confirm COVID-19 as a cause of death".
By Saturday Peru had logged over 1.96 million COVID-19 cases, with 185,380 deaths, World Health Organization data shows.
Amid a political crisis, the country has had three presidents since early last year. In the first round of the presidential election on April 11, Castillo, 51, and Fujimori, 46, each gained less than 20 percent of the vote.
President Francisco Sagasti said the government was "doing everything possible" to secure safe elections.
Peru is ramping up purchases of COVID-19 vaccines, including from China's Sinovac and Sinopharm.
Xu Weiwei and Wen Zongduo in Hong Kong contributed to this story.
The writer is a freelance journalist for China Daily.