Strapping children into safety seats becomes the law in China
By LI FUSHENG | China Daily | Updated: 2021-06-07 09:55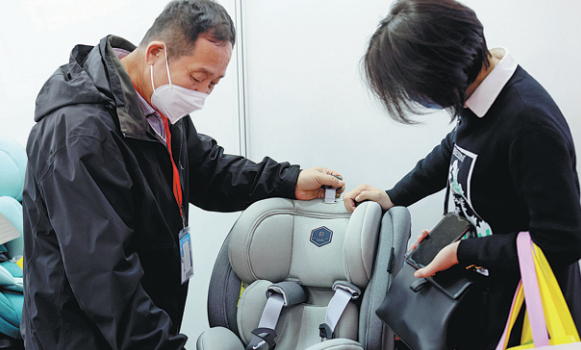 If your children are not in safety seats when you drive, you are risking their safety and violating a newly enacted law.
The use of child safety seats has been made mandatory in China's newly revised minor protection law, which took effect on Tuesday, marking this year's Children's Day.
The law stipulates that parents or other guardians of minors should take measures including installing child safety seats and educating their children to obey traffic regulations.
The stipulation will also serve as guidance for the revision of the road traffic safety law and the refinement of local minor protection rules, said Zhu Zhengfu, a political adviser specializing in legal affairs.
Statistics from the World Health Organization and UNICEF show that child restraints can cut the risk of injury and death in traffic accidents by up to 60 percent.
"The legislation marks a big stride in children's road safety, as it will make the guardians and even all road users to pay attention to this issue," said Monica Cui, executive director of Safe Kids China.
Cui said 52 countries have added the use of child safety seats into legislation. It is increasingly important for China to raise public awareness of road safety, as car-owning families are growing in a number of cities, she added.
China has been the world's largest vehicle market since 2009. There are 380 million motor vehicles in the country and 465 million people hold driving licenses, according to data from the Ministry of Public Security.
Carmakers are giving a hand in promoting children's safety. United States' carmaker GM started an initiative in 2014 in China in partnership with the Safe Kids Worldwide organization to prevent and reduce road injuries.
The carmaker said it has held training sessions in 4,800 kindergartens across 52 Chinese cities. It has involved 380,000 children and parents, with the help of 1,300 volunteers.
GM said it is shooting a video that will offer safety tips, which will be released later this month. It is organizing offline events at its Chevrolet dealerships to get more car owners involved.
German premium carmaker BMW held its annual training camp for kids in late May. The camp started in 2005.
In addition to online teaching materials, the carmaker announced that it will organize free offline events in cities including Beijing, Nanjing in Jiangsu province, and Hefei in Anhui province to the public.
Through its foundation, BMW is planning to donate teaching tools as well as reflective vests and safety helmets to some schools built along major roads to help increase their awareness of road safety.
At the event, BMW Brilliance President and CEO Johann Wieland said in addition to sales and profit, a good company should contribute to social progress and public welfare.