Pakistan train collision claims at least 40 lives
China Daily | Updated: 2021-06-08 09:15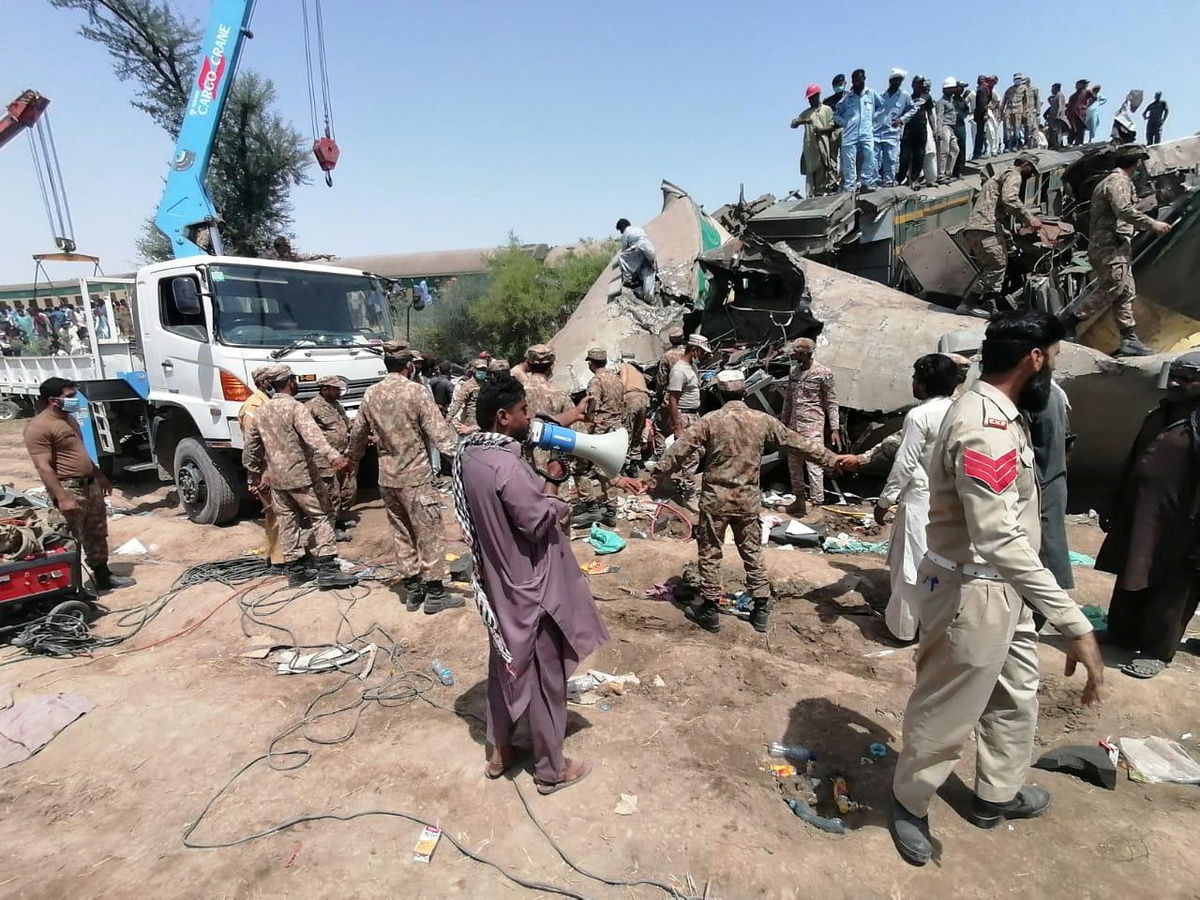 MULTAN, Pakistan-Two express trains collided in southern Pakistan early on Monday, killing at least 40 passengers as rescuers and villagers worked to pull injured people and more bodies from the wreckage, officials said.
Between 15 and 20 passengers were trapped in the wreckage of the Millat Express train and authorities were trying to arrange heavy machinery to rescue people crying for help, said Umar Tufail, a police chief in Ghotki district in Sindh Province, where the collision occurred before dawn.
The Millat Express derailed and the Sir Syed Express train hit it soon afterward, said Usman Abdullah, a deputy commissioner in Ghotki. It was not clear what caused the derailment and subsequent collision. "Right now, the challenge for us is to quickly rescue those passengers who are still trapped in the wreckage," he said.
Railway officials said about 1,200 passengers were on board the two trains, and arrangements were being made to help the surviving passengers.
Prime Minister Imran Khan said he was "shocked" by the accident and promised a full inquiry. He also ordered a comprehensive investigation into railway safety fault lines.
Local administration has imposed a state of emergency in all hospitals in the district and urged people to donate blood for the injured people.
Personnel of Pakistan Army and Rangers, a paramilitary force, reached the site with their heavy engineering machinery to cut the compartments to search for bodies and injured.
Mobile phone footage aired on television from the site showed the wreckage, with several green Pakistan railway carriages lying on their side. TV footage showed ambulances transporting the injured to hospitals.
Investigation ordered
Officials at Pakistan railways said they had ordered an investigation and rescue work was still in progress. Some of the injured passengers were listed in critical condition at a hospital.
Train accidents are common in Pakistan, which inherited thousands of kilometers of track and trains from former colonial power Britain. The network lacks investment, media outlets said.
At least 75 people died when a train caught fire while traveling from Karachi to Rawalpindi in October 2019. In 1990, a packed passenger train plowed into a standing freight train in southern Pakistan, killing 210 people.
Agencies - Xinhua