Village at crossroads of tourism and opportunity
By Yang Feiyue | China Daily | Updated: 2021-06-08 08:56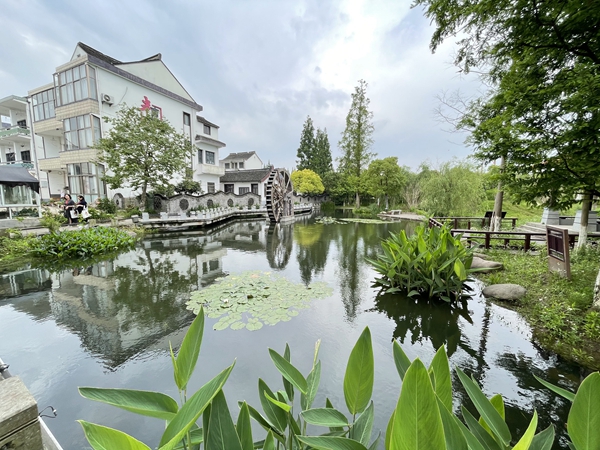 Once deemed a geographical disadvantage, a village in Zhejiang province has now become an appealing tourism destination.
Shantang village sits in the northeastern tip of Guangchen town and was off the beaten track when the road was not in good condition.
However, as transportation improved, the close proximity to Shanghai has piqued travelers' interest toward the village that is connected to Shanghai by a stone bridge over a river.
Jin Jiandong, Party secretary of Shantang, says many travelers want to see what the village at the juncture of Zhejiang and Shanghai is like.
"Visitors have made their way here over the years," Jin says.
Tourists can walk among lush trees and grasslands, take in the view of the lake while getting a glimpse into the past through old items such as sewing machines, radios and photos that are preserved in a museum converted from an old residence.
In 2018, local authorities drew up a plan to turn the village into a national scenic spot with distinctive local elements.
Buses connecting the village to neighboring provinces are up and running. Dragon boat competitions and local specialty festivals have been held to enrich visitor experience.
Local authorities have also restored a street dating back to the Qing Dynasty (1644-1911) to boost rural tourism in the village.
Shantang now offers sightseeing, leisure and shopping activities.
Liu Qiao, an official in charge of Shantang's culture and tourism, says all the shops that feature white walls and gray tiled roofs were built on old buildings.
Favorable policies have been introduced to encourage locals set up shop on the streets.
"We have offered guidance to locals on what kind of businesses they could run or how to decorate their shops," Liu says.
Locals enjoy free rental in the first year, 80 percent off rent in the second year, and then 60 percent off in the third year.
Last year, the historical street had 400,000 tourist visits earning more than 20 million yuan ($3.1 million) in tourism income.
Out of the 70 shops on the street, more than 40 shops are run by locals.
"We found our villagers showing a strong willingness to work when the opportunity comes," Jin says.
Sun Xiaomei is now running a grocery store for her daughter on the street.
"Business was especially good during the Labor Day holiday," Sun says.
Her family used to live off the land and earned some extra money making clothes in the village.
Ever since tourism development took off a few years ago, Sun got rental for her land which was previously used for farming.