Hospitals tune in to music
By Cheng Yuezhu/Cang Wei | China Daily | Updated: 2021-06-08 09:07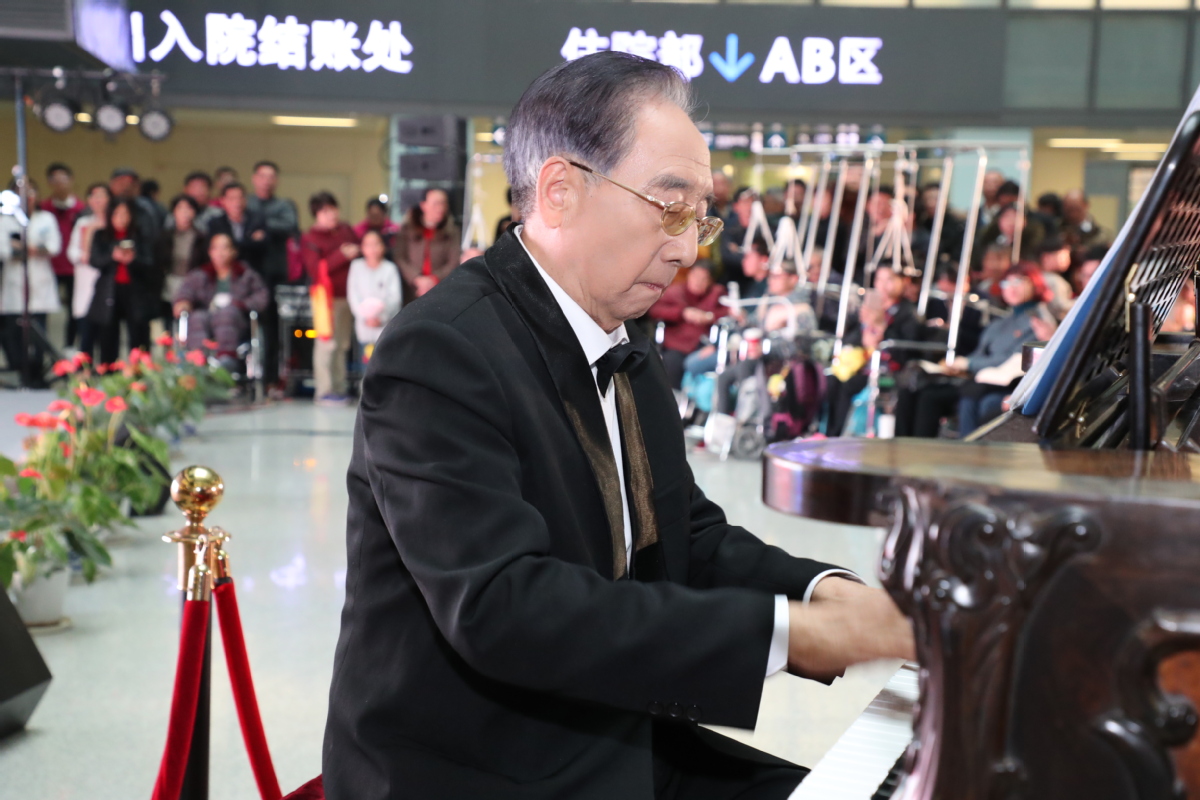 Healing power of piano keeps visitor morale high and provides healthy entertainment, Cheng Yuezhu and Cang Wei report.
In front of a lavishly adorned grand piano that graces the central hall of Nanjing Drum Tower Hospital, Shen Xueshan, 88, plays familiar favorites to the general audience. Almost always there are passers-by stopping for a moment to watch him perform. Many hum along to the tunes.
He has been playing the piano voluntarily at the hospital in Nanjing, Jiangsu province, every week for seven years. Piano playing has become his new vocation since retiring from Nanjing University as a professor specializing in modern and contemporary history.
"I retired in 1993. In 1995, Nanjing University set up a piano course for students, to enhance their development. I was the only teacher auditing the course. After listening in for two semesters, I bought a piano and started practicing by myself," Shen says.
After turning 70, and with fewer lectures and academic meetings to attend, he concentrated on honing his skills, playing piano accompaniment at a choir consisting of Nanjing University professors and volunteering at old-age homes once a week.
As the hospital is affiliated to Nanjing University's Medical School, many of Shen's colleagues went to this hospital when they were ill. When he visited a patient at the hospital in 2014, he saw a recruitment notice and applied. He has been playing at the hospital every Wednesday morning since then.
The pieces he performs are based on audience feedback but he prepares some pieces specially for festive occasions.
The experience has provided him with unforgettable memories, especially when appreciative listeners come up to him, telling him how they feel or requesting if he can play a particular piece for them.
"All patients and visitors have their own stories," Shen says. "One of the most memorable ones is that of a middle-aged woman, who requested me to play the song Mother's Kiss. After playing the song, she told me that her mother had passed away and she missed her deeply. She herself was diagnosed with cancer.
Hearing this, I played another song Fill the World with Love, dedicated to her. Other listeners joined in and started singing together. It was a very touching moment."
Shen is the most senior member of the hospital's piano volunteer team comprising 20 or so people, each of whom takes up a session and plays live music to entertain the patients and visitors.
"I may be a bit old, but I don't think it's remotely remarkable doing this for seven years. I'm merely doing what I can for public welfare," he says.
The Nanjing Drum Tower Hospital first started having piano volunteers in 2012, when construction of the hospital's new building was completed.
The idea was proposed by the hospital's former employee Zhang Gangning, who also handmade the piano and lent it to the hospital for free.
"His proposal matches our idea of establishing a humanistic hospital. Placing a piano in the hospital helps to improve the patients' moods and manifests our people-oriented values," says Meng Ran, a physician at the hospital.
Initially, there were debates about whether it was appropriate or necessary to place such an ornate piano inside the hospital, but the soothing power of music soon diminished any concerns, and now more hospitals have a piano in their establishments.
"As long as the pieces performed suit the overall environment, music can produce a desirable effect. According to our survey feedback, the public in general responds positively to our piano playing," Meng adds.
Volunteers are not an uncommon constituent in a hospital setting. Although people are more familiar with those assisting patients by providing information and guidance, the piano volunteers serve as a part of the hospital's music therapy projects.
These piano volunteers are not only of a diverse age range, but also from all walks of life, from professional piano teachers, to domestic and international students. Even some medical workers volunteer in their spare time.
Apart from everyday performances, the hospital also features an annual New Year's concert for the patients and medical worker representatives. Since 2012, the concert has taken place nine times at the central hall where the piano is located.
Each New Year's concert comprises about eight musical performances, brought mainly by the volunteer team, and also choirs and music ensembles from local primary schools. At these concerts, volunteers are awarded with certificates as an acknowledgment of their contribution.
The Drum Tower Hospital is not the only hospital in Nanjing that regularly resounds with soft piano music played by volunteers. Another one that is renowned for providing live music to patients and visitors is the BenQ Medical Center.
Cui Zhonghe, in his 70s, has been voluntarily playing the piano for 11 years at the hospital. He used to be a piano teacher and orchestra conductor, and since retirement he took up the volunteer work twice a week as his way of paying back to society.
Cui engages in volunteer work with such commitment and diligence that during the past decade, he hardly ever asked for leave.
"Those who come to the hospital are generally feeling uncomfortable, either from illness or feeling concerned about loved ones. I come here to play the piano in the hope that they'd feel the support and power brought by music," Cui says.
"Some people will come over and talk to me about music, telling me their feelings of hearing me play. Music has the magical power to lighten the mood of the patients and their family members, and create a pleasant atmosphere for the hospital."
He often discusses with other volunteers about their repertoire, selecting pieces that integrate well with the psyches of the patients. Despite his piano expertise, he chooses to perform relaxing and well-known pieces such as The Butterfly Lovers, instead of skillful and intense classical music pieces.
The hospital has many retiree piano volunteers of similar age as him, many of whom came in hope of finding something purposeful to do. Cui's wife, for example, has also been learning the piano after retirement and started volunteering at the hospital in recent years.
"I feel that, now that we are retired and have spare time, it is good to do something meaningful for society. It is also a way of enriching our own lives," Cui says.