Tribute to composer
By Chen Nan | China Daily | Updated: 2021-06-09 08:58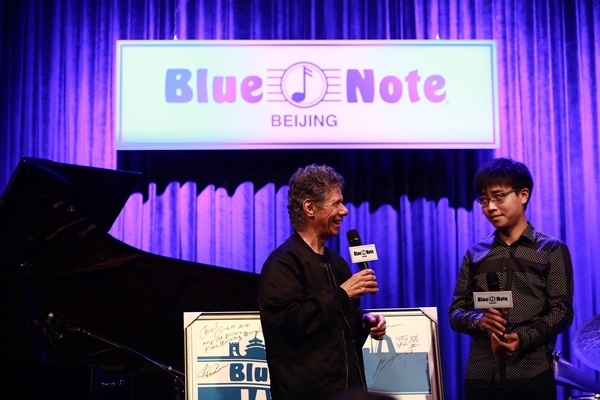 A young Chinese musician will stage concerts in Blue Note venues in China, Chen Nan reports.
A Bu, 21, has just returned to Beijing from New York, where he is pursuing his bachelor of music degree at Juilliard School, with a major in classical piano performance. It is going to be an eventful summer for the pianist, who is already a sensation in China's jazz circle.
He gained wide attention as a 13-year-old when performing at the Beijing Nine Gates Jazz Festival in 2012. He even shared stage with such international jazz greats as Herbie Hancock and Wayne Shorter.
A Bu is going to perform in two concerts-at Blue Note Shanghai on Saturday and Blue Note Beijing on June 16, commemorating Chick Corea, the Grammy-winning jazz legend who died of cancer at the age of 79 on Feb 9. Corea would have been 80 on Saturday.
A Bu initiated the concerts because he had known the US jazz pianist and composer.
In June 2013, Corea gave a solo recital in Shanghai. A Bu met him for the first time during a dinner arranged by the event organizers before the concert.
"I cannot remember what we said exactly but I was very excited when he invited me to perform with him. It was not planned," A Bu recalls, adding that Corea watched some videos of him performing onstage and the pianist was keen on collaborating and supporting young musicians.
"I was too young and I didn't play very well. He was very nice. I just basked in the thrill of the music while performing with him," A Bu says.
On Sept 13, 2016, Corea performed in Beijing along with his band during a concert marking the opening of Blue Note Beijing, the first branch of the Blue Note Jazz Club on the Chinese mainland. The New York establishment was founded in 1981 by Danny Bensusan in the city's Greenwich Village. Many legendary jazz musicians, including Corea, have performed on the Blue Note stage.
A Bu, who was studying in New York then, flew back to Beijing to attend the concert.
"Corea greeted a room full of guests and he joked that the last time he saw me, I was just a little boy. He also joked that he could detect my New York accent clearly already," recalls A Bu.
"It was a dreamlike experience, which was very rewarding, just like having a master class by Corea."
For the upcoming concerts, paying tribute to Corea, A Bu has selected classic pieces by Corea and will perform with other Chinese musicians, such as saxophonist Li Gaoyang, bassist Liu Yue and drummer Xu Zhitong.
Before the concert in Shanghai on Saturday, A Bu will share his stories of Corea with the audience. One of the songs he will perform is Windows, composed by Corea.
"He was here in Beijing to introduce Blue Note to the Chinese audience. It was like opening a window for music lovers, who may not be familiar with jazz music," says A Bu.