Modern show with a traditional twist
By Cheng Yuezhu | China Daily | Updated: 2021-06-10 08:05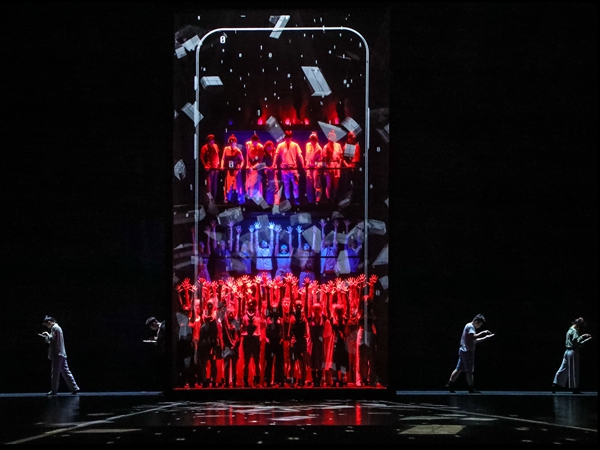 These performances, ranging from vocal and dance to those with an emphasis on visual and high-tech presentation, offer the audience an eclectic experience, according to He.
"Although the eight programs seem distinct from one another, each and every one of them is actually telling a short philosophical story. With these performances, we would like to present a dialogue between traditional Chinese culture and modern and high-tech visual art," He says.
Such a dialogue can also be seen from the Chinese Zither-Laser Show, where the performer Qiu Jirong gives a solo dance performance to the accompaniment of a guqin (seven-stringed zither), and his dance moves interact with, and are gradually confined by, the blue laser beams on stage.
The performance comes from the first season of 2047 Apologue in 2017. While it retains the original format and movements, Qiu says that his interpretation of the dance has changed slightly.
"My own understanding of the dance is that the character has a growing number of desires, but gradually the desires start to restrain him, and in the end lead him to despair," Qiu says.
Despite coming from a long line of Peking Opera performers, Qiu is now known as a crossover performer who experiments with innovative and modernized ways of presenting traditional art forms.
"I feel that our generation has the duty to think about how to convey something deeper on a spiritual level, how to show the audience the gist of Chinese culture, and how to give young people a sort of philosophical reflection," Qiu says.
Most of the Chinese traditional art forms featured in the performances are those of intangible cultural heritage, such as folk opera styles including Peking Opera and Wanwanqiang Opera from Shaanxi province, and traditional instruments including sheng (a free reed instrument) and morin khuur (horse-headed fiddle).
To help the audience understand the art forms and the themes, a brief audio introduction is added before each program, offering information on the program's form and content, as well as giving credit to the performers.
One of the performances, Work Song-Dye, presents a giant mobile phone projection on the stage, where the twisted movements of dozens of modern dancers representing "smartphone zombies" interlace with the crude and rhythmic singing of three work song performers from the mountains of Fujian province.