River cruise firms raise the bar as demand surges
By ZHU WENQIAN in Beijing and DENG RUI in Chongqing | China Daily | Updated: 2021-06-11 11:05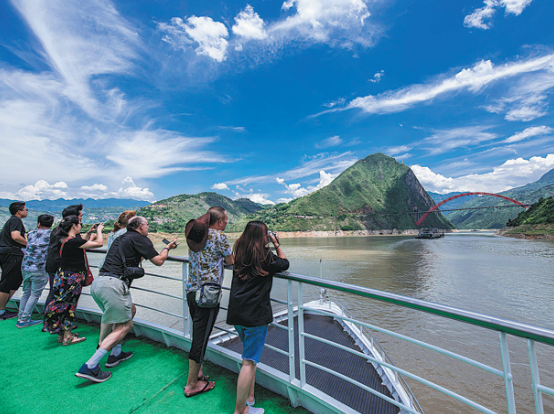 "Cruise tours have been an emerging travel product. Given their comfort and convenience, with catering and entertainment included, it has been favored by many family travelers, especially those traveling with elderly family members," said Song Yawen, marketing director of tourism business at Qunar.
"Chongqing has been a traditional popular tourist destination, and it has attracted thousands of travelers during holidays. For a lot of families, they have been to conventional tourist attractions in Chongqing, and they would like to experience something different such as cruising tours," Song said.
The natural scenery along the Yangtze and entertainment facilities aboard ships serve as attractive travel experiences. Facilities and amenities onboard can satisfy demand from different age groups, making trips satisfying for everyone in the family, Qunar said.
Meanwhile, Chongqing Dongjiang Shipping Industry Co Ltd, a major cruise operator, said before the pandemic, the company mainly operated river routes from Chongqing to Yichang. In March, it launched new routes from Chongqing to Wuhan, Hubei province and Chongqing to Shanghai, the downstream stretch of the river.
"Since March, our river cruise tours have been burgeoning, and most customers are those traveling with their families. Still, some contagion prevention rules have created certain pressures for company operations," said Tang Xiangjing, marketing manager at Chongqing Dongjiang.
Tang said according to contagion prevention requirements, cruise ships are now allowed to carry up to 90 percent of total passenger capacity, and so far the company has seen its ships about 90 percent loaded. In addition, different groups of travelers are required to sit at separate tables when dining. The company also installed air purifiers on its ships last year.
Hampered by the pandemic, many travelers who used to frequently travel abroad and preferred sea cruise trips began to travel domestically. The company has seen booming reservations for its domestic summer cruising options.
Increasingly higher demand from travelers has driven the company to optimize the design of cruise routes while also upgrading onboard food, beverages and entertainment. For the longest available route from Chongqing to Shanghai, which carries a higher price tag than other options, customers have shown higher demand for facilities and services, the company said.
"In the second half of this year, we plan to build new ships to cater to increasing demand from travelers. Starting in August, we will begin to build a new ship," Tang said.
For those who take river cruise tours, most are middle-aged and elderly passengers. For travelers born between 1980 and 1995, more than half of those surveyed said they prefer sea cruise trips and 10 percent said they prefer river cruise trips, according to an earlier report by Shanghai International Cruise Business Institute.