Domestic, foreign tech giants striving toward carbon goals
By MA SI | China Daily | Updated: 2021-06-15 09:23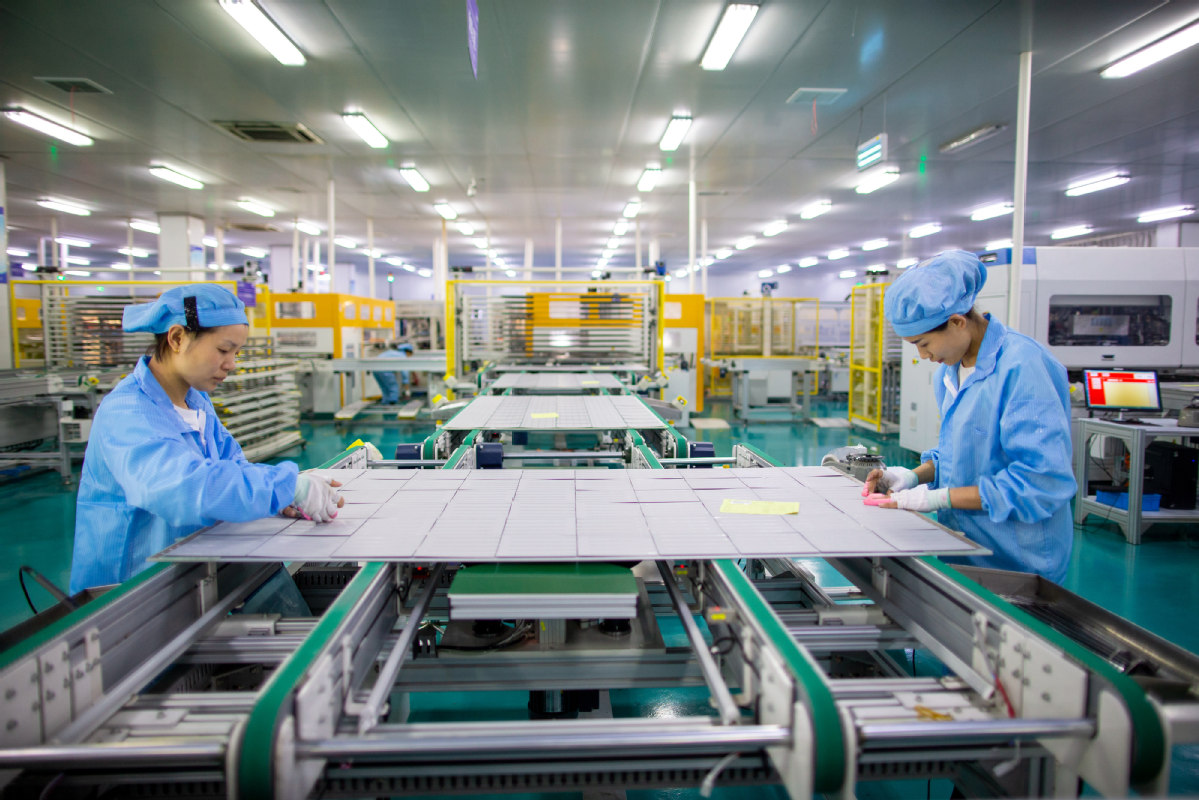 Apple said earlier this month that it is supporting the Suzhou Industrial Park in Jiangsu province to become the world's first industrial park to be certified by the Alliance for Water Stewardship.
The AWS is a global program that fosters collaboration between businesses, governments and civil society, offering a framework and standard for water stewardship. Water stewardship requires companies to take a broader view in working transparently and collaboratively with a wide range of stakeholders to take better care of precious water resources in their basins.
Isabel Ge Mahe, Apple's managing director of Greater China, said a quarter of the Suzhou park is covered by water and surrounded by lakes and rivers, and Apple is helping to improve water security in the region and extend water conservation efforts beyond its own supply chain.
"Apple will provide support and technical know-how, and encourage more companies in the park to manage their water usage in ways that are environmentally sustainable," Ge said.
To date, a total of 13 Apple facilities have received certification from the AWS, including 10 that reached platinum status. "All are located in China, which really demonstrates the region's leadership in this area," she added.
Apple and its suppliers in China have also continued to make progress on their joint 2019 commitment to directly invest nearly $300 million in developing renewable energy projects. The funds will be fully spent by the end of next year, supporting a wide range of projects that are expected to bring 1 gigawatt of renewable energy online, the company said.
"Working together with our partners here, we are helping to preserve China's clean waters to make the country even more beautiful for future generations," Ge said.
Last July, Apple unveiled its goal of being 100 percent carbon neutral across its supply chains and entire product lifecycle by 2030.
In the past year, 15 additional Chinese suppliers have committed to joining that program, and to transitioning their Apple production to 100 percent renewable energy, the company said.
As the world's largest personal computer maker, Lenovo is also leveraging its edge in digital technologies to promote green manufacturing.
Green manufacturing, also known as environmentally conscious manufacturing, deals with green principles that are concerned with developing methods for manufacturing products from conceptual design to final delivery to consumers, and ultimately to end-of-use green disposal, in order to satisfy environmental standards and requirements.
Yang Yuanqing, chairman and CEO of Lenovo, said: "As a leader of a business employing 63,000 people and serving customers in 180 markets around the world, I am acutely aware and focused on the wider role Lenovo plays in the world today. We have a responsibility to all our stakeholders to make progress on our climate change commitments."
The company expanded its commitment to sustainable operations with on-site renewable energy installations like the 3.9-megawatt solar panel array recently installed at its North Carolina facilities in the United States.
In November 2019, Lenovo announced a strategic partnership with Schneider Electric to develop smart green manufacturing solutions for the Chinese manufacturing sector.
The partnership combines Lenovo's industrial internet of things solutions with Schneider Electric's smart green manufacturing solutions.
In particular, the focus includes artificial intelligence algorithms and big data as it relates to all aspects of efficiency management, predictive maintenance, production quality and other industrial applications.
Schneider Electric Chairman and CEO Jean-Pascal Tricoire said: "Making the next shift toward green smart manufacturing is critical to nurture a more efficient, low-carbon and sustainable future. Partnering with Lenovo is a great opportunity to further unleash the power of digital innovation in the physical world of manufacturing. A scaleup of IoT and smart solutions is key for greater efficiency and a more sustainable planet."