China-made test kits big hit in Europe
By WANG XIAOYU | CHINA DAILY | Updated: 2021-06-19 07:42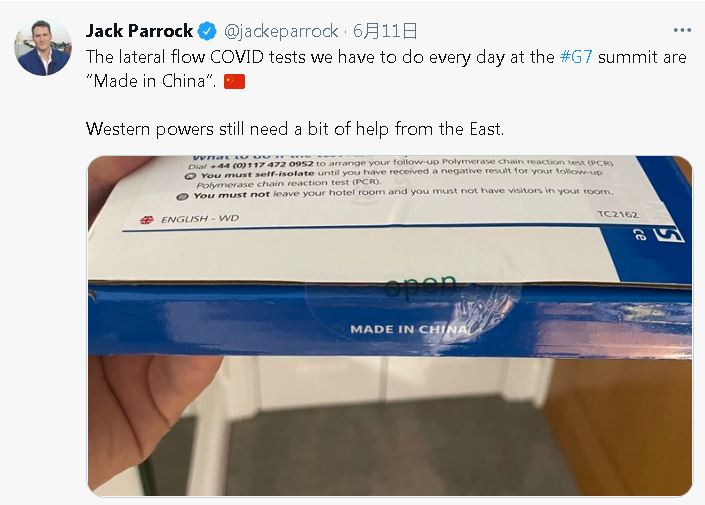 Products in wide use at G7 summit that took place recently in Cornwall, UK
China's COVID-19 test kits have played an indispensable role in bolstering mass testing and ensuring safe group events in Europe, including the G7 summit that concluded in the United Kingdom on Sunday, experts said.
Jack Parrock, a correspondent at Euronews, tweeted a picture of the packaging of a COVID-19 antigen test kit that all participants at the event were required to use on a daily basis. At the bottom of the carton read "Made in China".
"The lateral flow COVID tests we have to do every day at the G7 summit are 'Made in China'," said the post. "Western powers still need a bit of help from the East."
Health Times, a newspaper affiliated with the People's Daily, said Xiamen Biotime, a company dedicated to developing and manufacturing in vitro diagnostics (IVD) equipment in Xiamen, Fujian province, is the producer of the test kits.
On April 21, Xiamen Biotime exported 47,000 antigen tests worth more than $450 million via a China-Europe freight train destined for Duisburg, Germany, local media reported.
Earlier in mid-March, a freight train carrying nearly 8,300 antigen tests from an unnamed biotech company in Xiamen also departed from Nanchang, Jiangxi province, for the UK via Hungary, and they would eventually be used for preliminary screening of COVID-19 cases, according to local customs authorities.
Some netizens posted pictures of free antigen tests distributed by the National Health Service, the UK's health authority, on microblogging platform Sina Weibo. The qualification certificates inside these test kits have shown that the manufacturer is Xiamen Biotime.
In recent months, companies in Jilin, Shandong and Guangdong provinces have also exported their self-developed antigen tests to the European market, as well as to other countries, including Nepal, Japan and Ukraine, according to media reports.
Compared to nucleic acid tests that must be processed and analyzed in laboratories, antigen tests can give results on the spot in 30 minutes, though results are less accurate.
The UK began offering free antigen tests to the public on April 9 in a significant step forward that "paves the way for businesses and society reopening", the government said in a statement released in early April.
As the host of this year's G7 summit held in the coastal city of Cornwall from June 11-13, the UK required all attendees to take daily self-administered tests in addition to other disease control protocols such as wearing masks and social distancing.
Song Haibo, vice-president of the National Association of Health Industry and Enterprise Management, said that amid the COVID-19 pandemic, a number of domestic IVD companies raced to produce and export diagnostic goods, winning praise from the international community.
"Chinese companies' manufacturing capacity is able to not only meet demand from the domestic fight against the virus, but also provide strong support to other countries," Song said.
The General Administration of Customs said China had exported a total of 1.08 billion COVID-19 test kits from March 2020 to the end of last year.
As of April 27, 620 domestic makers of COVID-19 tests were put on the official "white list" of expedited review procedures for export, according to the China Chamber of Commerce for Import & Export of Medicines & Health Products.
Meng Dongping, vice-president of the chamber, said during a forum held in early June that the white list is a proactive move by the Chinese government to facilitate foreign buyers' purchase of domestic goods, which obtained positive feedback from overseas.
"When drafting relevant rules, the principle and attitude of the Chinese government is very clear and resolute, which is to ensure the quality and efficacy of our products," he said.