Musicians tune in as indie sector grows
By CHEN NAN | China Daily | Updated: 2021-06-19 09:38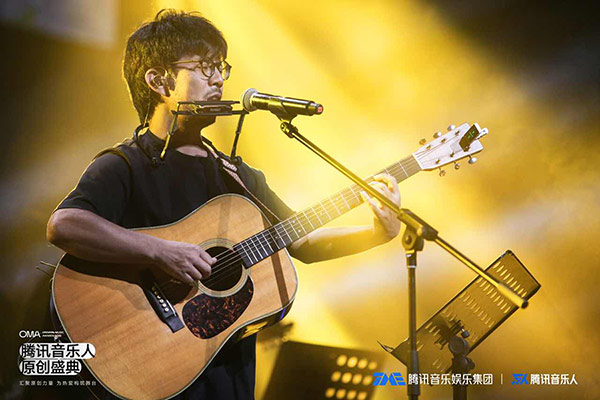 When COVID-19 shut down the live music business last year, indie Chinese musicians tried to stay connected with fans by sharing live music online from raw performances in their bedrooms.
Tencent Musician, a program by leading online music entertainment platform, Tencent Music Entertainment Group, which aims at supporting indie musicians, has also gathered over 100 Chinese indie musicians to give online performances, which attracted more than 8 million views in total.
According to Wang Lei, a music critic and general manager of Tencent Musician, the warm feedback from the audience not only enabled the indie musicians to build up their fan bases but also generated income to cover those gaping holes in their finances. He also says that the number of indie musicians joined in the program has seen an increase of 131 percent in 2020, showcasing the vibrancy of the country's indie music scene. Now, there are more than 210,000 Chinese indie musicians, who share over 1.1 million original songs on the platform.
After the yearlong hiatus caused by the pandemic, Chinese indie musicians are again taking to the stage in front of appreciative audiences with outdoor music festivals and live shows returning since this April.
On May 28, Tencent Musician, along with Beijing International Pop Music Festival, has put on a live performance in Beijing, gathering at least 20 Chinese indie musicians, including rock singer-songwriters Zhang Chu, Ma Tiao, folk singersongwriter Mo Xizishi and musical singer Ju Hongchuan.
"Many bands and indie musicians have restarted their music projects, which were postponed due to the pandemic, which is very exciting. For the audiences, though they could enjoy music through online shows, it's never the same experience as watching live shows in theaters, concert halls or at outdoor music festivals. It's about sharing music with real connection," says Wang.
Before the live show, a group of Chinese music insiders, including festival organizers and heads of record companies, gathered to share their ideas about the country's indie music scene as well as in the post-COVID-19 world.
"The social media platforms have offered indie musicians opportunities more than ever before to reach out to their fans. It's apparent especially during the coronavirus pandemic, when live house venues shut down and tours were grounded," says Jiang Tao, general manager of Chia Tai Music Group, one of the earliest music production companies founded in 1992 in Beijing. Jiang is also the head of Beijing International Pop Music Festival. In 1990, Jiang formed a rock band, called Bronze, along with Chinese songwriter Gao Xiaosong and folk singer Laolang. In 1993, Jiang joined in Chia Tai Music Group.
"As major music promoting platforms, we want to offer indie musicians help to get them closer to the fans with live shows and tours," says Jiang. In its sixth year, Beijing International Pop Music Festival, which kicked off last September, has held live shows for Chinese indie musicians and bands, including Click 15 and Sir Deer.