Federal Reserve chief says high inflation temporary
By AI HEPING in New York | China Daily Global | Updated: 2021-06-23 10:53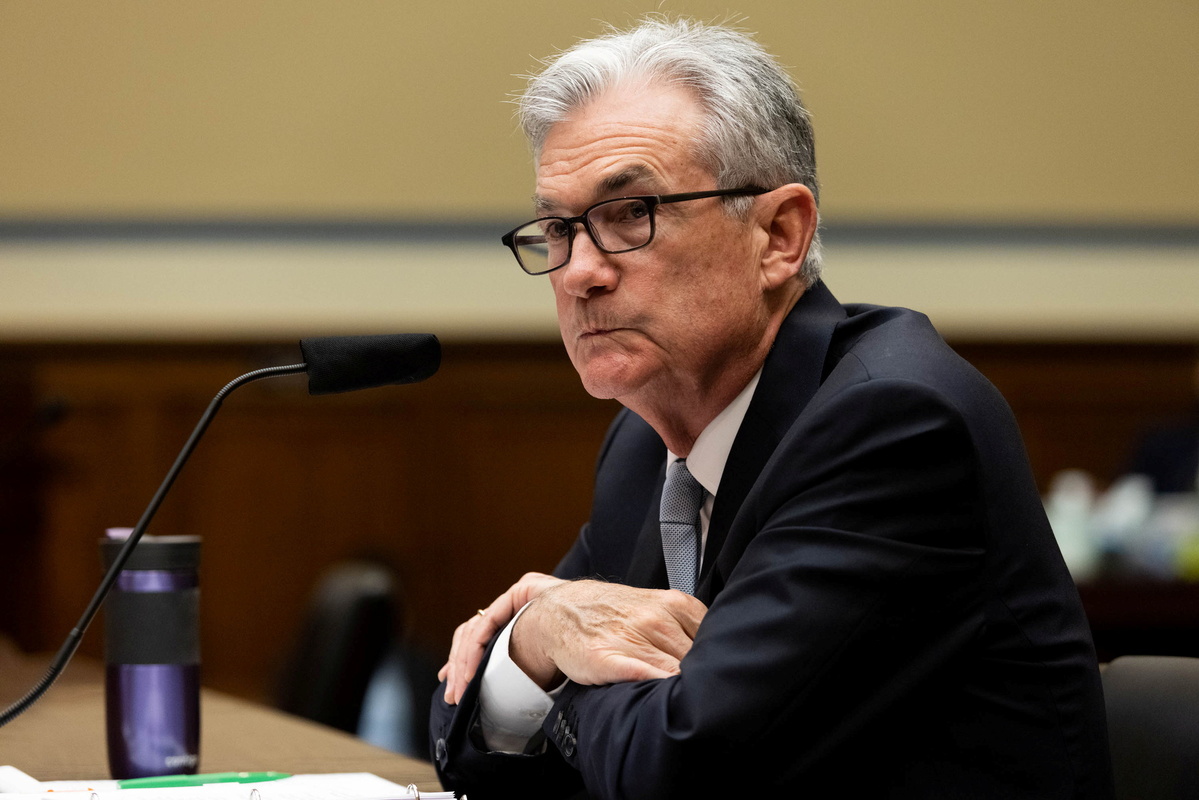 US Federal Reserve Chairman Jerome Powell on Tuesday reiterated his view that although inflation has increased "notably" in recent months, he expects rising price pressures to be temporary and to eventually ease back to the central bank's 2 percent target.
Powell testified before the House select subcommittee on the coronavirus pandemic. It was his first public appearance since June 16, when the Fed surprised markets by revealing policymakers now expect two interest rate hikes by the end of 2023, earlier than previously anticipated. Changes to the Fed's benchmark rate affect a wide range of consumer borrowing costs, such as mortgages, credit cards and student loans.
The Fed chairman told the lawmakers that the central bank will "do everything we can to support the economy for as long as it takes to complete the recovery" from the COVID-19 pandemic.
Stocks closed moderately higher Tuesday, with the Nasdaq Composite finishing at a record, after Powell testified on the central bank's outlook for growth and inflation.
Consumer prices jumped 5 percent in May compared with a year earlier, the largest increase in 13 years. Powell said that most price gains have occurred in categories such as used cars, airplane tickets and hotel rooms, where demand has soared as the economy has quickly reopened, catching many companies flat-footed.
"Those are things that we would look to, to stop going up and ultimately to start to decline as these situations resolve themselves," Powell said. "They don't speak to a broadly tight economy — the kind of thing that has led to high inflation over time."
Powell acknowledged that "these effects have been larger than we expected, and they may turn out to be more persistent than we expected". But he added that "the incoming data are very much consistent with the view that these are factors that will wane over time, and then inflation will then move down toward our goals".
One example of prices surging but now going down is lumber; it peaked at more than $1,600 per 1,000 board feet in early May. Since then, prices have tumbled more than 45 percent, as mills restarted or ramped up production, and some customers put off their purchases until prices came down.
On Monday, New York Federal Reserve Bank President John Williams, who also serves as vice-chair of the Fed's policymaking committee, said that currently high inflation is likely transitory.
"I expect that as price reversals and short-run imbalances from the economy reopening play out, inflation will come down from around 3 percent this year to close to 2 percent next year and in 2023," Williams said.
But St. Louis Fed President James Bullard said Monday that the economy is in unprecedented territory, making it hard to know where inflation will go next. He added that, "we have to be ready for the idea that there are upside risks to inflation, (it) could go higher" than the 2.5 percent rate he has forecast for next year.
The Dow Jones Industrial Average rose around 69 points, or 0.2 percent, to close near 33,946, while the S&P 500 gained around 22 points, or 0.5 percent, ending near 4,246. The Nasdaq Composite finished near 14,253, a gain of around 112 points, or 0.8 percent, to surpass its previous record close at 14,174.14 set on June 14.