'Perfect' look for Asian market
By CHENG YU | China Daily | Updated: 2021-06-28 08:59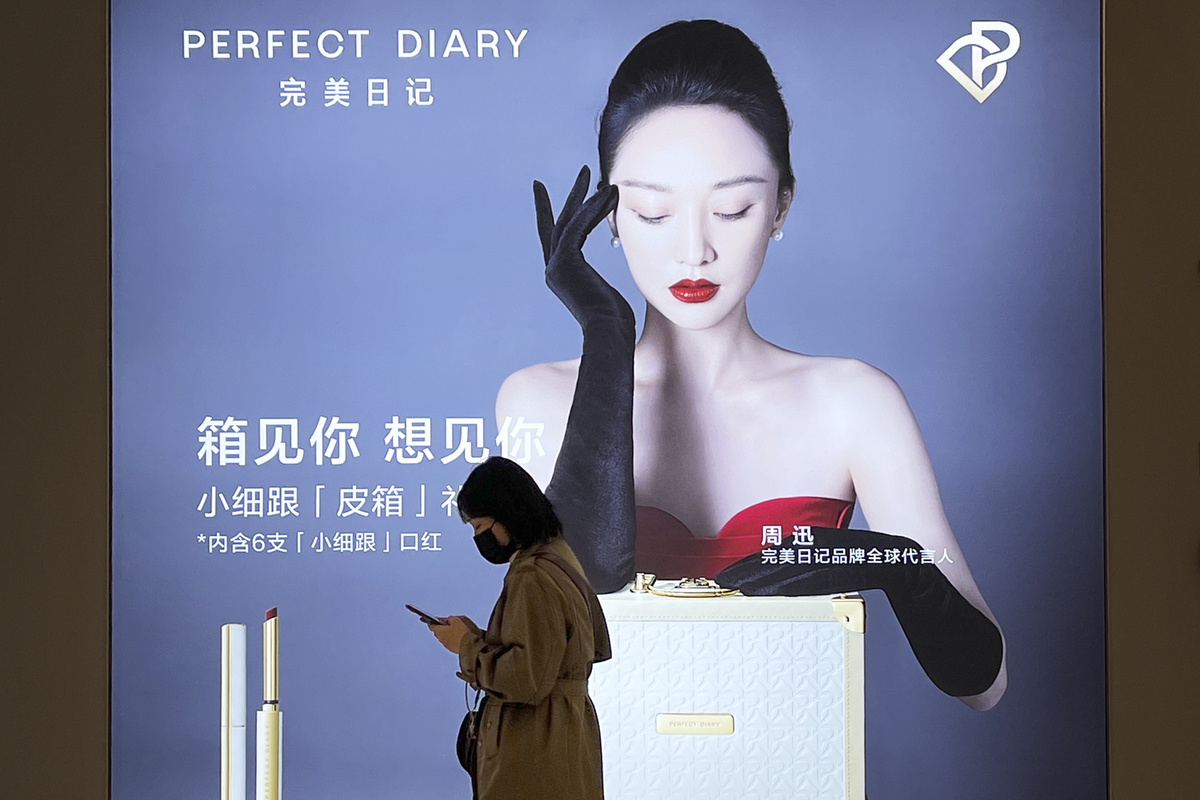 Cosmetics firm rides home success to build overseas presence for sustainable growth
Perfect Diary, a young Chinese brand that emerged from nowhere to become a cosmetics giant, is "putting on another makeup" on the Southeast Asian market, as domestic beauty companies look for global presence with their rising prowess in the domestic market.
"Going global is no doubt one of our important strategies for the future. The overseas market is considered another fresh driver of the company's long-term sustainable growth," said Maria Wang, head of the overseas market at Perfect Diary.
The Guangzhou, Guangdong province-based company sells its products in several Southeast Asian markets, including Vietnam, Malaysia, Singapore and the Philippines, through Perfect Diary's website as well as via local e-commerce platforms such as Shopee.
Despite being in the market for only a year, Perfect Diary is already ranked the largest vendor in color cosmetics on Shopee in Singapore and Vietnam, in terms of sales as at the end of May. It also topped other foreign brands in the face powder category in the Philippines.
"The very reason that we first set our foot in Southeast Asia is that we see broad development opportunities as well as geographic advantages from here. Compared with the mature beauty markets in Europe and the United States, consumers from Southeast Asia have an unmet huge demand for beauty products," said Wang.
"With their high acceptance of new beauty products, Chinese cosmetics brands will have a very good foundation in beefing up presence overseas," she said.
According to a report on the website of market research firm Mintel, Southeast Asia is considered a hot spot for the global cosmetics industry. With the support of local e-commerce platforms such as Lazada and Shopee, the beauty and cosmetics industry has been growing at an unprecedented speed.
Sales revenue of the beauty and personal care market of Southeast Asia is expected to reach 304.8 billion yuan ($47.1 billion) in 2025, with a compound annual growth rate of 9.3 percent, which will rival that of the Chinese market.
Industry experts said for Chinese cosmetics brands, expanding their footprint in foreign markets is not an easy task, especially when Western market leaders like L'Oreal and LVMH are dominating the beauty market globally.
For the planned Southeast Asian market expansion, the biggest challenge for Perfect Diary is "localization", as consumers from various markets there have different religious beliefs and preferences.
To better localize in the Southeast Asian market, the Chinese company cooperated with Sanrio, a company that designs, licenses and produces products focusing on the cute aspect of Japanese popular culture, to launch a series of products. With cute packaging and reasonably priced products, the series soon became a hit there.
"We also developed color numbers that are more suitable for local consumers, in products such as loose powder and lip gloss, according to their skin color. We also upgrade oil control technologies used in makeup-related foundation products to better suit local demands," Wang said.
She said the company also found that local users prefer cameo brown and rose colors in lipstick, natural brown in eyebrow pencils, and the whitest color for powder.
"Compared with leading Western brands, I just feel that Perfect Diary's products are more suitable for the skin of Asian people. And it is very interesting that I first got to know the brand from my foreign friends," said Li Chunxiao, a 21-year-old university student in Beijing.
Data from the General Administration of Customs showed that China has become the second-largest cosmetics consumption market globally. Despite the impact of the COVID-19 pandemic on various businesses, China's imports of cosmetics and personal care products reached $20.25 billion last year, up 29.4 percent year-on-year.
Driven by such huge demand, a group of local brands such as Perfect Diary and Hangzhou, Zhejiang province-based Florasis are gaining momentum in the domestic market and began to set their sights on foreign markets.
In China, Perfect Diary has become a first mover in the marketing method of DTC, or direct-to-consumer, where it cooperates with KOLs or key opinion leaders, including charismatic influencers like "Lipstick King" Li Jiaqi to sell products on social media platforms like Douyin, TikTok for China, WeChat and the Little Red Book.
"Our highly social, digitally native sales and marketing strategy works effectively. Our main consumer group, the young consumers, is more receptive to marketing through KOLs that they identify with," Wang said.
"In Southeast Asia, we develop a broad range of KOLs from TikTok and Facebook, as well as celebrity partners, to drive viral online social marketing campaigns and rapidly build vast and loyal fan followings for our brands and products."
In Vietnam, for instance, Amee, a popular music singer of Vietnam, has become a lipstick artist for Perfect Diary, which attracted many young consumers to buy the lipstick used by the online star.
Yatsen Holding Ltd, the company behind seven color cosmetics and skincare brands including Perfect Diary, made its debut on the New York Stock Exchange in November with a $617 million IPO. In addition to Perfect Diary, it also owns brands such as Little Ondine and Abby's Choice.
Yatsen's fiscal report showed that total net revenues for the first quarter of this year increased 42.7 percent to 1.44 billion yuan. The number of DTC customers for the first quarter increased by 11.6 percent year-on-year to 9.6 million.
"Growth in the quarter was driven by stellar performance of our flagship Perfect Diary brand as well as robust growth from Little Ondine, Abby's Choice and other brands under Yatsen's portfolio. We are especially pleased to see increases in revenue per DTC user and gross margin driven by brand premiumization and disciplined pricing and discount policies," said Huang Jinfeng, founder, chairman and CEO of Yatsen.
"Building on our momentum in the first quarter, we will continue to leverage our current unique window of opportunity to identify valuable brands and businesses to further enrich our portfolio and invest in critical research and development and infrastructure capabilities to sustain our competitive advantage over the long term," he said.
In terms of globalization, Perfect Diary, alongside with its parent company Yatsen, are also striving to tap into the high-end market abroad. Yatsen has acquired Galenic, an iconic skincare brand under French pharmaceutical and dermocosmetic group Pierre Fabre, in October last year.
In March this year, Yatsen acquired Eve Lom, a skincare brand from UK private equity firm Manzanita Capital. Founded in 1985 by the renowned facialist Eve Lom, the brand launched a series of skincare products globally.
Through the tie-up with Eve Lom, the company hopes to enrich its global brand-building capabilities and product offerings, said Huang in an announcement.
Hu Qimu, a researcher from the China Digital Economy Institute, said: "Owing to the impact of the epidemic, the vitality of some foreign industries has not yet recovered. So, the coming three to five years will be a good opportunity for domestic brands to enter overseas markets."