E-healthcare sees sound development in country
By LIU ZHIHUA | China Daily | Updated: 2021-07-05 07:57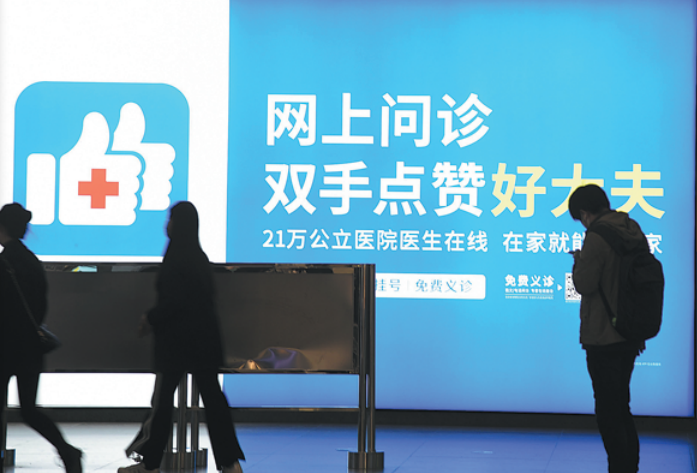 Beijing resident Chen Xing, a 61-year-old retiree, has many apps on her iPhone, but the ones she is most familiar with are the healthcare, camera, image-editing and social media apps.
Since she has to contend with high blood pressure and glaucoma, Chen uses healthcare apps related to her condition, to make appointments with doctors, seek online consultation for follow-up treatments, seek e-prescriptions, place orders for medicines that can be bought on e-pharmacies and generally track her health.
Chen is among the growing tribe of Chinese health consumers using online services.
Data from the National Health Commission showed China already has more than 1,100 internet-based hospitals, and more than 7,700 grade-2 and above physical hospitals providing internet-based services like online appointments.
The first five months of 2020 saw the number of newly established internet-based hospitals reach the full-year figure for 2019, and in November last year, the figure exceeded 900, before hitting 1,100 in a few more months.
The rise is attributed to people's desire to avoid visiting hospitals during the COVID-19 pandemic if they could help it. Changes in the way basic healthcare was delivered during the pandemic continued even after China brought the contagion under better control-a testimony to both their success and scope for long-term practice.
The government's timely policies to improve business environment and efforts to facilitate high-quality development have fostered the online healthcare industry in China, paving the way for its rapid growth.
The nation's master development plan for the 14th Five-Year Plan period (2021-25) suggested inclusion of eligible internet medical services in the medical reimbursement system, and interprovincial settlement of outpatient medical expenses.
On March 25, the National Development and Reform Commission and 27 other government departments jointly issued a plan to encourage new types of consumption and protect the rights and interests of those employed by new business models, urging the development of the "internet plus medical health" sector.
Wang Yifu, an analyst with BR Capital, a Beijing-based financial adviser focusing on the healthcare industry, said the Chinese government's policies and measures that facilitate use of public medical insurance and broaden payment channels for online healthcare platforms also help retain the enthusiasm of users for online healthcare.
"Those policies and measures, which cover areas such as market entry, product and service pricing, privacy protection and industry regulation, can effectively regulate related market behavior to ensure the proper operation of market entities and the healthy development of the industry," he said.
Many of China's big-name internet companies have accelerated their foray into the booming online healthcare sector since the pandemic.
For instance, ByteDance, owner of popular short video-sharing app TikTok, relaunched in November its online healthcare apps under a new brand called Xiaohe, or "little lotus "in Chinese, which provides services such as online doctor consultation and a digital medical encyclopedia.
Alibaba and JD have furthered their footprints in areas such as internet-based hospitals, smart senior care and consumer healthcare, apart from leveraging their existing strengths in e-commerce in the pharmaceutical business.
In May, JD Health, a subsidiary of JD, announced partnership with Genetron Holdings Ltd, a precision oncology platform company in China also known as Genetron Health, to tap the potential of full-cycle online cancer care management.
Genetron Health will cooperate with JD Health to cover early cancer screening, molecular profiling, therapy selection and drug resistance monitoring, and JD Health's online network of doctors and retail pharmacies will have an option to use Genetron Health's products to help non-small cell lung cancer patients make their therapy selection decisions.
Online healthcare companies are bullish on online chronic disease management, a sector with obvious growth impetus in recent years, given China's aging society. They have been concentrating resources in the sector.
According to a recent report by EqualOcean, a Beijing-based technology innovation and investment research platform, the market potential of China's online chronic disease management sector outside hospitals is estimated to exceed 230 billion yuan ($35.6 billion) in 2025.
Wang Hang, founder and CEO of online healthcare giant Haodf.com, said long-term and stable patient-doctor interactions on internet healthcare platforms have become feasible, thanks to advanced technologies.
Such interactions-especially between repeat patients and their doctors-effectively enhance allocations of China's regionally unbalanced medical resources.
To further tap the potential of online healthcare in disease prevention, diagnosis, treatment and patient rehabilitation, Medlinker, another leading Chinese online healthcare platform, officially established an academic committee in June, which is composed of top experts from many disease areas.
Wang Shirui, founder and CEO of Medlinker, said the company is determined to foray deeper into online chronic disease management services, which he believes can meet the actual needs of chronic disease patients rather than just providing online medical consulting services.
Haodf.com said it has so far served 71 million patients, and communications between doctors and patients via the online platform regularly surpass 200,000 per day.
More than 230,000 doctors provide internet-based services to patients through its platform, among whom 87 percent are experienced doctors, the company said.