Westwell's AI hits pay dirt with port apps
By ZHOU WENTING in Shanghai | China Daily | Updated: 2021-07-09 09:20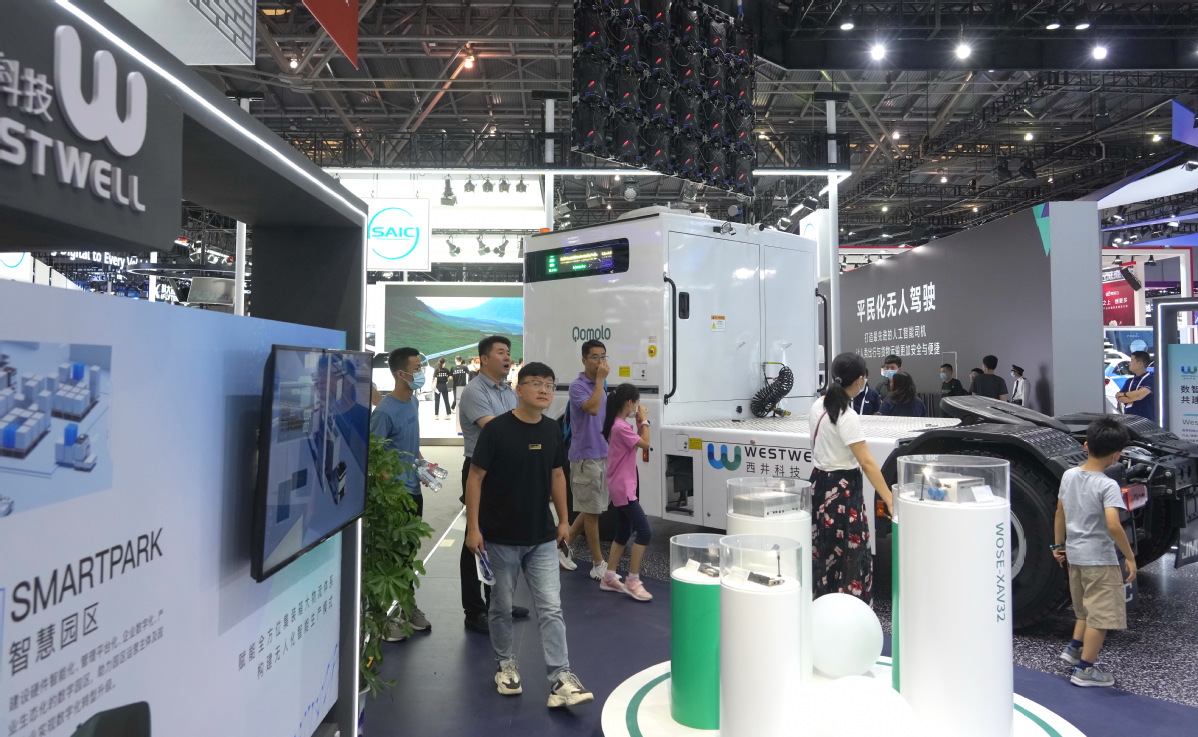 After six years of rapid development, Shanghai Westwell Information and Technology Co, which specializes in artificial intelligence or AI-enabled applications, boasts 80 clients in nine countries participating in the Belt and Road Initiative.
Westwell has earned for itself quite a reputation for its full-stack intelligent port solutions and driverless container trucks.
Expertise in such niches has driven its business growth-up more than 300 percent annually. Overseas business has contributed roughly half of its total revenues and profit, said Zhang Rong, chief operating officer of Westwell.
"We've ridden the wave of explosive development of the driverless automobile industry these recent years. Clients at home and abroad are showing interest in our solutions," said Zhang during the ongoing 2021 World Artificial Intelligence Conference in Shanghai on Wednesday.
In eight countries-the United Arab Emirates, Singapore, Thailand, India, Sweden, Denmark, Greece and South Africa-the company's solutions are used extensively, he said.
"We'll develop deeper at the three main foreign markets-Southeast Asia, the Middle East and Europe-in the years to come," he said.
Westwell received its first order from a domestic port in 2016. Successful operations at home helped it to win the trust of overseas ports.
Zhang said the first overseas order was in 2019, and was from CSP Abu Dhabi Port Container Terminal (COSCO) in the UAE for a smart quay crane solution, which was followed by driverless container trucks.
The self-driving trucks are equipped with binocular AI-enabled cameras, industrial-grade sensors and millimeter-wave radars, and are capable of ultrahigh-precision positioning and recognition functions.
The trucks are tailor-made for transport in closed areas, including ports, minefields, and logistics parks. Without a driver's cabin, the trucks are designed to hold extra batteries, which help increase their endurance up to 200 kilometers with 80 metric ton loading. This meets the demand for round-the-clock operations.
A self-developed fleet management system enables Westwell to manage the fleet at the port scenes more effectively, said Zhang.
The system can carry out one-to-one task-matching and reduces the empty traveling rate of vehicles. It can also help the operators to monitor the real-time position of vehicles and the condition of the goods on them.
"More importantly, the system can manage multiple driverless trucks and even realize mixed operations of manual driving and driverless vehicles," he said.
In May, Westwell announced it has supported Hutchison Port Thailand in shaping the Laem Chabang Port as the world's first smart port where driverless trucks and manual driving mark the mixed operations without physical isolation.
Commercialization was realized after six Westwell driverless trucks had operated safely there since April 2020.
"At the Laem Chabang Port, our fleet can work for more than 24 hours nonstop and its operating efficiency is equivalent of the level of manual driving and will continue to rise," said Zhang.
For perspective, manual driving to accomplish similar tasks would need at least three drivers taking turns driving a container truck.
Stephen Ashworth, managing director of Hutchison Port Southeast Asia, said technology-based intelligent solutions at ports will be the future trend. Part of the reason is a shortage of container truck drivers, which became a thornier problem since the COVID-19 pandemic.
"Hutchison Port Thailand will target to deploy a larger number of autonomous vehicles to operate together with the AI-enabled conventional fleet if current operations prove successful," he said.