Old art, new life
By Chen Nan | China Daily | Updated: 2021-07-10 09:20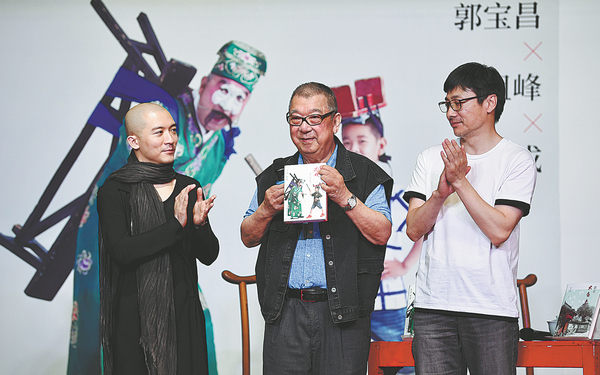 "I have read many books on Peking Opera, however, they talk about the art form from the view of an academic system, with the techniques and aesthetics being boring. For people, who may have never watched a Peking Opera show, it's hard to understand the art form," says Guo.
"I want to talk about the art form by sharing my own stories of learning, enjoying and displaying it as a film director."
Born in Beijing in 1940, Guo graduated from the Beijing Film Academy as a director and scriptwriter. In 1980, he made his directorial debut with the movie Mist Over Fairy Peak.
In 2001, Guo directed Da Zhai Men (Grand Mansion Gate), a 72-episode TV drama, based on the story of his adoptive father, which became one of the director's most well-known works. Considered a classic with a star-studded cast, including Chinese filmmakers Zhang Yimou, Chen Kaige and Jiang Wen, the TV drama is the story of the Beijing-based Bai family set during one of the most tumultuous periods in Chinese history, spanning from the late Qing Dynasty (1644-1911) up until World War II.
Peking Opera was used in the TV drama as the leading character, Bai Jingqi, is shown to be a fan of the art form. In 2017, it was adapted by Li Zhuoqun, a 30-year-old director and scriptwriter, into a Peking Opera piece of the same name, and toured nationwide.
Guo, 80, started to learn Peking Opera along with martial arts at the age of 5. He recalls watching Peking Opera pieces on the Monkey King and skipped school to watch shows. Performing and watching Peking Opera have been a major part of Guo's life.
In his book, Guo writes about the various elements of Peking Opera such as the paper fan, which is used by different roles and has various functions.
"One of the greatest things about Peking Opera is the simplicity of stage sets and props, which have many meanings," says Guo. "The paper fan, for example, can portray female roles' gracefulness or express their wits in male roles.
In the new book, he talks about the evolution of Peking Opera, and the roles and relationship between audiences and artists. Comparing movies, TV and Peking Opera, Guo says Peking Opera highlights the actor or actress while the other two arts center on the characters portrayed.
"When a fan of Peking Opera comes to watch a Peking Opera show, he or she hopes to see stars. Great Peking Opera masters such as Mei Lanfang, developed their own performing styles, which can be called legacy by their students and fans," says Guo, adding that today few Peking Opera artists can be called masters since they are not able to establish their own performing styles.
Guo also talks of his concern about the decline of the art form. In his book, he says that even his son, who has been educated in the United States and works with a foreign company in Beijing, didn't want to watch a Peking Opera performance.
"It was not until he watched a Peking Opera show along with a foreign friend that he was captivated by the old art form," says Guo.
He praises a Peking Opera artist from the newer generations: Qiu Jirong, whose grandfather, Qiu Shengrong (1915-71), was one of the best-known Peking Opera artists and developed a new performance style known as the "Qiu school". Qiu Jirong started learning Peking Opera skills at age 9. He graduated from the National Academy of Chinese Theater Arts and became a Peking Opera actor.