Advisers call for greater regulation of online education sector
By CAO CHEN in Shanghai | CHINA DAILY | Updated: 2021-07-12 09:29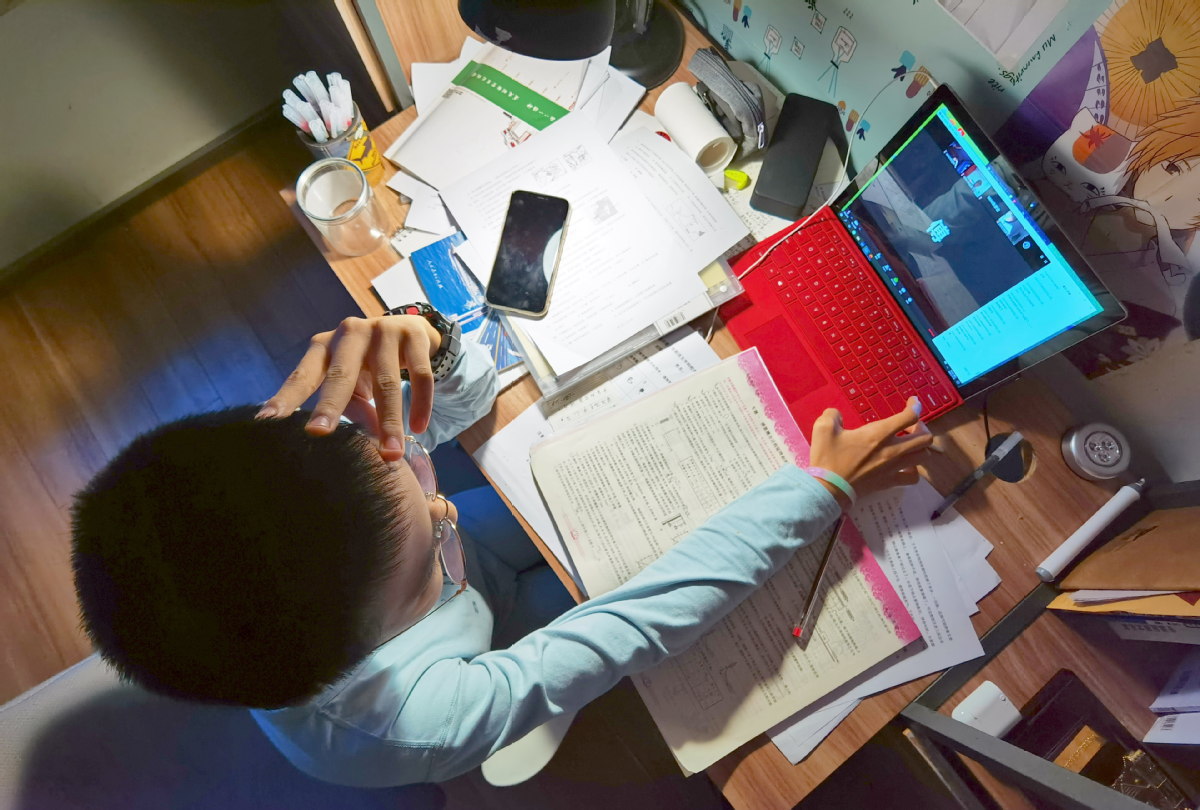 During the annual session of the National Committee of the Chinese People's Political Consultative Conference in March, political advisers called for stricter regulation of China's online extracurricular education industry.
The move is aimed at improving the quality of teaching and preventing customers from facing hidden risks.
Last year, there was a significant rise in the number of people using e-learning facilities as a result of the COVID-19 epidemic.
That saw China's online education industry grow by 35.5 percent year-on-year to 257.3 billion yuan ($39.55 billion), according to a January report by iResearch, a consultation service provider in Shanghai.
"However, the rapid surge in such a short time created several hidden risks," said Ma Jin, a member of the National Committee of the CPPCC and deputy chairman of the Shanghai Municipal Committee of the China Zhi Gong Party.
"To seize the opportunities in the emerging market, a few huge companies have abused their dominant position in the sector, whereas small and medium-sized outfits lack the time and finances to grow," he said.
Moreover, many online education platforms require advance payment, which leads to the risk of scams and to some customers encountering difficulties in receiving refunds, according to Ma.
"Also, enterprises need to update the technology in a timely manner to optimize their services and secure customer data," he said.
In terms of teaching, he pointed out that intellectual property risks could arise with the use of copyrighted works on such platforms.
To tackle these problems, Ma urged the government to formulate regulations for extracurricular online education, including standards for the establishment of educational institutions, the teaching environment and content.
"Online education platforms should publicly display their teachers' qualifications," he said.
With regard to financial risks, Ma suggested that around 30 percent of each company's reserve funds should be supervised by the government. If financial risks emerge, use of these funds should be restricted.
Furthermore, online education platforms should not charge more than three months' worth of tuition fees at any one time, and the fee should only be used for activities related to teaching, not investment. A third-party payment platform could be used to supervise advance payments by customers, he added.
Ma's opinion was echoed by political adviser Sima Hong, chairman of the Beijing Municipal Committee of the China National Domestic Construction Association.
She urged education authorities to cooperate with banks to establish a supervision system for online education platforms to address the issue of potential misappropriation of advance payments.
"Any legal representative of a company and major shareholders of institutions that illegally charge tuition fees and then disappear should be severely punished," she said.
Li Xin, a member of the CPPCC National Committee, linked the negative effects of substandard online education with optical health.
Data from the National Health Commission show that 53.6 percent of children in China were shortsighted in 2018.
"Services from some substandard online education platforms have increased the burden of schoolwork on students in recent years," she said.
In her proposal, Li suggested that online education platforms should be prohibited from collaborating with schools or classes.
"Schools and teachers should not recommend online extracurricular education platforms and products to parents and students or force students to take e-lessons," she said.
"To prevent damage to children's optical health, the duration of web-based classes at senior high schools should not exceed 30 minutes, while they should be no more than 25 minutes long for junior high school students and about 20 minutes for primary school students.
"Efforts should also be made by local authorities to limit the length of time students spend on extracurricular education platforms."