Pudong accelerates AI expansion
By SHI JING in Shanghai | China Daily | Updated: 2021-07-13 09:46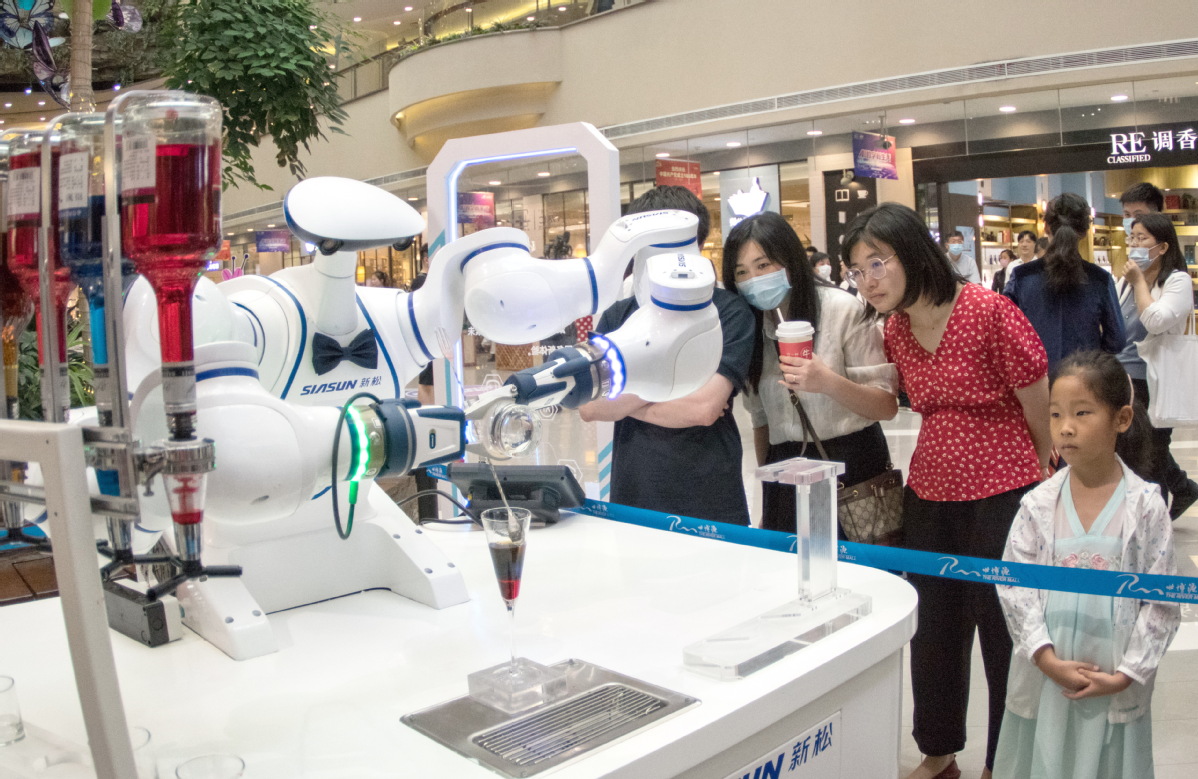 Development in new area to target basic and core solutions to better serve economy
The artificial intelligence industry in Shanghai's Pudong new area is expected to grow to a 200-billion-yuan ($31 billion) market by 2023, making the area a major hub of AI innovations and applications globally, local government officials said.
Wu Qiang, deputy government head of Pudong new area, released the above goals during a news conference on Friday. To be specific, the area hopes to nurture 100 influential AI companies and roll out 100 leading innovation technologies and products by 2023. Meanwhile, an industrial chain composed of more than 1,000 AI companies should grow into full swing by that time, he said.
An AI industrial development plan was released at the Friday conference. Zhangjiang Science City, the Silicon Valley like technology hub in Pudong, will serve as the core area of the AI industry. Jinqiao bonded area, the World Expo area, the Lujiazui financial area and the Lingang Special Area-a newly included part of the China (Shanghai) Pilot Free Trade Zone-will focus on nurturing the industrial cluster and adopting more applications in manufacturing, transportation, finance, healthcare, entertainment, education and commerce, the plan said.
The development of AI in Pudong should target the weak parts of basic technologies and core technologies, aiming at better serving the real economy, said Wu.
"More focus should be laid on digital transformation of the manufacturing industry, smart healthcare, smart water applications technologies, autopilot and industry standards regarding the development of AI," he said.
Xia Yuzhong, chief economist of Pudong's Science and Economy Commission, said the development of AI should also aim to facilitate the six core industries in Pudong, including chipmaking, innovative drugs, intelligent manufacturing, commercial civil aviation, new energy vehicles and big data.
A total of 25 companies signed agreements with the Pudong local government on Friday to land their key AI projects in the area. Global medical device company MicroPort Scientific Corp will set up its global robotics headquarters in Pudong, according to the agreement, while note-taking service provider Beijing Yinxiang Notes Science and Technology agreed to set up its global headquarters for AI and innovative industry in the area.
Tang Yi, chairman and CEO of Yinxiang, said the new headquarters will combine high-end businesses such as content services, corporate businesses, design, innovation and brand promotion with the help of AI. The company has approached the stock exchange and securities firms to make preparations for its debut on the STAR Market. The headquarters' location in Zhangjiang is part of the company's efforts to better understand the capital market, said Tang.
On June 10, the Standing Committee of the 13th National People's Congress passed a decision authorizing Shanghai's congress and its standing committee to make laws specific to Pudong new area.
Based on this, Pudong will explore legislation in sharing, trading, and using data in the AI industry, said Wu of Pudong.
A pioneering zone of AI's innovative applications was launched in Pudong in May 2019, which was the first of its kind in the country. Public information showed there were over 600 AI companies in Pudong in 2020, with the industry value amounting to over 91 billion yuan. The area's AI industry value is expected to reach 125 billion yuan in value by the end of this year.