Japan's defense paper panned as meddling
By ZHANG YUNBI | China Daily | Updated: 2021-07-14 09:44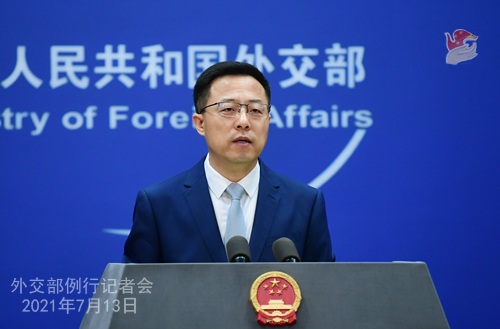 Beijing has slammed an annual defense policy paper released by Tokyo that for the first time dwells on the need to ensure stability around Taiwan, saying that "China will never allow any country to interfere in the Taiwan question in any form".
"Taiwan is part of China's territory, and the Taiwan question is purely China's domestic affair," Foreign Ministry spokesman Zhao Lijian told a daily regular news conference in Beijing on Tuesday.
Earlier in the day, Japan's Ministry of Defense issued this year's Defense of Japan, the annual defense policy paper compiled by the ministry to outline Tokyo's views on military security in the region and the world.
Zhao said China must be reunified and surely should be reunified, and "the realization of China's ultimate reunification is most conducive to the region's peace and stability".
Gross interference
In response to Tokyo's recent repeated verbal attacks against China, the spokesman said Japan "grossly interfered in China's internal affairs, unreasonably blamed China's regular national defense buildup and military activities, made irresponsible remarks about China's legitimate maritime activities, and exaggerated the so-called China threat".
Zhao added: "This is extremely wrong and irresponsible. The Chinese side is strongly dissatisfied with this and firmly opposes it."
In response to talk by Washington and Tokyo of an Indo-Pacific Strategy, Zhao said the strategy aims to fuel bloc-based confrontation, create a clique seeking geopolitical contention and revive the Cold War mentality.
He also said it amounted to retrogression in history, and should be dumped onto the garbage heap.
"Can Japan first solve the problem of its attempt to discharge nuclear-contaminated water into the Pacific Ocean instead of raising its voice on freedom and openness of the Pacific," Zhao said.
The spokesman reiterated Beijing's standpoint that Tokyo correct its mindset, show respect for China's sovereignty and display its sincerity in safeguarding regional peace and stability.
Debunking allegations made by Japan against China's Coast Guard Law, Zhao said the law is not targeted at specific countries and is fully in line with international law and global practices.
Many countries, including Japan, have already formulated and enacted similar laws, and it is time for Japan to stop adopting double standards, Zhao added.