Chinese fans and brands helped make Euro 2020 the success it was
By Barry He | China Daily Global | Updated: 2021-07-15 09:28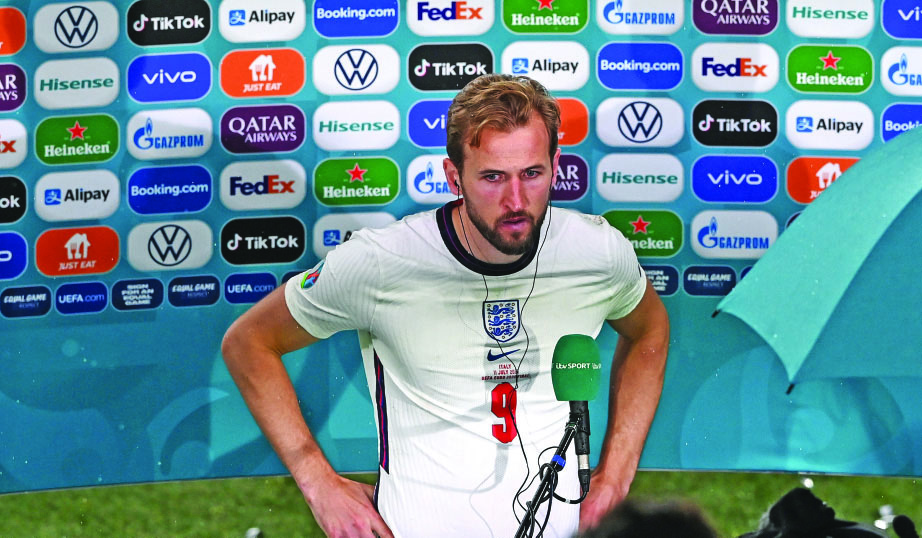 China has long been a soccer-loving nation, boasting a domestic English Premier League fan base several times the size of the population of the entire United Kingdom. The presence of Chinese technology brands in support of this year's European Championships is testament to the country's long-standing love affair with the beautiful game.
This appetite stems from how Chinese fans engage in and consume the sport digitally, compared to other fan bases worldwide.
The Modern Football Fan report released two years ago found that Chinese fans were more likely to be active on forums and group chats to discuss soccer content, compared to their counterparts from the UK, Brazil or the United States.
Newer forms of media phenomenon, such as reposting memes, viral video clips and livestreamed games, were also a staple of Chinese fans prior to becoming standard international practice, a product of the country's early adoption of 5G internet infrastructure.
Chinese fans typically also have a less tribal attitude compared to their European counterparts, where historically, bitter feuds have run for generations between rival teams. Instead, fans in the East are more inclined to support and develop attachments to individual players. In an era of livestreaming and daily social media updates, creating a connection with individual sporting personalities has never been easier.
England fans have been particularly excitable lately, and approached the recent European Championships final against Italy with mainstream media high on the giddy notion that England had not reached the final of a major international tournament since 1966.
This, however, is untrue, and something uniquely that Chinese fans know, too. The England women's team reached the final of the tournament in both 1984 and 2009.
Statistically, Chinese fans are much more likely to tune in and keep up to date with women's soccer, with higher audience tune-in rates compared even to countries with active participating teams at a high level.
Again, streaming women's games online was the preferred method of keeping up-to-date.
Chinese enthusiasm for soccer has meant that the nation boasts a significant commercial base for events such as Euro 2020, as the championship was also known. Sponsors such as Hisense, Alipay and TikTok, seen on commercials and billboards all over the tournament, have no US counterpart. Big brands such as Google and Facebook are nowhere to be seen, and the globalization of the beautiful game in new areas of the world has allowed soccer to be more open than it ever has been.
This may be a sign of the times. In the 1980s and 1990s, it was commonplace to find tech market-leading brands from Japan and South Korea filling primetime FIFA World Cup TV adverts and shirts sponsorship, with the likes of Samsung and Sharp. Chinese tech brands are now leading the charge, and this is a reflection of the prominence of names such as TikTok at the Euros. This will continue to be the case for the sporting calendar in the next few years, with the Summer and Winter Olympics and FIFA World Cup all imminent.
The internationalization of soccer through sponsors drawing enthusiastic foreign markets does just as much to bring the world together as the actual games themselves.
With China hoping to host the World Cup in 2030, the traditionally Western love affair may soon find itself with a long-term and serious Eastern rival.
Barry He is a London-based columnist for China Daily