S. Africa's turmoil sets up more strife
By EDITH MUTETHYA | CHINA DAILY/XINHUA | Updated: 2021-07-16 09:24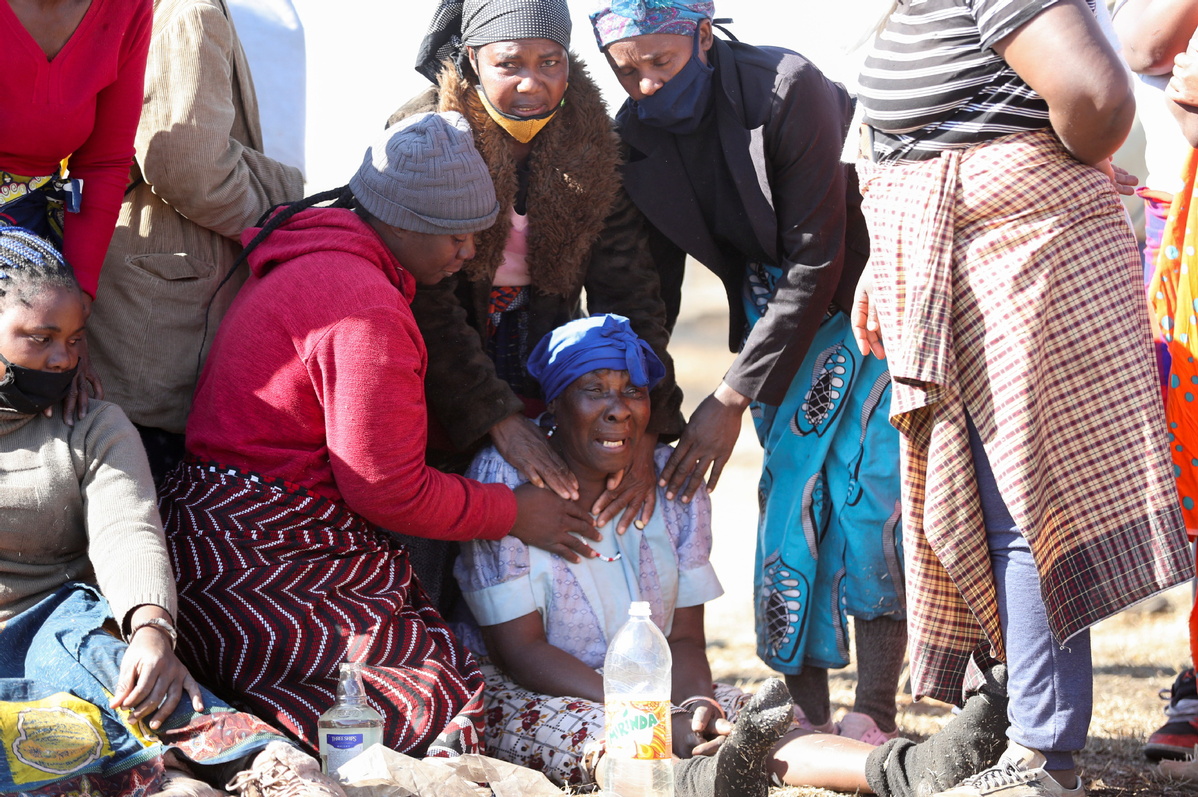 A week of violence in large swathes of South Africa is raising the specter of food shortages even as the unrest-marked by widespread looting-shuts COVID-19 vaccination centers and heightens fears over the pandemic.
The riots broke out last week following the jailing of former president Jacob Zuma after he was convicted of contempt of court, and have left at least 72 people dead. The unrest is mainly in the provinces of Gauteng and KwaZulu-Natal in the country's east.
Aside from the concerns over food supplies and setbacks in the fight against COVID-19, some experts believe investors may be put off by the chaos on the streets.
As the unrest spilled over into a sixth day, Defence and Military Veterans Minister Nosiviwe Mapisa-Nqakula on Wednesday said the government plans to deploy about 25,000 soldiers in a bid to restore order. It marks a step up from an earlier announcement of 10,000 troops to calm the streets.
The government is also trying to ensure the military visibility of vehicles and helicopter patrols. The stakes are high with an overstretched healthcare system.
In a statement on Wednesday, Doctors Without Borders, an international humanitarian medical organization, said the unrest is preventing the provision of healthcare by blocking patients, medical workers and critical supplies from reaching facilities.
"A drastic escalation of the current COVID-19-driven healthcare crisis is inevitable unless immediate steps are taken to safeguard the right to healthcare and safety of patients, healthcare workers, medical infrastructure, and supplies," the charity said.
It said that in all districts of KwaZulu-Natal-Zuma's home province-medical staff have been prevented from going to work because of halted public transport services and road closures.
Hospitals overwhelmed
Some hospitals and their emergency departments had already been stretched by a surge in COVID-19 infections. Doctors have been forced to choose who receives lifesaving treatment.
The closure of many COVID-19 vaccination sites is frustrating the government's goal of inoculating as many people as possible to prevent spread of the virus that has infected more than 2 million people and killed over 65,000 in the country.
In terms of food security, Agri SA Executive Director Christo Owen van der Rheede warned that if the unrest is not dealt with urgently, losses in the agricultural sector could be running into billions of dollars next week.
"Our farmers can't get their fresh produce on the road to the market," he said on Wednesday in describing the impact on his company.
"People in certain parts of KwaZulu-Natal can't access basics such as milk, bread and other fresh produce. It's a humanitarian crisis. KwaZulu-Natal is a major producer of foods like sugar and banana. Some sugar cane farms have been burnt down over the last five days."
He also said farmers can't even export their produce.
Jannie Rossouw, head of the School of Economic and Business Sciences at the University of the Witwatersrand, said: "This would result in less employment growth as there would be less business to employ people. If a shop has been burnt, that shop can't employ its workers."
According to Statistics South Africa, the country's unemployment rate stood at 7.2 million in the first quarter of 2021, representing 32.6 percent of the workforce. Young people accounted for almost 60 percent of the jobless.
Xinhua and agencies contributed to this story.