Fathers hail the arrival of unisex nurseries in Xiamen
By WANG XIAOYU in Beijing and HU MEIDONG in Xiamen, Fujian | China Daily | Updated: 2021-07-19 07:41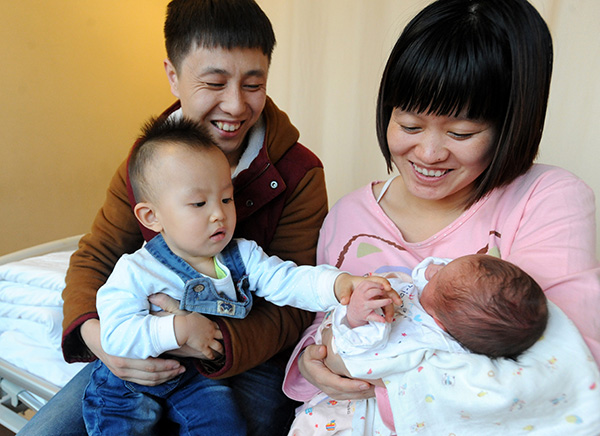 New unisex nursery rooms launched in Xiamen, Fujian province, are evidence that the days of child care responsibilities, such as changing diapers, being the sole responsibility of women are fast coming to an end.
One of these rooms, at the city's Xiangping Community Health Center, is divided into two main areas. Three "pods" linked on one side are reserved for breastfeeding mothers, while the remaining area, which is equipped with changing tables, cribs and disinfection cabinets, is open to all parents, regardless of gender.
Jiang Jianshou, head of the center, said the new facility, which was launched early last month, is aimed at catering to the increasing needs of fathers who are shunned in traditional public nursing rooms.
"I saw many fathers coming to the health center to get vaccines for their kids. Some were frustrated that they were not allowed to enter the old nursing room to change diapers," he said. "The issue became more pronounced after the second-child policy took effect and more families had two children."
After consulting with local residents and government officials, Jiang and fellow workers at the center began expanding the nursing area from about 10 square meters to 30 square meters, refurbishing it with other equipment that was needed.
"A major concern about the unisex facility among many breastfeeding mothers is their privacy. We replaced curtains with bolts on the door to lactation booths to reduce the chance of problems arising," Jiang said. "Mothers who encounter difficulties or an emergency in this private space can also press a newly installed button for help."
At the Maternal and Child Health Hospital in the city's Jimei district, Zeng Yongpeng, the father of a newborn, said during a recent interview with Xinhua News Agency that the new facility is "more considerate".
"Now, instead of standing outside and feeling useless, we (fathers) can get in to help take care of our kids without feeling awkward at all," he said while patting his baby gently after feeding the child infant formula.
Jiang said that as China has further relaxed its family planning policy to allow couples to have up to three children, public nursing facilities, particularly those that welcome male caregivers, will be in greater demand.
"Many fathers coming here told me their wives were also not very proficient in caring for babies. A helping hand from fathers could effectively ease mothers' anxiety and burden," he said.
Zhu Xiaoning, vice-president of the Maternal and Child Health Hospital in Tongan district, Xiamen, said the facility's public nursing room was set up in 2018 and was recently refitted to provide an area for parents of both genders to care for babies.
"This practice should be promoted nationwide. With rising living standards, people expect better child care environments and services. This includes convenient access to a safe and comfortable nursing room in a public space," he said.
Zhu said that in recent years, he has visited community clinics, rural hospitals, other institutions and enterprises to provide guidance on establishing standard nursing rooms.
According to the health authorities in Xiamen, it is planned to complete building and launching the first 16 unisex nursery facilities by the end of this year.