High-speed maglev train to be rolled out
By ZHONG NAN in Beijing and XIE CHUANJIAO in Qingdao, Shandong | China Daily | Updated: 2021-07-20 07:37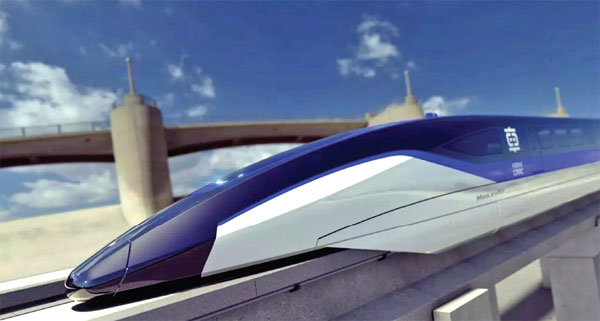 China's first high-speed maglev train, with a top speed of 600 kilometers per hour, will roll off the production line in Qingdao, Shandong province, on Tuesday, a major achievement in the country's development of rail transportation.
The train is due to undergo several years of testing before it enters service, and high-speed maglev tracks will have to be laid. However, when it begins commercial operations, the train is expected to significantly cut rail travel time. The time to travel between Beijing and Shanghai by high-speed train, for example, is expected to be cut from about five hours at present to about two and a half hours.
The high-speed maglev train, developed solely in China, features cutting-edge rail technologies, said the manufacturer, CRRC Qingdao Sifang, a subsidiary of State-owned China Railway Rolling Stock Corp.
The train uses electromagnets to suspend itself above the rails, and because there is no friction from contact with the rail lines, the train can run quietly and smoothly, said Liang Jianying, CRRC Qingdao Sifang's deputy general manager and chief engineer.
The benefits of the train include high speed, safety, reliability, a large passenger capacity, environmental protection and low maintenance costs. The train can fill the gap between conventional high-speed rail services, whose maximum operating speed is 350 km/h, and aircraft, which cruise at speeds between 900 and 1,000 km/h, he said.
When asked in a China Central Television interview when the train will be put into service, Liang estimated five to 10 years.
Transportation experts said the high-speed maglev train provides a viable option for short- and medium-distance passenger transport, such as daily commutes in large cities and in city clusters such as the Yangtze River Delta and Beijing-Tianjin-Hebei areas.
China's large territory and densely populated cities have generated huge demand for high-speed, large-capacity passenger transport, said Feng Hao, a researcher at the National Development and Reform Commission's Institute of Comprehensive Transportation.
Demand for such services already exists in railroads between Beijing and Shanghai, Chongqing and Chengdu, Sichuan province, and Guangzhou, Guangdong province and Changsha, Hunan province, he said.
In terms of innovation, magnetic levitation technology involves a variety of basic materials such as rare earths and composite materials. Research and development of such technologies will help promote the growth of China's basic industries, said Zhao Ying, a researcher at the Beijing-based Institute of Industrial Economics, which is affiliated with the Chinese Academy of Social Sciences.
A number of cities are planning to build high-speed maglev lines, and have entered the research and assessment stage, including the Shanghai-Hangzhou and Chengdu-Chongqing maglev lines, according to medium- and long-term transportation development plans for the cities involved.
In addition to existing maglev lines in Beijing, Shanghai and Changsha, two short-distance low-speed maglev lines are being constructed in Qingyuan, Guangdong province, and Fenghuang county, Hunan province.