AI reshaping health and wellness sector
By HE WEI in Shanghai | China Daily | Updated: 2021-07-20 09:00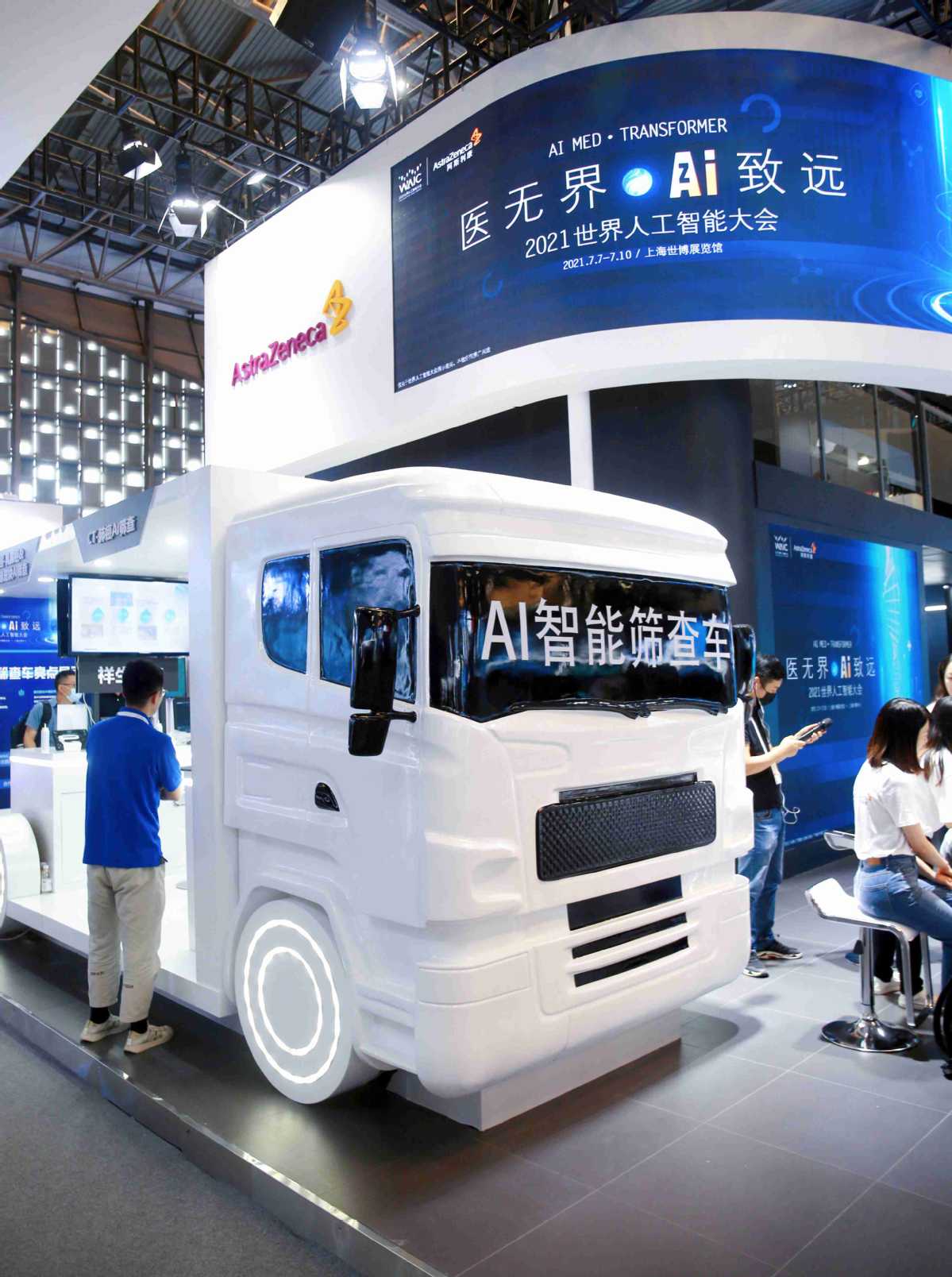 Local partners hold the key to success in China's vast medical market, and AstraZeneca has a track record of keeping abreast of local needs. It has launched a series of open-source innovation platforms-CCiC-in multiple Chinese cities, and formed 10 model AI+Healthcare application scenarios like intelligent outbound follow-up calls at community hospitals.
But it does not stop there. During the three-day conference, AstraZeneca inked deals with Deepwise on developing an AI-assisted software system for interpreting the low-dose spiral CT scans of pulmonary nodules.
In a separate collaboration with Qiji Investment, the pair vowed to establish an AI innovation center in the Lin-gang Special Area of China (Shanghai) Pilot Free Trade Zone, with the support of the municipal government.
With some 22 percent of AI companies established in China and over $12 billion invested in the area, there is no doubt that China leads the way in AI, said Allan Gabor, president of Merck China, a prominent science and technology company that had a booth at the event.
"We set up this booth to demonstrate what we can achieve through AI in each of our business sectors and how we embedded into the ecosystem in China through our innovation hubs," Gabor said.
Gabor believes that one aspect of AI research with untapped opportunities is in healthcare and drug discovery, because the sheer size of the libraries used to screen for new drug candidates means it is now practically impossible for individual researchers to review everything themselves-and that is where AI and machine learning can help.
"Advancements in artificial intelligence have allowed us to go from screening millions of compounds to tens or hundreds of millions, using AI learning and data to identify predictive patterns for use and classify new data for optimized drug discovery and development," Gabor said.
He added that AI can be used to predict the properties of a potential compound, generate ideas for entirely novel compounds and alleviate the need for repetitive tasks, all of which can save time, money and accelerate the drug discovery procedure.
For instance, Merck is introducing AI-backed retrosynthesis software, where AI stands to help scientists define research topics, explore thousands of possible pathway options for target molecules and predict chemical reactions.
The company is bringing other tangible solutions to Chinese clients: Merck's BioContinuum Platform, which the company said can advance biotherapeutic drug manufacturing and trim manufacturing costs by up to 50 percent in pilot studies, is now being used by biotherapeutics company Transcenta.
The platform involves integration of what are typically batch-based, separate manufacturing steps into a connected process, thus allowing continuous bioprocessing manufacturing in China.
"We are delighted to be part of this vibrant ecosystem-especially through our Innovation Hubs in Shanghai and Guangzhou," said Gabor. "We are confident that we can support the strong ambitions for China to become the leading high-tech nation."
GE Healthcare is also finding in China a more mature market to host its Edison healthcare intelligence platform, which is designed to help improve patient outcomes and increase access to care.
Embedded within existing workflows, Edison applications can integrate and assimilate data from disparate sources and apply analytics or advanced algorithms to generate clinical, operational and financial insights.
"We've seen Chinese AI startups with better quality and much higher maturity in just two years' time," said Dai Ying, vice-president of GE Healthcare in China. For instance, since its entry into China in 2019, the Edison AI platform has had over 200 application scenarios.
In its latest localization AI push, the company announced the signing of Memoranda of Understanding to cooperate with multiple local AI companies like Shukun and Yizhun-ai, angel investor Sinovation Ventures and the Smart Healthcare Development Alliance, a trade group focused on setting standards and carrying out quality inspections.