3 bodies found as tunnel rescue effort continues
By Zheng Caixiong in Guangzhou | chinadaily.com.cn | Updated: 2021-07-20 09:53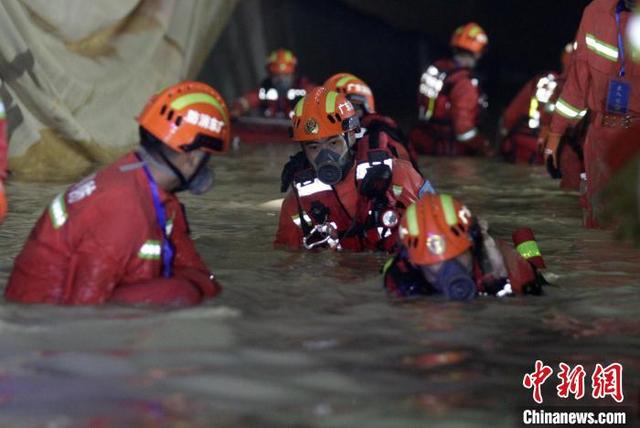 Rescue efforts for trapped workers in the Shijingshan Tunnel in Guangdong province's Zhuhai Special Economic Zone continues around the clock after three bodies were found on Tuesday. Another 11 workers remain missing.
"Rescuers are continuing to see saving lives as their primary task and are sparing no effort to locate and retrieve the workers as soon as possible," said Huang Zhihao, mayor of Zhuhai, at a news conference on Tuesday, adding that various government departments "are preparing to handle the aftermath and calm the families of the victims in the days to come".
Huang said a total of 46 rescue teams with more than 2,500 rescuers, 350 sets of heavy equipment and machines and more than 200 rescue vehicles, have been sent to the site to help rescue the trapped workers over the past six days.
"After days and nights of great efforts, rescuers reached 856.1 meters into the tunnel, 303.9 meters from where the workers are believed to be trapped, as of 8 am on Tuesday," Huang said.
The water level inside the flooded tunnel has dropped by 16.5 meters after several days and nights of pumping, he said.
Wang Haiwang, Party secretary and chairman of China Railway Erju Group Corp, said his company would continue to fulfill its corporate responsibilities and do what it can to help save the trapped workers. It will actively cooperate with investigators looking into the cause of the disaster.
"The workers who died were pillars of their families and our brothers," he said. "And we will do our best to take good care of the families in distress and share their worries with utmost sincerity."
The Shijingshan Tunnel, part of the southern section of the Zhuhai Xingye Expressway, flooded at about 3:30 am on Thursday. Tunnel construction began in 2019 and is scheduled to be completed by the end of next year.